MARYANN:
Hello, Everyone! Today I am delighted and honored to welcome to my blog an exemplary Christ-Follower, my dear friend and sister in Christ, Candy Abbott! Welcome, Candy!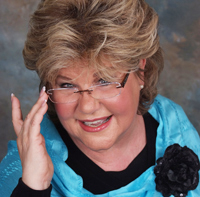 CANDY:
So good to be with you, MaryAnn.
MARYANN:
Candy, please tell us a little about yourself and your writing ministry.
CANDY:
My husband, Drew, and I have been married for 42 years. We have three grown children (two of his, one of mine), four grandchildren, and we've just become great-grandparents for the second time, so Christmas at our house in Georgetown, Delaware, will be fun this year with a baby and a toddler.
I began writing in 1984 when the Lord spoke to me through my journal, saying, "You will write a book." I peppered Him with questions. "Who, me? Write a book? Who would want to read it? What would I write about?" The answers turned into my first book, Fruitbearer: What Can I Do for You, Lord? Little did I know that the book would be the first of many and would lead to a publishing company by the same name.
MARYANN:
An amazing testimony of what God can do with a yielded heart! You've recently published an inspiring book titled I've Never Loved Him More that, I think, will become a bestseller, not only because of your moving writing style, but particularly because of its very relevant subject matter: Alzheimer's disease. In your book you share your personal journey of caring for your precious husband who fell victim to this disease. Please tell us how you came to write your life-changing and life-affirming book.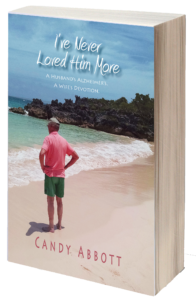 CANDY:
My daughter kept saying, "Mom, you know you're going to have to write a book about this," and several friends told me I needed to write a book now. Each time, I recoiled at the suggestion because it was all I could do to get through every day juggling my ever-increasing responsibilities.
"I have to live it before I can write it," I told them.
And then Nancy Rue, my writing mentor, suggested it might be therapeutic for me to "capture some scenes." Right from the beginning, my manuscript began teaching me things about myself as I recorded my raw emotions and the mysterious changes taking place in Drew.
Before long, my motivation shifted to helping others as I typed daily snippets of my fears, successes, missteps, and downright funny incidents. In the second year of my life as an "open book," I began thinking ahead and contemplating which responses to Drew's changing behavior would show moral courage and serve as good examples for my readers (instead of the knee jerk reactions that I wanted to give). If I was claiming to LOVE, I had to live it out. Readers would be watching. My prayer is, God help me! And use even my blunders for good.
MARYANN:
I was struck by your comment that your "motivation shifted to helping others." As long as I have known you, you have been the kind of person who puts others before yourself. This is the essence of love.
In light of that, we all know that Satan will attempt to thwart God's work of love in any way Satan can. What obstacles did you encounter along the journey of writing your book? What did you learn about God as you faced and overcame those obstacles?
CANDY:
The first sting I felt from the enemy came last month after I spoke at a senior center. One lady with a walker came in late and missed my introduction where I talked about how I struggled with how much of the intimate details to release to the public and decided that the raw truth would be more beneficial to caregivers than a sanitized version. In my speech, I told the funny scene that happened in Bermuda when Drew insisted on wearing his underwear to the beach. Everybody laughed . . . except this one lady who scowled the whole time.
After the others bought books and said glowing things, she came up to my table. "You're not going to like what I have to say. I do not like your book" (which, of course, she hadn't read). "Your story offended me. You don't make fun of people who have an illness. And you never laugh at them. Ha! You call your book, I've Never Loved Him More? You know nothing about love."
Her words were an arrow to my heart. "Thank you for letting me know," I managed to say. I couldn't get her words out of my head. The soul searching began immediately and lingered for two days.
First, came the love issue. Should I have left out the Bermuda story? Does it embarrass Drew? I'm following Jesus and doing my best to keep in step with the Spirit. I know God who is love; therefore, I know love.
A friend suggested that I focus on the many times people have told me how much the book is helping them, especially the "funny parts." I did a mental exchange (a positive to replace the negative) when God reminded me of the seven-year-old girl who was drawn to my book by the cover and title. Her Aunt Susan (a neighbor who cares for her because her mother is on drugs and her father is in prison) told me that she has anxiety issues (no wonder!) and doesn't understand a lot of the book but "feels the love," and it calms her down. The other night when her mother didn't show up as promised, she comforted herself by reading the "funny parts" at bedtime. Isn't that just like God to choose a child to take away the sting of the hurtful words of an elderly woman?
Next, I wondered if she was a bitter, frustrated, resentful woman who may have even had a touch of dementia. Regardless, if there was even the slightest nugget of truth to her admonition, I wanted to learn from it and adapt my remarks in the future. I realized that my primary audience is caregivers and family members, not the elderly (even though most obviously enjoyed it). From now on, when I'm invited to speak, I'll mention this to the event planner.
Finally (which I should have done in the first place), I sat with the Lord. Instantly, He brought Philippians 4:8 to mind: Finally, brothers and sisters, whatever is true, whatever is noble, whatever is right, whatever is pure, whatever is lovely, whatever is admirable—if anything is excellent or praiseworthy—think about such things. When I think of the woman now, I thank God for her willingness to say aloud what she might have easily kept to herself. And I pray for her.
MARYANN:
As you well know, Candy, God looks at our heart motive for doing or saying anything. It is not necessarily what we say or do but WHY we say or do it. Your heart motive was not to offend but to bring joy to people who struggle. You were wise in going to the Lord. Whenever I am criticized, the first thing I do is ask the Lord if there is any truth in the criticism, and if He is trying to teach me something. Once I've determined whether the criticism is true or not, I act accordingly. If it is true, I repent and make changes. If it is not, I discard it as an attack from the enemy, and I pray for the person who criticized me.
This is precisely what you did. You were open to the Lord's leading. One of the things that struck me most about your book was your vulnerability. People relate to those who are willing to humble themselves to share their own struggles. You have done this beautifully in your book. How did this character trait serve you in the writing of your book? What place does vulnerability have in sharing Christ's love with others?
CANDY:
Because I love to share, my life has always been pretty much an open book. Besides, I learned when I first began writing that readers can relate best to someone who is transparent and doesn't try to sugarcoat the pain. Putting myself in a vulnerable position creates a tenderness that softens emotional barriers, and people are generally agreeable to learning about where I get my strength, which is Christ's love.
MARYANN:
I love what you said: "Putting myself in a vulnerable position creates a tenderness that softens emotional barriers." That warrants a meme! :). It is this tenderness that prepares the heart to receive the truth about Christ.
Another quality I love about you and your book is your sense of humor, especially in the midst of trials. Your humorous perspective—as evident in the personal stories you recount—is refreshing and helps to view life from God's perspective. How did you cultivate this sense of humor, and how has it helped you maintain the mind and peace of Christ in the midst of the storm?
CANDY:
I had the advantage of growing up in a household where humor and peace were the order of the day, and God was at the center of it all. I make it a point to look for the funny things that crop up in the midst of difficulty. Laughter is one of the best coping skills, and God's grace soothes the soul and fills the gaps. Awareness is the key. If you're not looking for the humor, you could easily miss it. The joy of the Lord is our strength (see Nehemiah 8:10)!
MARYANN:
So, true! As you wisely pointed out, if we are not looking for the humor, we could easily miss it. Recently, Holy Spirit spoke these words to me: "What you observe, materializes." In other words, what I focus on will become evident in my life. If I observe (i.e., look for) humor, it will manifest–as will love, joy, peace, etc. Whatever we focus on grows in our lives.
At times, however, we can focus on the wrong things or on some right things while neglecting other right things. For instance, caregivers are notorious for neglecting themselves. You share in your book that you had to relinquish other ministries you loved in order to free yourself to take care of your husband. In what other ways have you tended to your own health in order to be able to care for your husband? What suggestions would you offer readers who are facing similar care-giving situations?
CANDY:
Being alone in the house with Drew, answering the same questions day-in and day-out 24/7, and handling all the responsibilities that bombard me can be grueling. It's even difficult to have my normal quiet time with God, so I take mini-vacations in my mind. Even thirty seconds with my eyes closed sitting in front of my computer and sensing the Lord's arms around me can be refreshing. Playing praise music softly reminds me who's truly in charge, and praise is a fabulous antidote to the gloom and frustration that threatens to settle over me. I make it a point to schedule lunch with a friend once a week to be sure I get out of the house for some "Candy time." Several people have suggested getting a massage, but I haven't taken the initiative to follow up on that yet.
Although I have curtailed my ministries, my publishing business is still active (which I operate from home), so that serves as a healthy diversion for me and allows me the stimulation of being in touch with the outside world.
MARYANN:
In the years I have known you, you have consistently demonstrated the love of Christ. You are an inspiration and a shining example of faithfulness to our Lord's command to love one another. You are also a generous giver of your time and talents to help others. What have you learned about the power of love through your experience in caring for your husband?
CANDY:
Thank you, MaryAnn. Having you say that the love of Christ is evident in me is one of the finest compliments I could receive. What I've learned about the power of love in caring for Drew is that it has to come from God, not my own measly efforts. No matter how hard I try on my own, I cannot generate this kind of sustained love. The other thing I've learned is that the more I allow God's love to flow through me, the greater my capacity to love grows. The more I practice patience, for example, the more patience I find that I have. Really, the key is trusting the Lord to provide that patience, not "trying harder." This must be what Jesus meant when He said, "I am the vine; you are the branches. If you remain in me and I in you, you will bear much fruit; apart from me you can do nothing" (John 15:5 NIV).
MARYANN:
Exactly! Allowing Christ to live His life through us is the key to the Christian life, but, all too often, we forget that truth and try to live His life in our own strength. But, as we eventually learn, that is impossible. What advice would you offer to someone reading this post who is facing the prospect of long-term caregiving?
CANDY:
Be informed, and reach out for help. Too many caregivers suffer alone, feeling that they would betray their loved one if they told anybody about the changes in behavior they see happening at home. Dementia is insidious. It steals the person so gradually that it's almost impossible to recognize the disease until it advances to the problem-causing stage. Even then, caregivers typically feel an obligation to tough it out or explain it away. Awareness is the key. Alzheimer's.org is a good place to start (they have all sorts of resources, including information on support groups around the nation). The book, The 36-Hour Day: A Family Guide to Caring for People Who Have Alzheimer Disease, Related Dementias, and Memory Loss, is another excellent resource as it provides an overview of what caregivers might expect. I have a list of other resources in the appendix of I've Never Loved Him More.
MARYANN:
Candy, it has been a great joy and a great blessing to have you with us today. We will continue to pray for your strength and for Drew's healing. We will decree and declare God's Word over him, that Drew has a sound mind, the mind of Christ (2 Timothy 1: 7 and 1 Corinthians 2: 16). Thank you for taking time out of your very busy schedule to share your heart with us. Thank you also for reminding us—as you so beautifully do, both in your writing and in your life—that God's love never fails!
CANDY:
Thanks for the opportunity to bring hope to others, MaryAnn. It's been a privilege.
MARYANN: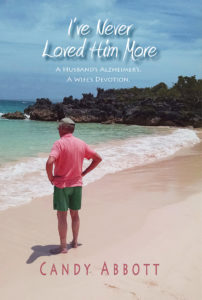 I encourage all of you who are reading this to purchase a copy of Candy's outstanding book, I've Never Loved Him More. It is available wherever books are sold. For your convenience, here is the link to Candy's book on Amazon:
https://www.amazon.com/Ive-Never-Loved-Him-More/dp/193879608X/ref=sr_1_1_twi_pap_2?ie=UTF8&qid=1504880596&sr=8-1&keywords=Candy+Abbott
If you were blessed by this interview, please retweet it. Thank you!
TWEETABLE: "Interview with Candy Abbott" (CLICK TO TWEET)