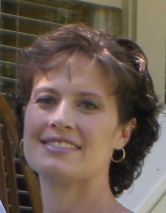 Today I am delighted to welcome fellow writer and blogger, Sandy Weiers.  Sandy is the author of the well-received children's book, Joey Is Thankful. 
MARYANN:
Hi, Sandy. Welcome to The Write Power. We are delighted to have you with us today. 🙂 
SANDY:
Thank you, MaryAnn. I am delighted to be here. Your posts, books, and interviews have significantly influenced my life as a Christian, writer, and mother. 
MARYANN:
Thank you, Sandy. I appreciate your kind words and am glad to have been a blessing to you. You have been writing for a good while now. How did you get started in writing, and what advice would you give to someone just starting out? 
SANDY:
I have enjoyed writing since I was in high school. Although I had enjoyed writing for enjoyment and catharsis, I did not take it seriously until after I had my first two children. 
Aspiring writers would be wise to dedicate time each day to their writing. Of course, this means actually writing, but it also includes learning more about the craft and business of writing through reading books, attending workshops, and participating in writers' groups and online communities. 
MARYANN:
What kinds of writing do you do? 
SANDY:
I enjoy writing poetry, devotional/motivational essays, and informative pieces. Many of my illustrations come out out my personal experiences or from anecdotes I heard first hand. Although all good writing requires creativity I have not done much in the realm of fiction, which I think requires a special type of creativity. A little over one year ago, I published a children's book which was actually based on a true story about a conversation I had with my son while sitting on the porch swing. (http://www.joeyisthankful.com/) 
MARYANN:
Tell us more about your writing, editing, and proof-reading services. 
SANDY:
Well, MaryAnn, because my training is in teaching English, I receive satisfaction in helping others with all of the many stages of the writing process from gathering thoughts and brainstorming to organization to polishing up a final copy. I have edited for word count and audience, and I have assisted non-native speakers of English put out quality marketing materials in English. I have assisted individuals, ministries, and businesses with promotional materials, biographies, résumés, and books. I have also completely written content for companies, with the information provided. Technology makes it quite easy to work over the internet, but I still do face-to-face and phone consults. If I am tutoring students in writing and reading skills, it is always a face-to-face session. 
MARYANN:
Sandy, you host a fascinating blog called The Word Surgeon. Tell us about its genesis and how our readers can subscribe. 
SANDY:
A few years ago, I realized I needed a website to market my services and promote my writing. My mission is two-fold: 1) To assist others in creating and shaping their own work (doing surgery on their writing) and 2) To deliver a message of hope, healing, and empowerment based on principles in the Word of God (surgery for life, from the Word). My dad had a glass repair/replacement business and called himself the "Glass Surgeon," so I borrowed his idea for my name. 
Readers can peruse articles by visiting TheWordSurgeon.net and clicking on Word of the Week. To subscribe, they can visit the Contact page on my website or write to subscribe@thewordsurgeon.net . 
MARYANN:
You have a background in education and currently serve as the Associate Director of a Tutoring Agency. How has your experience in education served your writing? 
SANDY:
As I mentioned above, my teaching background has familiarized me with every stage of the writing process and provided the training to clearly communicate that knowledge to others. It helped me understand the importance of a writer's expressing his own message in his own voice. I am a tool for writers to deliver their own message most effectively. In addition, my administrative duties with the tutoring company have quickened an awareness for the necessity of quality writing in this competitive marketplace. In hiring, we will quickly dismiss applicants whose résumés have typos or whose letters lack coherence. Clients have requested a new tutor when the tutor's letter of introduction contained an error. Even the best writer can use an "extra set of eyes" for important documents. The written page is sometimes our first means of contact, and as the saying goes, "You do not get a second chance to make a first impression." 
MARYANN:
Do you mentor other writers? If so, how can our readers get in touch with you? 
SANDY:
Yes, in a short-term sense. Some people come to me and want a matter-of-fact answer. Others desire a more thorough understanding of the "why's" or are seeking direction. I enjoy working with these individuals to enhance their understanding and to assist them in taking their next step or narrowing their goals. After taking the next step (or several), clients have returned for assistance over their next bump in the road, but I would not consider myself a mentor in the longer sense, as a life coach. Readers who are interested in any of my services can reach me via the Contact page on TheWordSurgeon.net or by writing to info@thewordsurgeon.net. There is no fee or obligation for initial consults. 
MARYANN:
What do you see as the chief role of the Christian writer? 
SANDY:
The chief role of the Christian writer is the same as that of every Christian: to use her own talents to take the Good News of the Bible to the world, and to be an instrument in bringing God's Kingdom to this earth. This may be through outright Bible teaching to train a Christian audience or evangelize the "unchurched." It may also be in the secular arena through quality work that communicates Biblical truths and values without outright preaching. There were times that Jesus spoke very directly about his mission, the relationship with his Father, and about Scripture. There were also times that he illustrated his message with parables or that he met peoples' needs (healing, food, etc.) and drew them to want to know more about him. 
MARYANN:
Would you like to share some of your future writing goals? 
SANDY:
I would like to make a series of children's books to follow Joey is Thankful. I had a started a project years ago that I would like to complete–a writing and grief workbook to use after the death of a loved one. I also intend on compiling my devotionals. I also believe I will minister more to women through the wisdom and understanding I am gaining in my own life circumstances. 
MARYANN:
What is your typical writing day? 
SANDY:
When I launched The Word Surgeon in 2009, I was getting up early before the rest of the house to do my writing. However, when I became a single parent about 1.5 years ago, I needed to rise early just to care for the family and have my quiet time. I am fortunate to have some flexibility in my daily schedule, which is also really necessary because of the demands of my current family situation. So, to make sure writing gets proper attention, I schedule it on my Outlook Express calendar, with its own category color. Some events are recurring, such as TheWordSurgeon.net's Word of the Week. I can put reminders for deadlines, marketing, and business duties. I also use the calendar to block off time to use for writing. I carry a small notebook always and jot down anything that comes to mind when I am not near the computer. So, although the time varies, there is a certain method and consistency that works with my lifestyle at this time. 
MARYANN:
Is there anything else you would like to share with our readers? 
SANDY:
I heard once that God is our Boss, even though we receive our checks from another individual or company. I continually ask Him what He wants me do. What should I pursue? How should I use my time today? Sometimes I plow ahead and am reminded to pause to hear His voice. Sometimes I feel overwhelmed, but I remember that if I do all in a day that my Boss asked me to do, then I was successful. 
MARYANN:
Wise words, dear Sandy, coming from a wise woman. 🙂 Thank you so very much for taking the time to visit us today. We wish you all the best with your writing. 
SANDY:
MaryAnn, thank you for inviting me. It is truly an honor. May God continue to bless you and all of your endeavors. 
MARYANN:
Thank you, Sandy.  You may contact Sandy at info@thewordsurgeon.net. I encourage you to visit her website at http://www.thewordsurgeon.net/home