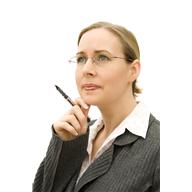 What is a limiting thought?  It is any thought that contradicts what God's Word says about us.
We writers frequently deal with limiting thoughts, thoughts of fear, doubt, and discouragement.  How we handle those limiting thoughts will determine our success as writers.
So what are we to do when a limiting thought assails us?  Here is a three-step process that has helped me to overcome limiting thoughts. I trust it will help you as well.
1) IDENTIFY the limiting thought.  Is it fear, doubt, discouragement, inferiority, hopelessness?  Give your limiting thought a name.
2)  RENOUNCE the limiting thought. Refuse to let it linger in your mind. Command it to go in the Name of Jesus.
3) REPLACE the limiting thought with the Word of God. For example, if you struggle with the thought that you are not good enough to get published, replace that thought with the truth that you can do all things through Christ Who gives you strength (Philippians 4:13).
Our Lord has given us spiritual weapons of warfare to overcome limiting tools. It's our responsibility to use them. 🙂
What has helped you to overcome limiting thoughts?
________________________________________
Photo Source: Microsoft Clipart