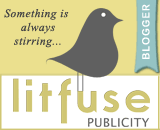 In this world of increasing need for book promotion, an author can feel overwhelmed.  Such was my feeling when my latest book, A CHRISTMAS HOMECOMING, released in early December.  So I took the plunge and hired a PR firm to help me with the launch.  And I am so glad I did!
After researching several PR firms, I opted for the LitFuse Publicity Group. It came highly recommended by some well-respected authors whose opinion I greatly valued. Their advice proved to be some of the best advice I've taken in my writing career.
Why hire a PR firm?  Here are a few reasons that worked for me:
1) I needed people who knew what they were doing when it came to promotion.        
2)  I needed people with experience and connections in the industry.
3) I needed people who offered services at a rate I could afford.
LitFuse met all of these criteria and then some.  I cannot speak highly enough of them.  In fact, I was so pleased with what they did for me and for my book that I plan on hiring them to assist me further in the building of my author platform.
If you're looking for a great PR firm to help you promote your writing, you can count on LitFuse to do a great job for you!