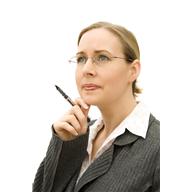 What does our way of thinking have to do with success?  Everything.
Thinking is the precursor to action. It follows, therefore, that if we think positive thoughts, we will take positive action. If we think negative thoughts, we will take negative action.
For example, if I think that my story has a chance of being published, I will take positive steps to polish it and to submit it. But if I think my story doesn't stand a chance, I won't bother to polish it or submit it.
Our thoughts affect the direction of our lives. What thoughts are you thinking about your writing future? Are they thoughts of success or thoughts of defeat? 
The great news is that you can change your thoughts. By changing your thoughts, you will change your life. And by changing your thoughts about your writing, you will change your writing life.
__________________________________
Photo Source: Microsoft Clipart