MARYANN:
Today, I am delighted to welcome to The Write Power author Dianne Neal Matthews. Welcome, Dianne!  It's great to have you with us!
DIANNE:
I'm happy to be here! Thanks so much for inviting me, MaryAnn.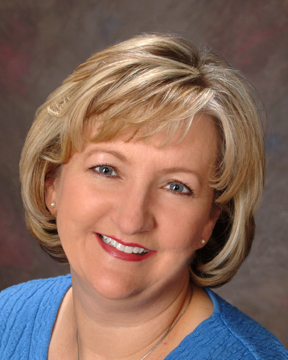 MARYANN:
Dianne, when did you know that God had called you to write for Him?
DIANNE:
As a little girl, I loved to make up stories and share them. Writing assignments were always my favorite part of school. But as an adult, I didn't have the confidence or courage to pursue creative writing. It was just something I fantasized about until my mid-forties when I began writing articles for my church's newsletter. Urged by a friend, I attended a writers' conference in 1999 asking God to show me if writing was His will for me or my own self-centered dream. I sensed His answer in the positive feedback I received there (instead of being asked to leave as I'd imagined). I've never doubted my calling since then.
MARYANN:
You write devotionals. Would you explain what a devotional is and what is its purpose?
DIANNE:
A good short definition can be found as a tagline on the Baker Books website under my newest book: "You are always just one day away from a deeper relationship with God." A devotional is a book of short writings that share biblical truth about Christian doctrine or living a life of faith. Elements typically include an illustration, the spiritual point, practical application, and a relevant verse or Scripture. The purpose is to help the reader grow closer to God and deepen their understanding of His Word.
MARYANN:
Do you use stories when writing your devotionals?  If so, where do you find your stories?
DIANNE:
I often use personal experience stories as opening illustrations. As a matter of fact, God has prompted me to share some really stupid things that I've done. It's humbling but at least readers get a laugh. For The One Year Women of the Bible, I paired each story of a biblical woman with a vignette from a contemporary woman's life. These were mostly based on real-life women that I've known, heard of, or read about, usually with the details changed to guard identity. I even got a couple of ideas from reading Dear Abby. And I included some stories that were from my imagination, but true to life. I've also written devotionals based on historical events, news items, pop culture, holiday origins, and funny things my grandkids have said or done.
MARYANN:
Many people use devotionals as supplements to their daily Bible study.  Do you write with this purpose in mind when your write your devotionals?
DIANNE:
Yes, each devotional in my books is based on a specific verse or passage. And Designed for Devotion: A 365-Day Journey from Genesis to Revelation makes a perfect companion for those reading through the Bible.
MARYANN:
Do you have a typical writing day? If so, what is it like?
DIANNE:
I often joke that I'm only a full-time writer when I have a book contract or an article deadline. I'm still working on the discipline part of the freelance life. My good intentions are to have devotions/prayer time and exercise before I sit down at the computer. I check email and make any needed contacts with editors, and then I write for a few hours. In the afternoon, I usually switch gears and do other writing-related stuff: get books ready to mail, look for new markets to submit to, plan marketing and promotional activities, etc. I'm also trying to reserve an hour most days to study a writing magazine or book on the craft.
MARYANN
Are you currently working on a new book? If so, would you share a little about it?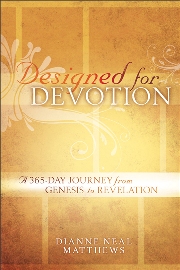 DIANNE:
My agent and I have discussed several ideas for new projects, but right now I'm only in the proposal-writing stage for those. I'm ready to take a break from writing daily devotional books and do something different. One idea that excites me is a collection of fascinating stories of women in history who made an impact in their time or demonstrated heroic character traits.
MARYANN:
Sounds like a wonderful idea! What is the biggest lesson you've learned during your writing career?
DIANNE:
That's easy to answer. The greatest thing I've learned is the truth of Ephesians 3:20: "Now all glory to God, who is able, through his mighty power at work within us, to accomplish infinitely more than we might ask or think." (NLT) That verse tells me how I'm able to write and the next verse reminds me why I write:  "Glory to him in the church and in Christ Jesus through all generations forever and ever! Amen." I've included these verses in the Introduction of each one of my four published daily devotional books.
MARYANN:
Ephesians 3:20 is one of my favorite verses. What single piece of advice would you give to beginning writers?
DIANNE:
Ask for God's guidance about every decision and project. At the same time, grab every opportunity to learn and to practice your craft. If you truly believe that God has called you to write, then never give up—no matter what happens.
MARYANN:
What single piece of advice would you give to seasoned writers?
DIANNE:
Be willing to set aside your own personal agenda so that you don't miss what God has in store for you—which might be something you've never thought of before. I think He loves to surprise us to keep us on our toes.
MARYANN:
Do you have any aspirations to write a novel one day?
DIANNE:
Funny you should ask… I've always fantasized about writing a novel, and I play around with a number of characters and scenes in my head. The hard part is getting it onto paper; I find myself struggling with the same doubts and fears I had when I first started writing. Maybe next year I'll start researching and writing that historical novel!
MARYANN:
Dianne, thank you so much for being with us today.  It has been a blessing! 
DIANNE:
Thank you, MaryAnn, for letting me visit. I wish you and your blog readers a most blessed Thanksgiving!
MARYANN:
I encourage all of our readers to visit Dianne's website at http://www.diannenealmatthews.com/
And if you're looking for a great Christmas gift, check out Dianne's inspiring books.  
Dianne Neal Matthews is a freelance writer and the author of four daily devotional books. She also writes regularly for websites and blogs (such as CBN.com and FindingGodDaily.com), contributes to compilations (including Guideposts' Mornings with Jesus), and enjoys speaking and teaching at writers' conferences. Dianne is a 2006 CLASS graduate and a member of Advanced Writers & Speakers, Christian Authors Network, and Toastmasters International. She and her husband, Richard, are in the process of relocating to southeast Texas, which is still too far away from their three grown children and two adorable grandchildren.