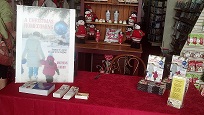 There's something about a booksigning that keeps an author humble.
A local Christian bookstore featured my book, A CHRISTMAS HOMECOMING, at a signing just before Christmas. The store manager graciously and strategically placed me right in front of the main entrance. Nearly everyone who came through the door walked up to the table where I was sitting and asked me where to find a particular item. Being somewhat familiar with the store, I gladly obliged.
It took only a few customer questions for me to realize that people mistook me for a store clerk. The coup de grâce, however, occurred when a customer, picking up my book from the table, asked if it were for sale. When I responded that it was, she  looked at me and said, with her mouth agape as though something had suddenly registered in her brain, "Are you the author?"
After a few moments, I realized that my position at the main entrance qualified me perfectly to serve as concierge. And so, I did.
As each customer entered the store, he or she smiled and asked for help. I felt like those people in the supermarket, stationed at the end of an aisle, serving small specimens of food to hungry shoppers.
While somehow I managed to sell ten books in the midst of my duties as concierge, I can say that my day at the bookstore proved most productive in ways I had not imagined. For one thing, I was reminded once again that my life is all about Jesus and not at all about me. For another thing, God orchestrated divine appointments where I served Him as sales clerk, counselor, and, yes, even, as author.
___________________________________
Photo Source: Yours Truly
Copyright 2014 by MaryAnn Diorio, PhD, MFA.