Are you one of the many people hurting this Christmas season? Maybe you've lost a loved one during the past year, and this is your first Christmas without him or her? Maybe you've been diagnosed with a serious illness, or maybe you've just lost your job. Perhaps a close relationship failed, and you are still smarting from that.
Whatever your situation, know this one thing: God loves you and cares about what you're going through.
"Sure," you may be saying at this point. "If God loved me so much, why did He let this happen?"
Dear Friend, let me assure you that God is not the cause of your pain. Satan is the one who "steals, kills, and destroys" (John 10:10). But that same verse tells us that Jesus came to "give you life, and life more abundantly."
What is that abundant life? Is it is a life free from pain and suffering? Is it a life free from trials and tribulations? Not on this fallen earth. The abundant life is the life that can rest in God because it trusts in Him. It is the life that knows that all things work together for good for those who love the Lord. It is the life that rejoices in the midst of trials because it knows that God will never leave us nor forsake us.
From the perspective of eternity, this life is but a fleeting moment. In due season, our suffering will be over and, if we are in Christ, our perfect joy will begin. Then we will experience the full meaning of the abundant life.
Until that time, however, let us keep our eyes focused on Jesus Who makes all things new. Allow Him to touch your heart with His love, His joy, and His peace. Let Him fold you in His loving arms this Christmas and always, never to let you go.
_______________________________________________
For an uplifting Christmas read, get your copy of A CHRISTMAS HOMECOMING by MaryAnn Diorio.
On Sale for only $0.99 until Christmas.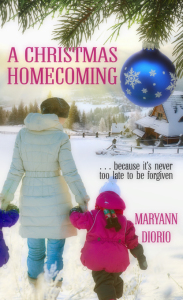 _______________________________________________
Copyright 2014 by Dr. MaryAnn Diorio. All Rights Reserved.