"Guard your heart above all else, for it determines
the course of your life." ~ Proverbs 4:23
________________________________________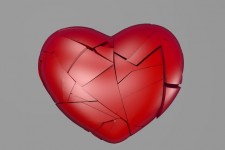 One of the best pieces of advice I ever received was the following gem: Treat everyone as though he has a broken heart. Following this advice has done more for building relationships in my life than, perhaps, anything else.
Whether a person's heart was only slightly fractured, or whether it was shattered into a million slivers of pain, the truth is that everyone's heart, at some point in time, has been broken. Yet, too often, we are quick to judge a person's behavior by our own self-righteous standards.
Take, for instance, the true story of a distraught young father who sat in a bus station with his three unruly, small children. As the children climbed over the benches, shouting and screaming, the father remained silent, seemingly oblivious to everything around him.
An elderly woman sitting across from them thought, Why doesn't that man discipline those children? How can he allow them to behave so terribly, especially in a public place?
When she could not take the noise any longer, she asked the father to quiet his children. Apologizing profusely, he explained that he and his children had just left the hospital where his young wife, their mother, had died that day. Needless to say, the elderly woman's paradigm suddenly shifted. Not only was she deeply ashamed of her critical attitude, but she also now felt a profound compassion for the young man and his motherless children.
How often do we resemble that elderly woman? How often do we judge others solely by their external behavior? Yet, if we were able to see into a person's heart, would we not, like the elderly woman, be ashamed of our judgmental thoughts? Would we not then treat the hurting person with love and understanding?
Happily, there is One Who always sees clearly into the human heart. And not only does He see clearly into it, but He also knows how to take the broken pieces and put them back together again. His Name is Jesus. In Isaiah 61:1-3, we learn what He is like: "The Spirit of the Lord God is upon Me, because the Lord has anointed Me…to heal the brokenhearted …to comfort all who mourn…to give them beauty for ashes, the oil of joy for mourning, the garment of praise for the spirit of heaviness…."
Beauty for ashes! What an exchange! In fact, what Jesus did for you and me has, indeed, been called "The Great Exchange." He exchanged His righteousness for our sin, His life for our death, His wholeness for our brokenness. Why? The answer is found in John 3:16: "For God so loved the world that He gave His only-begotten Son, that whoever believes in Him should not perish but have everlasting life."
You may be broken-hearted today. You may feel that you have no reason to live. You may even be thinking of committing suicide. If so, as a friend who cares, I ask you to give Jesus a chance. He says to you in Matthew 11: 28, "Come to Me all you who labor and are heavy laden, and I will give you rest."
So come to Him just as you are—all broken and battered and bruised. He will not turn you away. In fact, He promises that He will never turn away a contrite heart (Psalm 51: 17). Instead, like the father in the story of the prodigal son (John 3:11-32), He will run out to meet you with open arms, for He has been waiting for you for a long time.
And when you come home to Him, He will take the broken pieces of your shattered heart and put them back together again. But the best news is that when He puts them back together again, your heart will be stronger and more beautiful than it was before. I know, because He did it for me. And He'll do it for you too. All you have to do is ask.
You may leave a comment by clicking here. To receive these blog posts in your emailbox, please click here.

If you found this post helpful, please pass it on to someone who can benefit from reading it. Thank you!
To learn more about who you are in Christ, get your copy of Dr. MaryAnn's popular ebook, You Were Made for Greatness! 
_______________________________________________
Copyright 2015 by Dr. MaryAnn Diorio. All Rights Reserved. This article may not be published or printed in any form whatsoever without the written permission of Dr. MaryAnn Diorio. You may contact her at maryann@maryanndiorio.com to request permission.
Photo Source:  http://www.publicdomainpictures.net/view-image.php?image=32337&picture=the-broken-heart&large=1
Dr. Diorio is a Certified Life Coach, a Certified Biblical Counselor, and a Certified Behavioral Consultant. She is also an award-winning, widely published author of fiction for children and adults. You may reach her at maryann@maryanndiorio.com  or via one of her social media venues below:
Facebook: www.Facebook.com/DrMaryAnnDiorio
MeWe: https://mewe.com/i/maryann.diorio
Twitter: www.Twitter.com/DrMaryAnnDiorio
LinkedIn: https://www.linkedin.com/profile/view?id=45380421
Pinterest: www.Pinterest.com/DrMaryAnnDiorio
Google+: www.Google.com/+DrMaryAnnDiorio
YouTube: https://www.youtube.com/user/drmaryanndiorio/