"Guard your heart above all else, for it determines
the course of your life." ~ Proverbs 4:23
________________________________________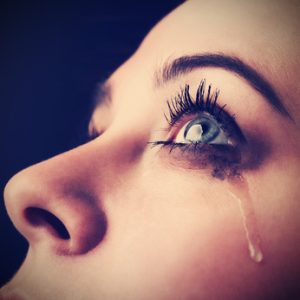 Does your heart hurt? I don't mean your physical heart. I mean your emotional heart. Does it hurt?  If so, read on.
Every one of us has experienced hurt in our lives. For some, that hurt may have been very deep; for others, not so much. Also, the depth to which we feel a hurt has a lot to do with our personalities, our life circumstances, and our perceptions. But all of us have been hurt.
God never intended for our hearts to be hurt. He intended for them to be whole and at peace. But when we look at our lives, we may be tempted to think that with all the problems we face, with all the stress that assails us, and with all of the horrors in the world, how can anyone ever be at peace?
The truth is that no matter what is going on around us, we can be at peace. Peace is an inside job.
Okay, you may be thinking. That's easier said than done. You don't know what my life is like.  You're right. I don't. But if it's anything like mine, it brings new trials every single day, trials that only make the baggage we are already carrying that much heavier.
So what's a person to do?
Here are some things that have helped me to live in peace on the inside:
1) Make sure you have a personal relationship with Jesus Christ, the Prince of Peace. We can never know true peace unless we know Jesus. If you don't yet have a relationship with him, click here.
2) Take mini-breaks with Jesus throughout the day.  I picture my soul as a refreshing oasis where I go to meet Jesus several times a day. When the pressure is on from the outside, I stop what I'm doing and turn inward. I picture myself sitting next to Jesus by a beautiful stream. I talk with Him and listen to what He wants to say to me at that moment. Spending time with Jesus in this way always relieves the stress and fills me with the joy and strength I need to go back to my work in peace.
Brother Lawrence, a 17th-century lay brother in the Carmelite order, wrote a short book on this practice that has become a Christian classic called The Practice of the Presence of God. I highly recommend you read it.
3) Ask Jesus to restore your soul. That's one of His jobs, you know.  The Bible says this in Psalm 23: 3: "He restores my soul."  To restore means to bring back to its original, intended condition. As we said earlier, God's original intention for your soul was wholeness and peace. When you trust God to restore your soul, He will.
Years ago, I was driving down a country road feeling very happy on my way to visit a friend.  Suddenly, I began to sob uncontrollably, so much so that I had to pull over to the side of the road. The whole situation was really strange, but I knew God was doing something inside of me.  When I asked the Lord what was happening, He spoke these words that I will never forget. He said, "My precious daughter, your life was built on a foundation of lies, but I am tearing down that false foundation of lies and rebuilding your life on the Truth." 
As I heard the Lord's words deep within my spirit, I began to rejoice and to worship Him right there in my car. This event happened many years ago, and I can say that God has indeed torn down the false foundation of lies and continues to rebuild my soul on the truth of His Word.
If your heart is hurting, there is hope for you. Turn to Jesus Christ, the only One Who can truly heal your hurting heart. He healed mine, and He will do the same for you.
To help you learn more about who you are in Christ, you may wish to obtain a copy of my ebook, You Were Made for Greatness!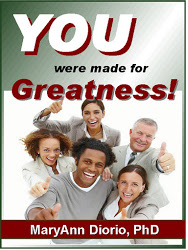 You may leave a comment by clicking here. To receive these blog posts in your emailbox, please click here.

If you found this post helpful, please pass it on to someone who can benefit from reading it. Thank you!
If you have any questions, you may contact me as follows:
Email: drmaryann@maryanndiorio.com
Snail Mail: PO Box 1185, Merchantville, NJ 08109
Tel. 609-364-6902
_____________________________________
Copyright 2015 by Dr. MaryAnn Diorio. All Rights Reserved. This article may not be published or printed in any form whatsoever without the written permission of Dr. MaryAnn Diorio. You may contact her at maryann@maryanndiorio.com to request permission.
Photo Source: Fotolia.com
Amazon.com Required Disclosure:  MaryAnn Diorio is a participant in the Amazon Services LLC Associates Program, an affiliate advertising program designed to provide a means for sites to earn advertising fees by advertising and linking to Amazon.com.
Dr. Diorio is a Certified Life Coach, a Certified Biblical Counselor, and a Certified Behavioral Consultant. She is also an award-winning, widely published author of fiction for children and adults. You may reach her at maryann@maryanndiorio.com  or via one of her social media venues below:
Amazon Author Central: www.amazon.com/author/maryanndiorio
Facebook: www.Facebook.com/DrMaryAnnDiorio
MeWe: https://mewe.com/i/maryann.diorio
Twitter: www.Twitter.com/DrMaryAnnDiorio
LinkedIn: https://www.linkedin.com/profile/view?id=45380421
Pinterest: www.Pinterest.com/DrMaryAnnDiorio
Google+: www.Google.com/+DrMaryAnnDiorio
YouTube: https://www.youtube.com/user/drmaryanndiorio/