"Guard your heart above all else, for it determines
the course of your life." ~ Proverbs 4:23
________________________________________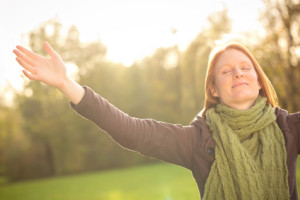 Are you happy?  Are you joyful? The two are not the same, you know.  You can be joyful without being happy, and you can be happy without being joyful. Of course, you can also be both.
Happiness is of the soul; joy is of the spirit.
What does this mean?  It means that happiness depends on circumstances but joy does not.  You can be joyful in the midst of great personal sorrow. In other words, you can experience joy even when your circumstances make you unhappy.  By the same token, you can be happy in your circumstances, but deep down you lack joy.
For example, a woman may be in a very unhappy marriage, but she can still experience the joy of the Lord deep within her spirit.  Or a man may be very unhappy in his job, but he can still experience the joy of the Lord deep down in his spirit.
Joy is the eternal fruit of the Holy Spirit. It supersedes the temporary circumstances of your life and causes you to rise above them.  Happiness, on the other hand, vacillates based on what is happening in your life at any given moment.  The pursuit of happiness will keep you chained to your circumstances and make you a victim of them. The pursuit of joy will set you free to rise above your circumstances.
Scripture tells us that "the joy of the Lord is your strength" (Nehemiah 8:10).  Joy carries us through difficult times in a way that happiness cannot.
Pursue joy above happiness. Happiness can swiftly disappear, but joy remains forever.
Unforgiveness can keep you from experiencing the joy of the Lord.  If you have no joy, ask yourself if you are harboring unforgiveness toward someone who hurt you. If so, you will benefit from reading my powerful story about a woman who had the same struggle. It is called A CHRISTMAS HOMECOMING and is available for Kindle, iPad, and Nook.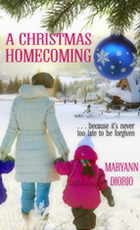 You may leave a comment by clicking here. To receive these blog posts in your emailbox, please click here.

If you found this post helpful, please pass it on to someone who can benefit from reading it. Thank you!
If you have any questions, you may contact me as follows:
Email: drmaryann@maryanndiorio.com
Snail Mail: PO Box 1185, Merchantville, NJ 08109
Tel. 856-488-3580
____________________________________________________________________
Copyright 2015 by Dr. MaryAnn Diorio. All Rights Reserved. This article may not be published or printed in any form whatsoever without the written permission of Dr. MaryAnn Diorio. You may contact her at maryann@maryanndiorio.com to request permission.
Photo Source: Fotolia.com
Amazon.com Required Disclosure:  MaryAnn Diorio is a participant in the Amazon Services LLC Associates Program, an affiliate advertising program designed to provide a means for sites to earn advertising fees by advertising and linking to Amazon.com.
Dr. Diorio is a Certified Life Coach, a Certified Biblical Counselor, and a Certified Behavioral Consultant. She is also an award-winning, widely published author of fiction for children and adults. You may reach her at maryann@maryanndiorio.com  or via one of her social media venues below: