"Guard your heart above all else, for it determines
the course of your life." ~ Proverbs 4:23
________________________________________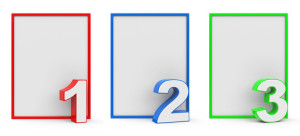 If you've ever studied art or literature, you may have come across what is called 'the rule of three." This rule basically states that each discipline reflects a triune nature.
For example, music has melody, harmony, and rhythm. Art has three primary colors: red, yellow, and blue.  Geometry has length, width, and height. In Chemistry, we speak of liquids, gases, and solids. In history, we discuss past, present, and future. And in fiction writing, we build our stories with a beginning, a middle, and an end.
Wherever we look around us, we can find the rule of three in operation. Why is this so? It is so because the entire universe reflects the trinitarian nature of God. He is Father, Son, and Holy Spirit. And, amazingly, man is made in God's image. Man, therefore, is also a trinitarian being made up of a spirit, a soul, and a body.
It is no wonder then that the entire universe speaks of God in the rule of three.
So, what does the rule of three have to do with your heart?  Your heart–aka your soul–also has three parts: the will, the intellect, and the emotions.  When those three parts are in harmony with one another and in harmony with the nature of God, then your heart will be at peace.  But when one part of your soul is out of harmony with the other two parts and out of harmony with God, your soul will suffer and hurt.
For example, let's say your intellect knows that it's wrong to be unkind but when that crazy driver cuts you off and nearly smashes into you, you react in anger.  In such a case, you have created a conflict between your intellect and your emotions, and your will has sided with your emotions.  You broke the harmony that should have existed among your intellect, your will, and your emotions.
Of the three parts of your soul, the will is the part that needs to be in control. Your intellect may know the right thing to do, but your emotions may keep you from doing it. It is your will that will keep you from doing something stupid, like expressing anger at a crazy driver.
But there is one more thing. Your soul must be subject to your spirit, for your spirit is that part of you connected to the Spirit of God.
Next time, we will explore how your soul and your spirit are related and how your soul must be subject to your spirit in order for you to experience peace.

If you would like to know more about your triune nature, check out my book YOU WERE MADE FOR GREATNESS!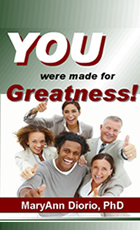 You may leave a comment by clicking here. To receive these blog posts in your emailbox, please click here.

If you found this post helpful, please pass it on to someone who can benefit from reading it. Thank you!
If you have any questions, you may contact me as follows:
Email: drmaryann@maryanndiorio.com
Snail Mail: PO Box 1185, Merchantville, NJ 08109
Tel. 856-488-3580
_______________________________________________________________
Copyright 2015 by Dr. MaryAnn Diorio. All Rights Reserved. This article may not be published or printed in any form whatsoever without the written permission of Dr. MaryAnn Diorio. You may contact her at maryann@maryanndiorio.com to request permission.
Photo Source: Fotolia.com. Copyright File: #31804567 | Author: beermedia.de

Amazon.com Required Disclosure:  MaryAnn Diorio is a participant in the Amazon Services LLC Associates Program, an affiliate advertising program designed to provide a means for sites to earn advertising fees by advertising and linking to Amazon.com.
Dr. Diorio is a Certified Life Coach, a Certified Biblical Counselor, and a Certified Behavioral Consultant. She is also an award-winning, widely published author of fiction for children and adults. You may reach her at maryann@maryanndiorio.com  or via one of her social media venues below: