YOU AND YOUR SPIRIT-SOUL CONNECTION
 "Guard your heart above all else, for it determines
the course of your life." ~ Proverbs 4:23
________________________________________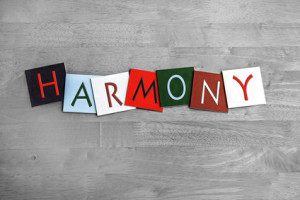 Last time we explored the Rule of Three as it relates to your soul, aka heart. Today, we're going to explore the soul as it relates to your spirit.
You are a three-part being.  First of all, you are a spirit. Then you have a soul. Finally, you have a body that houses your spirit and your soul
Each of your three parts (spirit, soul, and body) is also comprised of three parts. Last time we said that your soul is made up of your mind, your will, and your emotions. Your body is made up of water, tissue, and bones. Your spirit is made up of your conscience, your intuition, and your communion with God.
The soul and the spirit have different functions, yet they are intimately connected and affect your daily life. When your soul (your heart) and your spirit are in harmony, you will experience peace and joy.
How can we get our souls and our spirits to be in harmony? The most important key is to understand that your spirit was designed by God to rule your soul and your body.  But, unless your spirit is connected to God (communion), your spirit will not be able to do its job properly. In fact, a spirit disconnected from God will wreak havoc on your soul and your body.
So, the first rule of order is to make sure your spirit is connected to God.  How? By accepting Jesus as your Savior and Lord. (If you don't know how to do this, click here).
Once your spirit is connected to God, it can begin to commune with God.  This means that your spirit will begin to hear from God, to talk with God, to receive from God.  Romans 7:6 says that we serve God "in the new life of the spirit." 
Understanding that your soul is separate from your spirit and must be subject to your spirit is critical when dealing with matters of the heart.  When we confuse the two, we get into trouble. Watchman Nee wrote: "But sad to say, due to long years of bondage to the soul, many Christians know very little of their spirit. We ought to tremble before God, asking Him to teach us through experience what is spiritual and what is soulish."
If you are confused about the different functions of your soul and your spirit, ask Holy Spirit to reveal this difference to you. Read the Word of God diligently.  In Hebrews 4:12 we learn that " . . .  the Word of God is alive and powerful. It is sharper than the sharpest two-edged sword, cutting between soul and spirit, between joint and marrow. It exposes our innermost thoughts and desires."

The Word of God will help you to understand the spirit-soul connection.  As you grow in this understanding, you will learn how to submit your soul to your spirit and, in so doing, to experience the joy and peace God intends for you.
If you would like to know more about your triune nature, check out my book YOU WERE MADE FOR GREATNESS!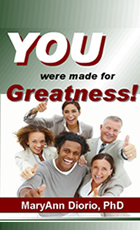 You may leave a comment by clicking here. To receive these blog posts in your emailbox, please click here.

If you found this post helpful, please pass it on to someone who can benefit from reading it. Thank you!
If you have any questions, you may contact me as follows:
Email: drmaryann@maryanndiorio.com
Snail Mail: PO Box 1185, Merchantville, NJ 08109
Tel. 856-488-3580
_______________________________________________________________
Copyright 2015 by Dr. MaryAnn Diorio. All Rights Reserved. This article may not be published or printed in any form whatsoever without the written permission of Dr. MaryAnn Diorio. You may contact her at maryann@maryanndiorio.com to request permission.
Photo Source: Fotolia.com. Copyright File: #60059295 | Author: EdwardSamuel

Amazon.com Required Disclosure:  MaryAnn Diorio is a participant in the Amazon Services LLC Associates Program, an affiliate advertising program designed to provide a means for sites to earn advertising fees by advertising and linking to Amazon.com.
Dr. Diorio is a Certified Life Coach, a Certified Biblical Counselor, and a Certified Behavioral Consultant. She is also an award-winning, widely published author of fiction for children and adults. You may reach her at maryann@maryanndiorio.com  or via one of her social media venues below: