IS YOUR HEART DIVIDED?

 "Guard your heart above all else, for it determines
the course of your life." ~ Proverbs 4:23
________________________________________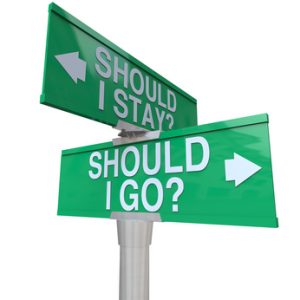 Would you consider yourself indecisive? If so, read on.  If not, read on anyway because your heart may still be divided.
Another name for a divided heart is double-mindedness. In other words, a person with a divided heart is of two minds and cannot settle on one.
What is a divided heart? A divided heart is a heart that rides the fence between two belief systems, two points of view, or two paths to take. A divided heart is a heart that wavers between right and wrong, between belief and doubt.  A divided heart is a heart that is unfocused, confused, and filled with unbelief.
Unbelief?  Yes, unbelief. 
Scripture tells us that a person with a divided heart should not expect to receive anything from the Lord (James 1:7). Why? Because that person cannot decide whether or not to believe what God says.
Moreover, "a double-minded man is unstable in all his ways" (James 1:8). Not a complimentary thing, is it? To be unstable is to stand on a shaky foundation, one that will eventually crumble.

Because a divided heart is a heart of unbelief, it is also an evil heart.  God says this in Hebrews 3:12: "Take heed, brothers, lest there be in any of you an evil heart of unbelief, in departing from the living God."  When we have a divided heart, we are living in unbelief, and to live in unbelief is to have an evil heart.

If you heart has been divided, repent and ask Jesus to restore it to wholeness. Spend time in prayer and reading God's Word. The Word of God will mend your divided heart and make it stable, steady, and strong.
If you would like to know more about becoming like Jesus, check out my book YOU WERE MADE FOR GREATNESS!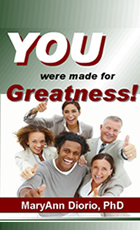 You may leave a comment by clicking here. To receive these blog posts in your emailbox, please click here.

If you found this post helpful, please pass it on to someone who can benefit from reading it. Thank you!
If you have any questions, you may contact me as follows:
Email: drmaryann@maryanndiorio.com
Snail Mail: PO Box 1185, Merchantville, NJ 08109
Tel. 856-488-3580
_______________________________________________________________
Copyright 2015 by Dr. MaryAnn Diorio. All Rights Reserved. This article may not be published or printed in any form whatsoever without the written permission of Dr. MaryAnn Diorio. You may contact her at maryann@maryanndiorio.com to request permission.
Photo Source: Fotolia.com. File: #38628027 | Author: iQoncept

Amazon.com Required Disclosure:  MaryAnn Diorio is a participant in the Amazon Services LLC Associates Program, an affiliate advertising program designed to provide a means for sites to earn advertising fees by advertising and linking to Amazon.com.
Dr. Diorio is a Certified Life Coach, a Certified Biblical Counselor, and a Certified Behavioral Consultant. She is also an award-winning, widely published author of fiction for children and adults. You may reach her at maryann@maryanndiorio.com  or via one of her social media venues below: