WHY WORRY?

"Guard your heart above all else, for it determines
the course of your life." ~ Proverbs 4:23
_______________________________________
Are you a worrier? Do you expect the worst to happen? Do you find yourself in constant dread that something will go wrong?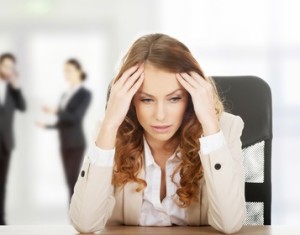 I know how you feel. You see, I've had a life-long struggle with worry.  But, by the grace of God,  I have also come a long, long way in overcoming it.
When I ask people why they worry, here are some of the answers I get:
I worry because it's the responsible thing to do.  Is it?
I worry because it gives me a sense of control over my situation?  Does it?
I worry because there is a lot to worry about.  Is there?
I worry because I can't NOT worry?  Really?
I worry because that's just the way I am.  Is it?
Worry is the misuse of the imagination.  If you can worry, you can also NOT worry.  It all depends on how you use that amazing part of you designed by God to create.
Worry is simply negative thinking gone awry.
So, what are we to do when we are tempted to worry? The answer is found in Philippians 4:6-8:  "Don't fret or worry. Instead of worrying, pray. Let petitions and praises shape your worries into prayers, letting God know your concerns. Before you know it, a sense of God's wholeness, everything coming together for good, will come and settle you down. It's wonderful what happens when Christ displaces worry at the center of your life."
Prayer will knock worry right out of your life.
Corrie Ten Boom was a Christian who hid Jews during World War II.  She was captured and placed in a concentration camp.  Here is what she said about worry: "Worrying does not empty tomorrow of its troubles: it empties today of its strength."
Available in Kindle and print versions.
If you would like to learn how to overcome worry, check out my book YOU WERE MADE FOR GREATNESS!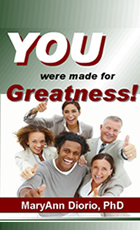 You may leave a comment by clicking here. To receive these blog posts in your emailbox, please click here.

If you found this post helpful, please pass it on to someone who can benefit from reading it. Thank you!
If you have any questions, you may contact me as follows:
Email: drmaryann@maryanndiorio.com
Snail Mail: PO Box 1185, Merchantville, NJ 08109
Tel. 856-488-3580
________________________________
Copyright 2015 by Dr. MaryAnn Diorio. All Rights Reserved. This article may not be published or printed in any form whatsoever without the written permission of Dr. MaryAnn Diorio. You may contact her at maryann@maryanndiorio.com to request permission.
Photo Source: Fotolia.com: File: #84201155 | Author: Piotr Marcinski

Amazon.com Required Disclosure:  MaryAnn Diorio is a participant in the Amazon Services LLC Associates Program, an affiliate advertising program designed to provide a means for sites to earn advertising fees by advertising and linking to Amazon.com.
Dr. Diorio is a Certified Life Coach, a Certified Biblical Counselor, and a Certified Behavioral Consultant. She is also an award-winning, widely published author of fiction for children and adults. You may reach her at maryann@maryanndiorio.com  or via one of her social media venues below: