"Guard your heart above all else, for it determines
the course of your life." ~ Proverbs 4:23
_______________________________________
Do you think straight? What does that even mean, and how can you tell if you do?

Let me explain by telling you a little story.  During the 45 years of our marriage, my wonderful husband has hung many pictures for me. Each time he hangs a picture, he asks me if it looks straight. Usually, I say that the picture is leaning to the left or to the right. Usually, my husband says it looks straight to him.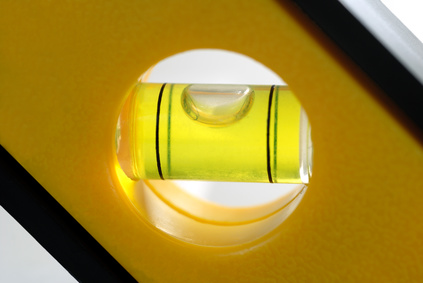 So, in order to determine if the picture is straight or crooked, he gets out his trusty level. The level never lies. It always tells the truth. If the level shows that the picture is straight, then it is straight, no matter what it looks like to our eyes.
The level is our standard of truth.
Well, God has provided a "level" to serve as the standard of truth for living our lives. That "level" is called the Bible, and it was given to us by God to tell us if we are thinking straight or not. If our way of thinking lines up with what the Bible says, then we are thinking straight. If our way of thinking does not line up with what the Bible says, then we are not thinking straight.
Now, a picture that hangs crooked on my wall may not do much more than annoy me, but a way of thinking that hangs crooked in my mind could destroy me.
For example, if I think that I will go up if I jump off a roof, that kind of crooked thinking could harm me as I soon hit the ground.  I will have discovered too late that jumping off a roof will cause me to go down, not up.
There are some kinds of crooked thinking that are even more serious than falling off a roof.  Take, for example, my thinking about Jesus Christ. If I don't believe that He is the Savior of the world, and if I don't accept Him as such, I will spend eternity in Hell, separated from Him. Why? Because He says that "whoever believes in the Son has eternal life, but whoever rejects the Son will not see life . . . . " (John 3:36).
Bottom line, any thinking that contradicts God's thinking is crooked thinking.  Anything that agrees with God's thinking is straight thinking.
So, are you thinking straight? To find out, just ask yourself if your thinking agrees with God's thinking.  How can you know? There is only one way. You have to get to know how God thinks by reading and studying His Word.
The Apostle Paul wrote this in Romans 12:2: "Don't copy the behavior and customs of this world, but let God transform you into a new person by changing the way you think (emphasis mine). Then you will learn to know God's will for you, which is good and pleasing and perfect." We change the way we think by studying, memorizing, and meditating on the Word of God.

Too many Christians today are thinking like the world.  They have adopted the cultural consensus and, consequently, are not thinking straight. This is the reason we hear of Christians having sex outside of marriage, agreeing with the Supreme Court's recent decision on gay marriage, and condoning abortion. This is all crooked thinking!
I urge you today to start thinking straight. Not only does your success in this life depend on it, but, most importantly, your eternal destiny hangs on it.
_______________________________
Available in Kindle and print versions.
You may leave a comment by clicking here. To receive these blog posts in your emailbox, please click here.

If you found this post helpful, please pass it on to someone who can benefit from reading it. Thank you!
If you have any questions, you may contact me as follows:
Email: drmaryann@maryanndiorio.com
Snail Mail: PO Box 1185, Merchantville, NJ 08109
Tel. 856-488-3580
________________________________
Copyright 2015 by Dr. MaryAnn Diorio. All Rights Reserved. This article may not be published or printed in any form whatsoever without the written permission of Dr. MaryAnn Diorio. You may contact her at maryann@maryanndiorio.com to request permission.
Photo Source: Fotolia.com: File: #12211283 | Author: Terrance Emerson

Amazon.com Required Disclosure:  MaryAnn Diorio is a participant in the Amazon Services LLC Associates Program, an affiliate advertising program designed to provide a means for sites to earn advertising fees by advertising and linking to Amazon.com.
Dr. Diorio is a Certified Life Coach, a Certified Biblical Counselor, and a Certified Behavioral Consultant. She is also an award-winning, widely published author of fiction for children and adults. You may reach her at maryann@maryanndiorio.com  or via one of her social media venues below: