"Guard your heart above all else, for it determines
the course of your life." ~ Proverbs 4:23
_______________________________________
No one can upset you without your permission!
Let those words sink in. No one–that means, NO ONE, can upset you unless you allow that person to upset you.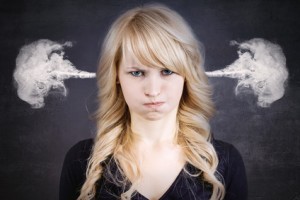 Photo Source: Fotolia.com – File: #69793015 | Author: pathdoc
When you think about it, this is wonderful news. It means that you have the ability and the power of choice to assume responsibility for your emotions. It also means that no matter how others treat you, you can remain calm, secure, and unshaken on the inside.
Whenever you allow someone to upset you, you are giving that person control over you. You are allowing that person to affect not only your emotions but also your entire life.  You are, in essence, allowing another person to rob you of your freedom and your peace.
Think about it.
Let's say your husband forgets your anniversary. Instead of allowing that fact to upset you, turn the situation around and surprise him by cooking his favorite meal. This will defuse any temptation on your part to be upset, and it will remind you that that wonderful man you married is human, just like you, and sometimes forgets things.
My granddaughter recently got upset when her younger sister took from her a toy she wanted to play with. My older granddaughter came to me complaining.  "Nonna, she makes me so mad!" 
I smiled and replied, "Sweetheart, no one can make you angry without your permission."
Her brows furrowed as her eyes questioned my sanity. "That's not true, Nonna! I'm mad!"
"Of course, you're mad, but you don't have to be. You are the one allowing yourself to be mad." 
After a few moments of conversation, she left feeling empowered that she could set boundaries as to what she would allow and not allow in her  life.
You can set the same boundaries. You can determine how you will respond to the actions of others.
You can refuse to allow anyone to upset you.
Now, that is freedom! 🙂 And that is peace!
_______________________________
Available in Kindle and print versions.
You may leave a comment by clicking here. To receive these blog posts in your emailbox, please click here.

If you found this post helpful, please pass it on to someone who can benefit from reading it. Thank you!
If you have any questions, you may contact me as follows:
Email: drmaryann@maryanndiorio.com
Snail Mail: PO Box 1185, Merchantville, NJ 08109
Tel. 856-488-3580
________________________________
Copyright 2015 by Dr. MaryAnn Diorio. All Rights Reserved. This article may not be published or printed in any form whatsoever without the written permission of Dr. MaryAnn Diorio. You may contact her at maryann@maryanndiorio.com to request permission.
Source Cited: https://en.wikiquote.org/wiki/Mission:_Impossible
Photo Source: Fotolia.com – File: #76121094 | Author: gustavofrazao
Amazon.com Required Disclosure:  MaryAnn Diorio is a participant in the Amazon Services LLC Associates Program, an affiliate advertising program designed to provide a means for sites to earn advertising fees by advertising and linking to Amazon.com.
Dr. Diorio is a Certified Life Coach, a Certified Biblical Counselor, and a Certified Behavioral Consultant. She is also an award-winning, widely published author of fiction for children and adults. You may reach her at maryann@maryanndiorio.com  or via one of her social media venues below: