"Guard your heart above all else, for it determines
the course of your life." ~ Proverbs 4:23
_______________________________________
If you've lived a few years on this earth, you've most likely made some decisions you've regretted. Perhaps you made a poor financial decision that now has you in tremendous debt. Or perhaps you had an abortion and are now tormented with agonizing feelings of guilt. Whatever the case may be, how you handle your regret will determine the kind of future you will live.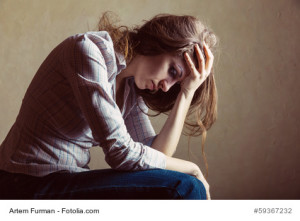 Some people have the ability simply to face their mistakes, learn from them, and move on. Others, however, have a very difficult time letting go of the past. Instead of accepting the fact that they've missed the mark, they allow the mistake to torment them. They keep thinking about it, wondering what their life would be like if they had not made the mistake. They allow themselves to become a victim of the if onlys.
The Bible, God's manual for man, addresses every problem you will ever face, including the problem of the if onlys. Let's take a look at what it says.
The Apostle Paul writes in Philippians 3:13-14: "One thing I do, forgetting those things which are behind and reaching forward to those things which are ahead, I press toward the goal for the prize of the upward call of God in Christ Jesus." Before giving his life to Jesus Christ, Paul had Christians killed. He would drag men, women, and children out of their homes and turn them over to the authorities to be beaten, imprisoned, and murdered.
After he had an astounding encounter Christ, Paul deeply regretted what he had done and asked God to forgive him. Paul could have allowed the memory of his past sins to stand in the way of being all that God created him to be, but Paul refused to do so.
The above verse reveals the three steps he took to overcome the regrets of his past. These same three steps will also help you to get rid of the if onlys of your past.
1) Forget those things that are behind. "Great!" you say. "How do you forget the mistakes of the past?" First of all, you admit them. Secondly, you repent of them by asking God to forgive you and by determining that you will not make those mistakes again. Third, you decide, by an act of your will, to put your mistakes behind you.
God, in His great mercy, has made provision to cover all our mistakes, our poor decisions, our regrets. That provision is Jesus Christ. He's called our Redeemer because He redeems us from the past. To redeem means to release from blame.
Jesus releases you from the blame of the sins of your past. Not only that, He gives you a bright future. He says, "My plans for you are for good and not for evil, to give you a future and a hope" (Jeremiah 29:11). All you have to do is invite Him into your life and let Him redeem you.
2) Reach forward to those things which are ahead. Living in the past is like trying to drive while continually looking in your rear-view mirror. Sooner or later, you will crash. The same is true in life. If you keep looking back, you'll never get to your destination.
Concentrate, instead, on those things that lie ahead. What are those things? They are the dreams that God has placed in your heart. Dreams energize your life and pull you into the future. The Bible says that a person without a dream will die (Proverbs 29:18). He may not die outwardly, but he will surely die inwardly.
3) Press toward the goal for the prize of the upward call of God in Christ Jesus. The greatest goal that you can pursue is Jesus Christ. As you look to Him to save you, you will find all of your if onlys slipping away. He Himself will cut the cables that have kept you emotionally bound to your past, and, like an eagle, you will soar joyfully to the great heights of freedom for which God created you.
_______________________________
Available in Kindle and print versions.
You may leave a comment by clicking here. To receive these blog posts in your emailbox, please click here.

If you found this post helpful, please pass it on to someone who can benefit from reading it. Thank you!
If you have any questions, you may contact me as follows:
Email: drmaryann@maryanndiorio.com
Snail Mail: PO Box 1185, Merchantville, NJ 08109
Tel. 856-488-3580
________________________________
Copyright 2015 by Dr. MaryAnn Diorio. All Rights Reserved. This article may not be published or printed in any form whatsoever without the written permission of Dr. MaryAnn Diorio. You may contact her at maryann@maryanndiorio.com to request permission.
Photo Source: Fotolia.com File: #40298475 | Author: mariazin
Amazon.com Required Disclosure:  MaryAnn Diorio is a participant in the Amazon Services LLC Associates Program, an affiliate advertising program designed to provide a means for sites to earn advertising fees by advertising and linking to Amazon.com.
Dr. Diorio is a Certified Life Coach, a Certified Biblical Counselor, and a Certified Behavioral Consultant. She is also an award-winning, widely published author of fiction for children and adults. You may reach her at maryann@maryanndiorio.com  or via one of her social media venues below: