"Guard your heart above all else, for it determines
the course of your life." ~ Proverbs 4:23
_______________________________________
It's in the air. This monstrous beast called terrorism. We sense it all around us. We feel it in our bones. We watch it every night on the evening news.
If we let it, it will paralyze us emotionally, psychologically, and physically.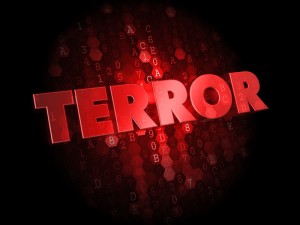 Fotolia.com File: #60891819 | Author: tashatuvango
And that's precisely its goal.
The purpose of terrorism is to instill terror in the hearts of men. Whether it succeeds or not is up to us.
Terror is a form of control. But it is only outward control. Terror can never control your heart unless you allow it to do so. 
There is a place in you called the "inner sanctum".  According to the Oxford Dictionary, the term derives its name from the same phrase which refers to "the most sacred place in a temple or church."  In the human being, the inner sanctum is a place that no one can touch. It is the place where you and God meet and which no one else can penetrate without your permission.
The inner sanctum is your heart.
Outside forces can destroy your body without your permission, but no force in the universe can destroy your inner sanctum or heart without your permission.
Jesus said it best: "Don't be afraid of those who want to kill your body; they cannot touch your soul. Fear only God, who can destroy both soul and body in hell" (Matthew 10:28).

"Don't be afraid of those who want to kill your body ;
they cannot touch your soul." ~ Matthew 10:28

Terror is the opposite of love. Terror is a form of fear, and God has said this: "There is no fear in love" (I John 4:18). In other words, when love reigns in the heart, terror cannot overtake the heart.
Terror can overpower physically, but terror will never overpower love because terror is inferior to love.  Love is the greatest power of all. Terror and terrorism will one day fail, but love will never fail (I Corinthians 13:8).
Let, therefore, the love of Jesus Christ rule in your heart. When you do, there will be no room for terror.
_______________________________
Available in Kindle and print versions.
You may leave a comment by clicking here. To receive these blog posts in your emailbox, please click here.

If you found this post helpful, please pass it on to someone who can benefit from reading it. Thank you!
If you have any questions, you may contact me as follows:
Email: drmaryann@maryanndiorio.com
Snail Mail: PO Box 1185, Merchantville, NJ 08109
Tel. 856-488-3580
________________________________
Copyright 2015 by Dr. MaryAnn Diorio. All Rights Reserved. This article may not be published or printed in any form whatsoever without the written permission of Dr. MaryAnn Diorio. You may contact her at maryann@maryanndiorio.com to request permission.
Photo Source: Fotolia.com File: #60891819 | Author: tashatuvango
Amazon.com Required Disclosure:  MaryAnn Diorio is a participant in the Amazon Services LLC Associates Program, an affiliate advertising program designed to provide a means for sites to earn advertising fees by advertising and linking to Amazon.com.
Dr. Diorio is a Certified Life Coach, a Certified Biblical Counselor, and a Certified Behavioral Consultant. She is also an award-winning, widely published author of fiction for children and adults. You may reach her at maryann@maryanndiorio.com  or via one of her social media venues below: