"Guard your heart above all else, for it determines
the course of your life." ~ Proverbs 4:23
______________________________________ 
The first step in healing your broken heart is to realize you cannot heal it by yourself.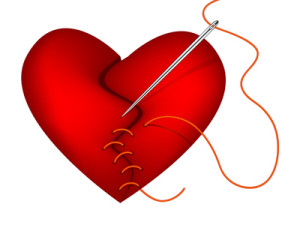 File: #6424414 | Author: Susanyoyo
Only the One Who made your heart can truly heal your heart.  

Even more wonderful good news is that the One Who made your heart WANTS to fix your heart when it breaks. 
Here are four steps to take to receive a healing touch from Jesus:
1-Tell Him you have a broken heart. You do this for your sake, not His. He already knows. To solve a problem, you must first admit you have a problem.
2-Admit the emotions caused by your broken heart.  Anger? Hatred? Fear? Jealousy? Repent of those that have caused you to sin.
3-Give Jesus your painful emotions.
4-Receive His healing in exchange for your pain. 
It's as simple–and profound–as that.
 
I welcome your comments. You may leave a comment by clicking here.
To receive these blog posts in your mailbox, please click here.
If you found this post helpful, please forward it to a friend. Thank you!
____________________________________________
____________________________________________