Rudeness.  We see it everywhere. It comes in many forms: road rage, verbal abuse, failure to respond to legitimate emails or phone calls requesting a response.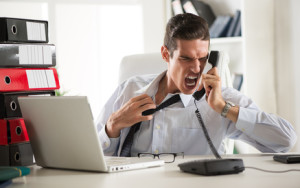 File: #69898133 | Author: milanmarkovic78

Sometimes people are deliberately rude. At other times, they are unwittingly so.
Here are some ways we can be rude without realizing it:
Interrupting someone who is speaking.
Talking incessantly without giving the other person a chance to comment.
Whispering in the audience during a public event.
Failing to say "Please" or "Thank you."
Breaking into a line.
Hanging up on someone.
Slamming a door in anger.
Shouting at someone in anger.
At its root, rudeness is selfishness. It is putting one's own needs and desires above another's. 
Rudeness is contrary to Scripture's command to value others better than ourselves (Philippians 2:3).
______________________________________________________________
I welcome your comments. You may leave a comment by clicking here.
____________________________________________
____________________________________________