Guard your heart above all else, for it determines
the course of your life." ~ Proverbs 4:23
______________________________________
People often ask me why there is evil in the world. The answer is simple. There is evil in the world because there is a devil who is the god of this world. His name is Satan, and his single purpose is to steal, kill, and destroy you in any way he can.
Most people don't like to talk about the devil. In fact, many people deny he even exists. But when we don't know our enemy, and when we don't know his tactics, we place ourselves in grave danger, not only spiritually, but also physically, mentally, and emotionally.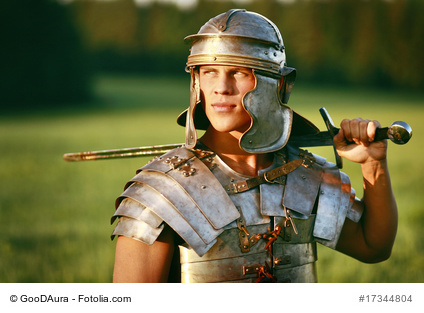 Scripture tells us that we are in a spiritual battle: For we wrestle not against flesh and blood, but against principalities, against powers, against the rulers of the darkness of this world, against spiritual wickedness in high places (Ephesians 6:12). In order to fight this spiritual battle, we have been given spiritual weapons: For the weapons of our warfare are not of the flesh but have divine power to destroy strongholds (2 Corinthians 10:4). Only by using these spiritual weapons will be we able to defeat the enemy.
What are some of these "weapons of our warfare?" We find these weapons listed in Ephesians 10: 18.  Let's take a look: 
1) The Belt of Truth. Scripture tells us in John 8:32 that the truth will set us free. So the first piece of armor that we need to don is Truth. Truth is a Person. Truth is Jesus Christ. The Word of God is Truth. As we saturate our spirits with the Word of God, we will be putting on the Belt of Truth to wrestle the enemy.
2) The Breastplate of Righteousness. In Roman times, soldiers wore a breastplate to protect their vital organs in the midst of battle. The Christian's protection is the breastplate of righteousness. This weapon places us in Christ and places Christ in us. We are His righteousness because of His grace.
3) The Shoes of the Gospel of Peace.  Shoes are worn by the feet, and the feet are the foundation of our bodies. When peace is the foundation of our lives, we stand on a strong foundation. Jesus is our Peace. He is the Prince of Peace. His Gospel is a Gospel of Peace. What does this mean? It means that Jesus came to restore peace between man and the Father. We are bearers of that peace as we go about our daily lives.
4) The Shield of Faith.  Why do we need the shield of faith? Because the enemy continually throws fiery darts aimed to take us down. When we carry the shield of faith, we are prepared to deflect those fiery darts and send them back where they came from. How do we get the shield of faith? By hearing the Word of God. Romans 10:17 says this: Faith comes by hearing, and hearing by the Word of God. Whatever you hear often enough, you will eventually believe. Make sure you are hearing the Word of God and not the word of the world.
5) The Helmet of Salvation. A helmet is worn to protect the head. The helmet of salvation protects the mind from demonic assault in the form of lies, false doctrines, and false philosophies. When we wear the Helmet of Salvation, we are protecting ourselves from false belief systems whose goal is to bring us down.

6) The Sword of the Spirit. This last weapon is the only weapon that puts us on the offense. All of the other weapons are defensive weapons. The Sword of the Spirit is the Word of God. With it, we charge against the enemy and drive him out of our lives. We wield the Sword of the Spirit by speaking God's Word into every situation that opposes His promises to us. For example, when sickness attacks, we use the Sword of the Spirit to drive it away.

Unless we put on all of the pieces of our God-given armor, we risk injury from the enemy. So be sure that when you get dressed each morning, the first thing you put on is the whole armor of God.
___________________________________________________________ 
I welcome your comments. You may leave a comment by clicking here.
To receive these blog posts in your mailbox, please click here.
If you found this post helpful, please forward it to a friend. Thank you!
____________________________________________
____________________________________________
____________________________________________
If you have any questions, you may contact me as follows:
Email: drmaryann@maryanndiorio.com
Snail Mail: PO Box 1185, Merchantville, NJ 08109
Tel. 856-488-3580
________________________________
Copyright 2015 by Dr. MaryAnn Diorio. All Rights Reserved. This article may not be published or printed in any form whatsoever without the written permission of Dr. MaryAnn Diorio. You may contact her at drmaryann@maryanndiorio.com to request permission.
Amazon.com Required Disclosure: MaryAnn Diorio is a participant in the Amazon Services LLC Associates Program, an affiliate advertising program designed to provide a means for sites to earn advertising fees by advertising and linking to Amazon.com.
Dr. Diorio is a Certified Life Coach, a Certified Biblical Counselor, and a Certified Behavioral Consultant. She is also an award-winning, widely published author of fiction for children and adults. You may reach her at maryann@maryanndiorio.com or via one of her social media venues below:
Website: www.maryanndiorio.com
Blog (Matters of the Heart): http://www.networkedblogs.com/blog/maryanndiorioblog
Amazon Author Central: http://www.amazon.com/author/maryanndiorio
Facebook: http://www.Facebook.com/DrMaryAnnDiorio
Twitter: http://Twitter.com/@DrMaryAnnDiorio
Goodreads: http://www.goodreads.com/author/show/6592603
LinkedIn: http://www.linkedin.com/profile/view?id=45380421
Pinterest: http://www.pinterest.com/drmaryanndiorio/
Google+: http://plus.google.com/u/0/+DrMaryAnnDiorio
YouTube: http://www.youtube.com/user/drmaryann