Guard your heart above all else, for it determines
the course of your life." ~ Proverbs 4:23
______________________________________
Political correctness has infiltrated the Church to the point that timidity, embarrassment, and fear of telling others about Jesus has become epidemic.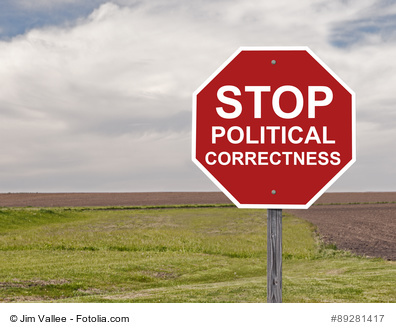 Here are some excuses we make for our deceptive thinking:
Religion is a private matter in which I should not interfere.
If I talk about Jesus, I'll be considered a wacko or a fanatic.
Things are going well at work, so I don't want to rock the boat by mentioning I'm a Christian. Nowadays, it could even cost me my life.
This person has been my friend for years. If I mention Jesus, the friendship could end.
My family members don't want to hear about Jesus, so why annoy them?
Each of these excuses is founded on a lie. Let's examine those lies.
Lie #1: Religion may be a private matter, but it is not only a private matter. What people believe affects an entire society. Just look at what's happening in America because our country has taken God out of our culture.
Lie #2: Yes, we may come across as wackos or fanatics. But consider what Jesus said: Fearing people is a dangerous trap, but trusting the LORD means safety (Proverbs 29:25 NLT). Are we going to fear man or are we going to fear God?
Lie #3: I can't risk losing my job—or my reputation—by telling my co-workers about Jesus. Surely God understands. Really? Consider this: "But whosoever shall deny me before men, him will I also deny before my Father which is in heaven" (Matthew 10:33 KJV). Are we willing to forfeit Heaven because we are afraid of what others might think of us on earth?
Lie #4: My friend and I never talk politics or religion, and I want to keep it that way. Otherwise, I could lose the friendship. Consider this: If we really love our friends, we will be concerned about their eternal salvation. To refuse to tell our friends about Jesus is selfish and reveals a lack of genuine love for them.
Lie #5: The same reasoning applies to our family members. A Christian man I know (whom I will call Ted) lost his brother. After his brother died, Ted suffered great anguish knowing that his brother was very likely in hell because Ted had never spoken to him about Jesus. Ted vowed he would spend the rest of his days testifying to others about their need to accept Christ as Savior and Lord.
What about you? Are you sharing the greatest message in the universe with those in your circle of influence? If not, repent now. Then begin telling those whom God places in your path the glorious news of the Gospel of Jesus Christ.
Let us always keep in mind Paul's mandate to Timothy: "Preach the word of God. Be prepared, whether the time is favorable or not" (2 Timothy 4:2).
________________________________________________________________
Copyright 2016 by MaryAnn Diorio, PhD, MFA. All Rights Reserved. This article may not be reprinted in any form without the written permission of the author.
___________________________________________________________ 
I welcome your comments. You may leave a comment by clicking here.
To receive these blog posts in your mailbox, please click here.
If you found this post helpful, please forward it to a friend. Thank you!
____________________________________________
____________________________________________
____________________________________________
If you have any questions, you may contact me as follows:famil
Email: drmaryann@maryanndiorio.com
Snail Mail: PO Box 1185, Merchantville, NJ 08109
Tel. 856-488-3580
________________________________
Copyright 2015 by Dr. MaryAnn Diorio. All Rights Reserved. This article may not be published or printed in any form whatsoever without the written permission of Dr. MaryAnn Diorio. You may contact her at drmaryann@maryanndiorio.com to request permission.
Amazon.com Required Disclosure: MaryAnn Diorio is a participant in the Amazon Services LLC Associates Program, an affiliate advertising program designed to provide a means for sites to earn advertising fees by advertising and linking to Amazon.com.
Dr. Diorio is a Certified Life Coach, a Certified Biblical Counselor, and a Certified Behavioral Consultant. She is also an award-winning, widely published author of fiction for children and adults. You may reach her at maryann@maryanndiorio.com or via one of her social media venues below:
Website: www.maryanndiorio.com
Blog (Matters of the Heart): http://www.networkedblogs.com/blog/maryanndiorioblog
Amazon Author Central: http://www.amazon.com/author/maryanndiorio
Facebook: http://www.Facebook.com/DrMaryAnnDiorio
Twitter: http://Twitter.com/@DrMaryAnnDiorio
Goodreads: http://www.goodreads.com/author/show/6592603
LinkedIn: http://www.linkedin.com/profile/view?id=45380421
Pinterest: http://www.pinterest.com/drmaryanndiorio/
Google+: http://plus.google.com/u/0/+DrMaryAnnDiorio
YouTube: http://www.youtube.com/user/drmaryann