Guard your heart above all else, for it determines
the course of your life." ~ Proverbs 4:23
______________________________________
"The habits you make will eventually make you."  – Dr. MaryAnn Diorio
This quote by yours truly packs a lot of punch. Let's take a look at five habits every Christian should develop to draw closer to Jesus: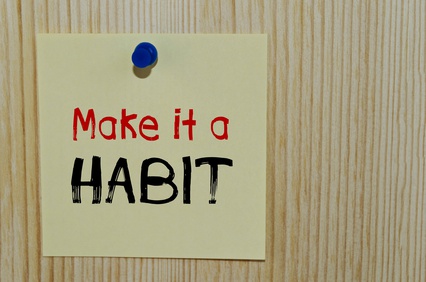 Photo Source: Fotolia.com
1-Study the Word of God. Don't just read it. Study it. Study means digging into the Word, delving into its deeper meanings, applying it to your life.
2-Memorize the Word of God. Hiding God's Word in your heart will make it readily available to you when you need it. There may be times coming when we will not be permitted to carry our Bibles with us wherever we go. Memorizing Scripture will enable you to carry it with you all the tine.  Remember: What you plant in your heart can never be taken away from you.
3-Fellowship with other believers. Jesus made it clear that as the times grow darker, the more should we believers gather together in prayer, worship, and fellowship. The members of the Body of Christ need one another to stay strong, to grow, and to fulfill Christ's purpose for His Church.
4-Pray without ceasing. This means that we are to carry on a running conversation with the Lord all day long. Prayer is both a privilege and a responsibility. Through prayer we communicate with God and He communicates with us. When we pray, we should do more listening than talking because God is way smarter than we are.
5-Be sensitive to Holy Spirit's leading. Each morning, ask Him where He is working today in your circle of influence then follow Him there.
If you practice these five habits until they become a part of you, you will have gone far in your journey of becoming more and more like Jesus.
___________________________________________________________ 
I welcome your comments. You may leave a comment by clicking here.
To receive these blog posts in your mailbox, please click here.
If you found this post helpful, please forward it to a friend. Thank you!
____________________________________________
Disclaimer: This site uses cookies. Your continued use of this site constitutes your consent to our use of cookies.