Guard your heart above all else, for it determines
the course of your life." ~ Proverbs 4:23
______________________________________
Jim had just been offered a much-desired promotion. But the job advancement required moving his family to a new state.
Taking the job, however, would mean more pay, a more fulfilling career, and a new location that sounded exciting. Everything pointed to a great opportunity. But his gut told him no. What should he do?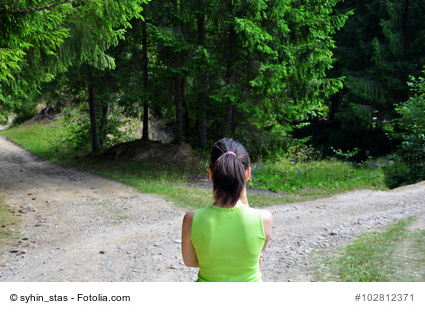 Perhaps you find yourself in a situation like Jim's. You're facing a tough decision, and you don't know what to do.  Here are a five questions to ask yourself regarding each fork in the road:
1–Does it violate the Word of God in any way? If it does, it is the wrong decision. If it does not, go to step 2.
2–Does the decision give me peace in my heart? If it does not, it is the wrong decision. If it does, go to step 3.
3–Will my decision glorify God, or will my decision glorify me? If your decision will not bring glory to God, it is the wrong decision. If it will bring glory to God, go to step 4.
4–Have I considered the needs of my family in making this decision? If you have not, then you need to. Once you have your family's support (Notice: I did not say excitement about your decision but support for your decision), then go to step 5.
5–Am I willing to accept God's will whether I like it or not? If no, then check your heart. If yes, then prayerfully proceed with the decision you believe God is leading you to make.
In every decision we face, our Lord has promised to teach us the way to go (Psalm 32: 8). So, trust Him to keep His promise to you, and you will make the right decision. 
_________________________________________________
I welcome your comments. You may leave a comment by clicking here.
To receive these blog posts in your mailbox, please click here.
If you found this post helpful, please forward it to a friend. Thank you! 
____________________________________________
____________________________________________
If you have any questions, you may contact me as follows:
Email: drmaryann@maryanndiorio.com
Snail Mail: PO Box 1185, Merchantville, NJ 08109
Copyright 2016 by Dr. MaryAnn Diorio. All Rights Reserved. This article may not be published or printed in any form whatsoever without the written permission of Dr. MaryAnn Diorio. You may contact her at drmaryann@maryanndiorio.com to request permission.
Amazon.com Required Disclosure: MaryAnn Diorio is a participant in the Amazon Services LLC Associates Program, an affiliate advertising program designed to provide a means for sites to earn advertising fees by advertising and linking to Amazon.com.
Dr. Diorio is a wildly published, award-winning author of fiction and non-fiction. She is a Certified Life Coach, a Certified Biblical Counselor, and a Certified Behavioral Consultant. She is also an award-winning, widely published author of fiction for children and adults. You may reach her at maryann@maryanndiorio.com or via one of her social media venues below:
Website: www.maryanndiorio.com
Blog (Matters of the Heart): http://www.networkedblogs.com/blog/maryanndiorioblog
Amazon Author Central: http://www.amazon.com/author/maryanndiorio
BookBub: https://www.bookbub.com/authors/maryann-diorio
Facebook: http://www.Facebook.com/DrMaryAnnDiorio
Twitter: http://Twitter.com/@DrMaryAnnDiorio
Goodreads: http://www.goodreads.com/author/show/6592603
LinkedIn: http://www.linkedin.com/profile/view?id=45380421
Pinterest: http://www.pinterest.com/drmaryanndiorio/
Google+: http://plus.google.com/u/0/+DrMaryAnnDiorio
YouTube: http://www.youtube.com/user/drmaryanndiorio/
Disclaimer: This site uses cookies. Your continued use of this site constitutes your consent to our use of cookies.