Guard your heart above all else, for it determines
the course of your life." ~ Proverbs 4:23
______________________________________
Carrie hates her job as a cashier at a supermarket. If she didn't have to pay her bills, she'd be out of there in a heartbeat.
What Carrie doesn't realize, however, is that her intense dislike for her job does not have to make her miserable. In fact, she can turn her job into an enjoyable activity by applying the seven principles below: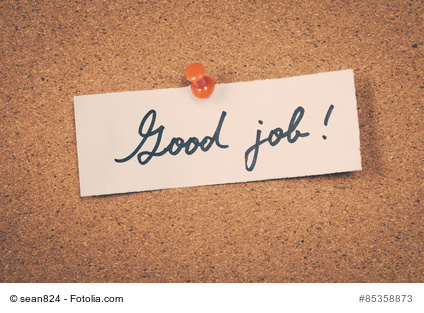 1-Go the extra mile.  Yes, you heard me right. 🙂  Going the extra mile means giving more than is expected. For example, Carrie could take a little more care when bagging her customers' groceries. She could greet each customer with a big smile instead of a frown or even a scowl. Most people are harried and hurried when they go grocery shopping. Being greeted warmly at the checkout counter would brighten anyone's day.
2-Look on the good side of situations. No job is perfect. And a job is a good deal what you make of it. Carrie can turn her job into an opportunity for blessing others. Her job involves meeting dozens of people every day, many of whom are hurting. Imagine the good she can do and the difference she can make in the world by greeting each customer with an attitude of blessing each one.
3-Have a servant's heart. Jesus said that whoever wants to be great must be a servant. Carrie's job provides her with the opportunity of serving her boss, her co-workers, and her customers. She can do so with complaining, or she can do so with joy. The choice is hers.

4-Work as unto the Lord. A major shift can take place in how we look at our jobs when we begin to see ourselves as working for the Lord instead of for a person or a company. When we realize that Jesus Christ is really our boss, we understand that our work is never in vain and our efforts will be rewarded.

5-Change your perspective about your job. People who are unhappy on the job usually don't look on their jobs as having much value. Or they may dislike the kind of work they do. If you truly dislike what you are doing at your job, then either ask for a different position or get another job. But if you are unhappy because you think your job has no value, look again.  Every job has value in the grand scheme of things. Imagine what your neighborhood would look like if the trash collector thought his job was unimportant!
6-Lead from the middle. One does not have to be in a position of authority to lead. Leadership is largely a matter of attitude and perspective. No matter where you are in company rank, you can make a difference.

7-Help fellow employees to succeed. In Philippians 2: 3-5, Scripture says this: Don't act out of selfish ambition or be conceited. Instead, humbly think of others as being better than yourselves. Don't be concerned only about your own interests, but also be concerned about the interests of others. Have the same attitude that Christ Jesus had. When we value our co-workers above ourselves, we will promote a happy environment at work by affirming others in their worth as marvelous creations of God.

As we apply these seven principles to our jobs, we will come to realize that much of our success on the job depends entirely on us.
What additional principles have worked for you in succeeding on your job? Please share them below. Thanks!
TWEETABLE:
"Much of our success on the job depends entirely on us." ~ Dr. MaryAnn Diorio (CLICK TO TWEET)
_____________________________________________
I welcome your comments. You may leave a comment by clicking here.
To receive these blog posts in your mailbox, please click here.
If you found this post helpful, please forward it to a friend. Thank you! 
____________________________________________
____________________________________________
Disclaimer: This site uses cookies. Your continued use of this site constitutes your consent to our use of cookies.