What giants are you facing in your life? Health issues? Money issues? Relationship issues? Whatever the case, you can not only face those giants, but you can overcome them.  How? By using these three weapons:
Attitude. The perspective you take regarding the giants in your life is critical to your success in defeating those giants. Consider the Psalmist David. When he visited the Israeli camp as a teenage boy to bring food to his soldier brothers, he found the Israelites cowering in the face of Goliath. Now the Israelites were grown men and expertly trained soldiers. David was a shepherd boy who had had no formal military training.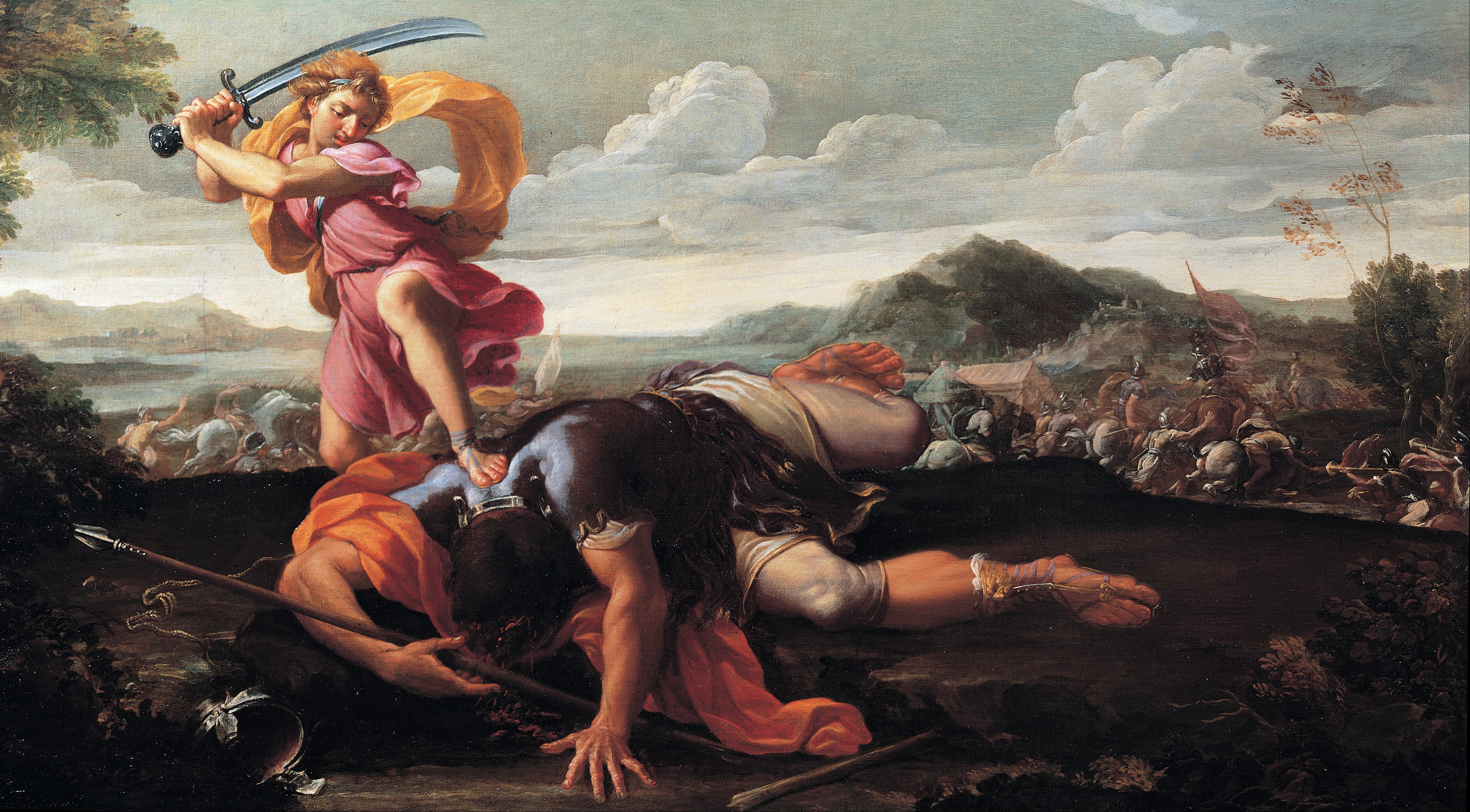 File:Guillaime Courtois – David and Goliath – Google Art Project.jpg  commons.wikimedia.org
But what did David do? He rebuked the Israelites for their faithless, cowardly attitude. He reminded them that they had God on their side, and he dared Goliath to defy the living God. Listen to David's words to Goliath, words that reveal David's attitude: "David said to the Philistine, 'You come against me with sword and spear and javelin, but I come against you in the name of the LORD Almighty, the God of the armies of Israel, whom you have defied.'"

David knew who he was in God. He knew that his power came from God. He knew that God was mightier than any enemy. And he knew that he could defeat any enemy with the power of God on his side.
So can you!
Methodology. Saul offered David his armor and sword. David refused them because they didn't fit right. In overcoming the giants in our lives, we must know who we are and act based on that knowledge. We must listen to God's directions for overcoming each giant in our life.  He may give us one strategy for one giant, and another strategy for another giant. The key is to hear the voice of God and to obey it. David heard God's voice and obeyed it.
So can you!
Faith. David confronted Goliath head-on, and David did so in God's strength, not his own. Having developed an intimate relationship with God, David knew Him well and trusted His character. He knew God would never fail him. Simply put, David believed God!
So can you!
Attitude. Methodology. Faith. Three tools that will help you overcome the giants in your life, every single time.
YOUR TURN: What other tools have you used to overcome the giants in your life? Please share by posting a comment in the box below. Thank you!
I welcome your comments. You may leave a comment by clicking here.
To receive these blog posts in your mailbox, please click here.
If you found this post helpful, please forward it to a friend. Thank you! 
TWEETABLE:

If you like to read fiction, check out some of my books below: 

____________________________________________
____________________________________________