"Guard your heart above all else, for it determines
the course of your life." ~ Proverbs 4:23
______________________________________
If you haven't figured it out yet, Satan is out to get you. But, as a born-again follower of Jesus Christ, you have absolutely nothing to fear.
When dealing with the devil, we need to recognize his modus operandi (his M.O.) and his tactics. Here are some ways to do that: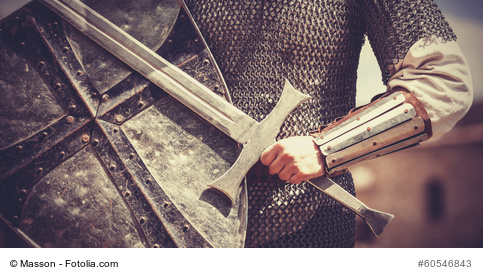 —Take seriously the truth that Satan is out to destroy you. Taking this truth seriously means recognizing that Satan is your enemy, although a defeated one. So, while he has no power over us except what we give him, he is subtle and crafty and sly. Scripture says this in 1 Peter 5: 8: Stay alert! Watch out for your great enemy, the devil. He prowls around like a roaring lion, looking for someone to devour.  So, stay alert!
—Pray for wisdom and discernment. Satan's chief weapon against us is deception. Our world today is full of deception. Jesus prophesied this would happen in the end times. The Bible says this in 1 Timothy 4: 1: Now the Holy Spirit tells us clearly that in the last times some will turn away from the true faith; they will follow deceptive spirits and teachings that come from demons.

In order to avoid deception–aka the counterfeit–we must know the Bible. A bank teller-in-training never touches counterfeit money. He handles only real money and gets to know the feel of it so well that he will instantly recognize a counterfeit bill.  So it is with us as Christ-Followers. We must get to know the Word so well that we will instantly recognize the lies of the enemy.
—Saturate yourself with the Word of God. Don't just read the Bible; study it. Dig deep into its wisdom for living. Learn from its pages how Satan operates and how to be alert to his traps. Psalm 119: 105 says this: Your word is a lamp to guide my feet and a light for my path. Be sure to keep your lamp lit!

—Memorize Scripture. There is no better weapon against the attacks of Satan than the Word of God. When you memorize the Word, you are putting it deep into your spirit. When you face an attack from Satan, Holy Spirit will bring the Word to your remembrance so that you can use it to defuse Satan's attack. In Psalm 119: 11 we read this: I have hidden your word in my heart, that I might not sin against you. Keeping God's Word in our hearts will protect us in the time of temptation.
—Fellowship with Other Believers. This is a critical aspect of dealing with Satanic attacks. Being in the company of other believers will strengthen you and provide you with wise counsel in the face of your attacks. Scripture says this in Hebrews 10: 25: And let us not neglect our meeting together, as some people do, but encourage one another, especially now that the day of his return is drawing near.
The poet John Donne said that no man is an island. No Christ-Follower can be an island either. We believers all need one another.

Review these points regularly so as to keep them fresh in your mind.  Most of all, practice them. God has provided all the weaponry we need to face and resist Satan. Put on your armor every day (Ephesians 6:11-18), and watch Satan flee in terror as you speak God's Word against him.
NOW IT'S YOUR TURN: How do you handle Satanic attacks?  Please share your thoughts. We value them!
TWEETABLE:
"How to Recognize and Survive Satanic Attacks" by Dr. MaryAnn Diorio (CLICK TO TWEET)
________________________________
____________________________________________
____________________________________________