"Guard your heart above all else, for it determines
the course of your life." ~ Proverbs 4:23
______________________________________
Are you new to this blog? If so, what is the Matters of the Heart blog and why will it bless you to read it? 
Matters of the Heart is a weekly blog that deals with the deepest issues of the human heart, the issues we all face but sometimes don't want to talk about.  The heart is the programming center of our lives. What is programmed into our heart will affect every area of our lives. Learn how to discover what is in your heart and how to program your heart for success.

AN INVITATION TO YOU: To follow this blog via Facebook, click here. If you are not on Facebook or would prefer to subscribe via a different venue, please check the sidebar to the right for subscription options. Thank you!
_______________________________________________________________
You will most likely agree that this past election cycle was unique in American history.  Both sides of the aisle hurled insult after insult, vicious ad hominem attacks that disparaged the very personhood of the participants. Instead of politely disagreeing with differing ideas, politicians and public alike displayed some of the worst behavior of which the human species is capable. 
At the root of it all was a spirit of offense.
The word offense derives from the Greek word scandalon which means a trap that holds bait to catch animals. Satan uses offense as bait to trap us into bitterness, resentment, and unforgiveness in order to ruin our relationships, our churches, and our lives.
The Oxford English Dictionary defines offense as follows: Annoyance or resentment brought about by a perceived insult to or disregard for oneself.
Notice the focus on the self. Every time we take offense, we are focusing on ourselves, not on others. What concerns me most is that this spirit of offense is making major inroads into the Body of Christ. Dear brothers and sisters in Christ, this should not be!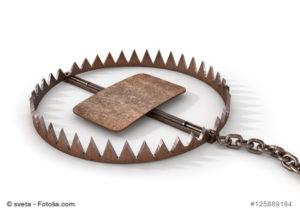 As one who has fallen into the trap of offense and repented, I can assure you of this: It is Satan's goal to divide and conquer, and he seems to be doing a good job of it. He is working fiercely and furiously in every area of the lives of believers to separate and tear apart marriages, families, churches, friendships, and organizations. And his chief weapon is the spirit of offense.
How can we know if we are guilty of receiving a spirit of offense into our lives? Ask yourself these questions:
1-Do I want to fight back and get even when someone hurts me in any way? Do I put my boxing gloves on to protect myself? Do I want to punish those who insult me?
2-Do I criticize, complain, and condemn? Do I always look for what's wrong with a person or place? Do I judge people and put them down? 
2-Am I full of self-pity? Do I feel sorry for myself for having been insulted? Do I want others to share in my misery?
3-Do I play the blame game? Do I point the finger instead of taking responsibility for my actions?
4-Do I readily assume the worst instead of the best? Am I quick to judge others and what others say without hearing the other side of the story?
5-Am I quick to get angry? Do I get impatient with others for their weaknesses? Their opinions? Their idiosyncrasies?
If you answered yes to any of the questions above, it's time to repent and consider these ways to keep the spirit of offense from trapping you:
1-Purpose in your heart that you will not allow anyone to offend you. While you may not see an offense coming, you can decide ahead of time that when it does come, you won't take the bait.
2-Forgive the person who hurt you. Remember that only hurting people hurt people. 
3-Refuse to dwell on the hurt. Let it go and give it to God. He will take care of the situation far better than you can.
4-Return good for evil. Do something kind for the person who hurt you. 
5-Pray for the person who hurt you. Praying will not only bless the person who hurt you, but it will also help keep your heart right and clean and free of all harm from the enemy.
The spirit of offense is a very dangerous spirit. It opens the door to strife which, the Bible says, brings with it every evil thing (James 3: 16).  So, stay alert! The spirit of offense attacks without warning. Be on guard and, when it appears, resist it in the authority and power of the Name of Jesus.
Now, it's YOUR turn: How do you deal with the spirit of offense when it assails you? Please leave a comment in the box below.

TWEETABLE: "Why Getting Offended Is Dangerous" by Dr. MaryAnn Diorio (CLICK TO TWEET).
If you found this post helpful, please forward it to a friend. Thank you!  You may also be interested in reading the following recent posts:
—When Life Throws Your a Curve
—How to Conquer a Stubborn Addiction
Check our archives in the right sidebar for older posts on a variety of topics. You may also search for a particular topic in the search box at the top right.
AN INVITATION TO YOU: To follow this blog if you are on Facebook, click here. If you are not on Facebook or if you prefer to subscribe via another venue, you may do so by using any one of the other subscription options listed under the Networked Blog section in the sidebar on my website: www.maryanndiorio.com/blog. Thank you!
____________________________________________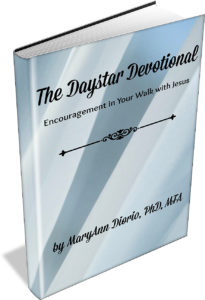 The Daystar Devotional is a compilation of weekly devotionals I wrote for almost six years. At popular reader request, I have compiled these devotionals into a single volume for your convenience. I trust this book will encourage you in your walk with Jesus.
Available on Amazon for only $3.99. To purchase your copy, click here.
____________________________________________
____________________________________________