Guard your heart above all else, for it determines
the course of your life." ~ Proverbs 4:23
______________________________________
Are you new to this blog? If so, what is the Matters of the Heart blog and why will it bless you to read it?
Matters of the Heart is a weekly blog that deals with the deepest issues of the human heart, the issues we all face but sometimes don't want to talk about. The heart is the programming center of our lives. What is programmed into our heart will affect every area of our lives. Learn how to discover what is in your heart and how to program your heart for success.

AN INVITATION TO YOU: To follow this blog via Facebook, click here. If you are not on Facebook or would prefer to subscribe via a different venue, please check the sidebar to the right for subscription options. Thank you!
_______________________________________________________________
Do you know that you are running a race? I can hear you now: "Yes, I'm running a rat race, and I'm exhausted."
LOL! No, dear friend. You are running a race whose course has been set by God the Father. It is a personal race that defines the purpose and path for your life here on this earth. It is not a rat race. It is a life race—your unique life race—and the Father wants you to finish it.
But Satan does not!
In fact, Satan will do everything he can to keep you from running your race and, if not from running it, from finishing it. Why? Because Satan hates God and he hates you because you belong to God.
And it is this very truth that you belong to God that makes it so important that you finish your race.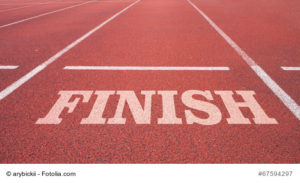 So, a few critical questions arise:
What is my personal race?
How do I run it?
How can I make sure I finish it?
Today, we're going to answer these three questions.
First Question: What is my personal race?

Your personal race is the day-to-day life you live, with all of its annoyances, setbacks, trials, blessings, and joys. It is the specific purpose for which God created you. It is the specific location where He has placed you. It is the specific people with whom He has surrounded you.
Are you complaining about your life race? Are you ungrateful for the life God has given you? Are you discontented with your life and comparing it so someone else's? If so, you are not running your personal race to win. You are setting up obstacles in your own race that will keep you from finishing it well.
Second Question: How do I run my race?
How you run your race will make all the difference as to whether or not you finish your race. I have learned that the best place to run one's race is not from a position of striving but from a position of rest.
You may ask, "How can I run my race while I'm resting?" Good question! Here is the answer: The position of rest is not a position of inaction. It is a position of trusting God completely for the outcome of your life and of your race while you run it.
Third Question: How can I make sure I finish my race? Here are four tips:
—1. Decide now that you will finish your race. Another way of saying this is: EMBRACE YOUR RACE! Commitment to your race is half the battle.
—2. Pray daily for God's help in running your race. You are not running your race alone. God is always at your side, encouraging you to keep on keeping on—straight to the finish line. Acknowledge that you need His strength to run and trust Him to help you finish your race.
_________________________________________________________________
The position of rest is not a position of inaction. It is a position of trusting God completely for the outcome of your life and of your race.
_________________________________________________________________

—3. Enjoy your race! God means for us to enjoy our lives. Despite the many setbacks that will surely try to hinder your race, keep your eye on the finish line. Seasoned runners know that running a race is not easy. Sometimes you grow weary and need a second wind. But that second wind can give you the final push to finish your race. If you need a second wind, ask Holy Spirit to blow His wind of love and strength upon you today. Let His wind lift you up as you focus your eyes on the finish line.
—4. Keep your eye on the finish line. What is the finish line? The finish line of your race is Jesus Christ! (Philippians 3: 14). He is your Prize and the reason you are running your race. When you keep your eyes on Him, every obstacle eventually falls away as you press forward toward Him.
Now, it's YOUR turn: Are you running our race in a manner pleasing to God? What obstacles have you encountered during your race? Please leave a comment in the box below.

TWEETABLE: "Embrace Your Race" by Dr. MaryAnn Diorio (CLICK TO TWEET)

If you found this post helpful, please forward it to a friend. Thank you! You may also be interested in reading the following recent posts:
—Why Getting Offended Is Dangerous
—Don't Let Satan Play Your Pipes!
Older, but very popular posts, include:
—How to Recognize a Contolling Spirit
—Seven Keys to Successful Parenting
Check our archives in the right sidebar for older posts on a variety of topics. You may also search for a particular topic in the search box at the top right. Some of our most popular posts are:
AN INVITATION TO YOU: To follow this blog if you are on Facebook, click here. If you are not on Facebook or if you prefer to subscribe via another venue, you may do so by using any one of the other subscription options listed under the Networked Blog section in the sidebar on my website: www.maryanndiorio.com/blog. Thank you!
____________________________________________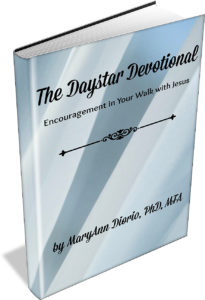 The Daystar Devotional is a compilation of weekly devotionals I wrote for almost six years. At popular reader request, I have compiled these devotionals into a single volume for your convenience. I trust this book will encourage you in your walk with Jesus.
Available on Amazon for only $3.99. To purchase your copy, click here.
____________________________________________
____________________________________________