"Guard your heart above all else, for it determines
the course of your life." ~ Proverbs 4:23
Are you new to this blog? If so, what is the Matters of the Heart blog and why will it bless you to read it?
Matters of the Heart is a weekly blog that deals with the deepest issues of the human heart, the issues we all face but sometimes don't want to talk about. The heart is the programming center of our lives. What is programmed into our heart will affect every area of our lives. Learn how to discover what is in your heart and how to program your heart for success.
AN INVITATION TO YOU: To follow this blog via Facebook, click here. If you are not on Facebook or would prefer to subscribe via a different venue, please check the sidebar to the right for subscription options. Thank you!
_______________________________________________________________
Did you know that by the end of Christ's ministry, virtually all of His followers had left Him? Acts 1: 15 mentions only 120 in the Upper Room. First Corinthians 15: 6 mentions about 500 who still followed Him. What happened to the hundreds–and even thousands–who crowded in on Him as He traveled through the cities and villages?
Sadly, they had determined that the cost of following Jesus was too great. They preferred to return to their old lives and their own ways.
Interestingly, wherever Jesus went, He presented the high cost of following Him. In fact, on the surface, it could seem that He wasn't too keen on increasing the number of His followers. The truth was that He wanted to be perfectly honest with His hearers that following Him would not be easy. In fact, it would be very difficult. It would be like trying to go through a narrow gate and then walking, often trudging, on a rough, rugged, and rocky path for the rest of one's earthly life. Were His listeners willing to pay that price?
Jesus wanted them to have a good idea ahead of time about what they would be getting into if they followed Him. He wanted them to know that the way would be challenging and lonely a good deal of the time. Did they love Him enough to choose that way despite the suffering it would bring? In Luke 14: 28, Jesus warned them—and us—to "count the cost" before assuming any undertaking, especially that of following Him.
He also explained how to enter the path that would lead to life with Him in His Kingdom: "You can enter God's Kingdom only through the narrow gate. The highway to hell is broad, and its gate is wide for the many who choose that way. But the gateway to life is very narrow and the road is difficult, and only a few ever find it" (Matthew 7: 13-14).

In this passage, Jesus talks about two gates and two ways. The narrow gate leads to the narrow way, and the wide gate leads to the wide way. The narrow gate opens onto the narrow way or path that leads to life. The wide gate opens onto the wide way or path that leads to death. Many find the wide gate and follow the wide way, but few find the narrow gate and follow the narrow way.
So, what is the difference between the two gates and the two paths? Let's contrast them:

THE WIDE GATE AND THE WIDE PATH
—The wide gate is the gate that represents the gate of lies; for example, the lie that all paths lead to God. Most of the world chooses this gate because it sounds so reasonable. This gate allows one to enter it without repenting, without dying to self, without giving up sin. The wide way is the way of tolerance, inclusiveness, and political correctness.
—The wide gate opens onto the wide path. This is the easy path, the path that requires no sacrifice, no self-denial, no giving up of one's will and one's personal agenda to submit to God's will and God's agenda.
—The wide path is the path of least resistance. This path does not require giving up anything, most of all sin. The wide path is highly traveled because most people choose this path. They choose it because it does not require that they give up what they want for what God wants. The wide path allows them to do their own thing under the guise that they are free, open-minded, and tolerant. On the contrary, they are in bondage.
—The wide path has no baggage restrictions. In other words, one can bring anything one wants with him as he embarks upon this path: the lies he believes; the bad habits he has developed; the sin in which he continues to live; the selfish attitudes he has learned to embrace. Anything goes on this path.
THE NARROW GATE AND THE NARROW PATH
—The narrow gate, on the other hand, is the gate of Truth. The narrow gate represents the truth that there is only one way to be saved, and that way is through the Blood of Jesus Christ. In John 14: 6, Jesus said this about Himself: "I am the way, and the truth, and the life; no one comes to the Father but through Me." In Acts 4: 12, the Apostle Peter emphasizes Christ's words by saying that "there is salvation in no one else; for there is no other name under heaven that has been given among men by which we must be saved."

—-The narrow gate opens onto the narrow path. This is the difficult path, the path that demands total obedience to the Lord, self-sacrifice, self-denial, the surrender of one's will and one's personal agenda to the will of God and His agenda. When we choose to follow this path, we become willing slaves of Christ. Henceforth, we constrain ourselves to do only His bidding, not our own. We no longer have the option of sinning if we truly love Christ and are following Him on the narrow way. We no longer can call ourselves Christ-Followers yet continue to lie, cheat on our taxes, speak hurtful words, live with our boyfriend or girlfriend, get a divorce, have sex outside of marriage, commit adultery, gossip, approve of abortion or homosexuality, give in to anger, watch pornography or R-rated movies, take drugs, eat or drink too much, treat our neighbor unkindly, hold grudges, get offended, be bitter and unforgiving—and on and on and on.
—The narrow path allows no baggage. In other words, all sin—all personal ambition, materialism, and self-centeredness—must be left behind because the narrow path is difficult and such things would be an encumbrance.
—-The narrow path is the path of utmost resistance. It requires giving up everything that displeases the Lord. It is filled with thorns and thistles and all kinds of dangers. It requires wearing the whole armor of God, praying without ceasing, crucifying the flesh, and walking in total obedience to the Master. It demands continual pruning of our flesh–a process that is both painful yet purifying. The narrow way demands that we live in holiness and not contaminate ourselves with the world. It requires that we change our thinking to agree with God's thinking. It demands that we make the Word of God the final authority in our lives, not our feelings or the word of man. It requires not leaning on our own understanding but trusting in Holy Spirit's leading. The narrow path is sparsely traveled because few people are willing to pay the price to follow this path.
WHICH PATH ARE YOU ON?
How can you tell if you are on the narrow way? Here are some questions to ask yourself:
1) Am I depending on anyone or anything else to save me other than the Blood of Jesus Christ? Am I depending on my good works or the fact that I think I am a "good person" to get me to Heaven? Do I believe that all methods of salvation are valid and that all religions can lead to Heaven?
2) Am I living like the rest of the world, or am I different? Am I expecting to live any way I want and then ask God's forgiveness at the last minute of my life? Do I believe that because God has not caught up with me yet because of my sin, that He will never catch up with me? That He is looking the other way?

3) Am I considered narrow-minded and intolerant by others, even by other church members?
4) Do I believe that a good God would not send anyone to hell?
5) Do I believe that truth is whatever I define it to be and that there is no absolute truth?
If you answered yes to any of these questions, you are not on the narrow way but on the wide way. What should you do? Turn around and go back to the two gates. Then choose the narrow gate that will lead to the narrow way. It will cost you much, but the reward of following the narrow way is the everlasting joy of being united with Christ for all eternity.
Jesus spoke the following sobering words in in Matthew 7: 21-23: "Not everyone who says to me, 'Lord, Lord,' will enter the kingdom of heaven, but only the one who does the will of my Father who is in heaven. Many will say to me on that day, 'Lord, Lord, did we not prophesy in your name and in your name drive out demons and in your name perform many miracles?' Then I will tell them plainly, 'I never knew you. Away from me, you evildoers!'"
These are words none of us want to hear. But the only way not to hear them is to find and follow the narrow way.

Now, it's YOUR turn: Have you been deceived into thinking that you were on the narrow way to Heaven? If so, has this post changed your thinking? Please leave a comment in the box below.
TWEETABLES:

"How to Find and Follow the Narrow Way" by Dr. MaryAnn Diorio (CICK TO TWEET).
Photo Source: http://www.coachbrown.org/wp-content/uploads/2013/06/TwoRoads.jpg. Used with permission.
If you found this post helpful, please forward it to a friend. Thank you! Check our archives in the right sidebar for older posts on a variety of topics. You may also search for a particular topic in the search box at the top right. Some of our most popular posts are:
—Sex and Soul Ties

—How to Recognize a Contolling Spirit

—"Embrace Your Race"
—"Don't Let Satan Play Your Pipes!"
AN INVITATION TO YOU: To follow this blog if you are on Facebook, click here. If you are not on Facebook or if you prefer to subscribe via another venue, you may do so by using any one of the other subscription options listed under the Networked Blog section in the sidebar on my website: www.maryanndiorio.com/blog. Thank you!
____________________________________________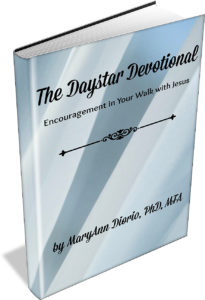 The Daystar Devotional is a compilation of weekly devotionals I wrote for almost six years. At popular reader request, I have compiled these devotionals into a single volume for your convenience. I trust this book will encourage you in your walk with Jesus.
Available on Amazon for only $3.99. To purchase your copy, click here.
____________________________________________
____________________________________________