"Guard your heart above all else, for it determines
the course of your life." ~ Proverbs 4:23
Are you new to this blog? If so, what is the "Matters of the Heart" blog and why will it bless you to read it?
Matters of the Heart is a weekly blog that deals with the deepest issues of the human heart, the issues we all face but sometimes don't want to talk about. The heart is the programming center of our lives. What is programmed into our heart will affect every area of our lives. Learn how to discover what is in your heart and how to program your heart for success.
AN INVITATION TO YOU: To follow this blog via Facebook, click here. If you are not on Facebook or would prefer to subscribe via a different venue, please check the sidebar to the right for subscription options. Thank you!
And now, on to this week's post! 🙂

_______________________________________________________________
Freedom comes in many shapes and sizes. We talk about physical freedom, political freedom, financial freedom, emotional freedom, psychological freedom, and spiritual freedom. Some of these freedoms–like physical, financial, and political freedom–can be taken from us, but the freedom we have in Christ–spiritual, psychological, and emotional freedom–can never be taken from us.
One definition of "freedom" is this: the state of not being imprisoned or enslaved. In his 1828 Dictionary, Noah Webster defines freedom as follows: A state of exemption from the power or control of another.

For the next few weeks,I will be addressing the freedom we Christ-Followers have from the power and control of Satan. Knowing how to enforce this freedom is critical to living the abundant life that Jesus promised us. So, please don't miss any of the blog posts in this very important series.
To begin, let's take a look at where freedom starts:
Freedom is a choice. And that choice is a function of the will. We must first will or want to be free before we can ever be free.
Once we have made a choice to be free, then we must turn our attention to that place within us where we find the root of freedom: the human spirit. When we are born into this world, our human spirit is separated from God. When we accept Jesus Christ as our Savior, we receive a new spirit that is now connected with God. This process is called being born again.
There can be no true and lasting freedom without being born again by receiving Jesus Christ into our lives. Christ is the origin of freedom. He is Truth, and He Himself has told us that only Truth will set us free (John 8: 32).
In order to be free, we must ask ourselves three questions:
1—Do I really want to be free? Would you believe that some people don't want to be free? Instead, they want to be taken care of and willingly relinquish their freedom for unnecessary dependence–dependence that grows out of laziness or lack of awareness. We see this happening in our government every day.
2—How free do I want to be? The degree of freedom you attain is entirely up to you. Those who are the most free are those who desperately want to be free and go after freedom. The degree of your desire to be free is the chief indicator of how free you will be.

3–Am I willing to do what it takes to be free? You've most likely heard the statement that freedom isn't free. This is a true statement. All freedom has a price attached to it. The greater the price paid, the greater the freedom earned or received. The ultimate price for freedom was the Blood of Jesus Christ. What price are you willing to pay to be free? Free in your spirit, free in your soul, free in your body, free in your finances?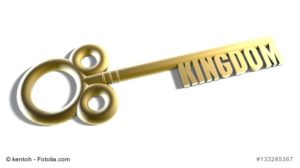 Becoming free is a major problem for most people. Perhaps you have been trying to get free of anger or addiction, of poverty or procrastination, of depression or despair. No matter what is standing in the way of your freedom, there is a way out.
In order to help you be free, Holy Spirit has instructed me to begin a weekly series on the Keys to the Kingdom of God. You see, we Christ-Followers live in a supernatural kingdom. This supernatural kingdom has laws by which it functions. Unless we unlock those laws, we will live earthly lives of continual struggle under the curse–in other words, of continual and increasing bondage. But as we learn to operate in the laws of God's Kingdom, we will live under the blessing–in other words, of continual and increasing freedom.
In the weeks ahead, we will be taking a look at the Keys of the Kingdom that unlock the mysteries of the Laws of the Kingdom. We will learn how the Laws of the Kingdom operate. We will learn that the Laws of the Kingdom are directly opposite from the Laws of the World and usually don't make sense to the natural mind. We will learn that only by living according to the Laws of God's Kingdom will we experience true freedom and true life.
I look forward to having you join me on this journey. Please tell your family and friends about this blog series and please pass this post on to them. Thank you!
And remember this: You will be as free as you choose to be.
Now, it's YOUR turn: Are you aware that there are laws that govern the Kingdom of God? If so, please share how operating in one or more of those laws has changed your life. Please leave a comment in the box below.
TWEETABLES:
 How Free Do You Want to Be? by Dr. MaryAnn Diorio (CLICK TO TWEET)
If you found this post helpful, please forward it to a friend. Thank you! Check our archives in the right sidebar for older posts on a variety of topics. You may also search for a particular topic in the search box at the top right. Some of our most popular posts are:
—Recognizing Emotional Adultery

—Sex and Soul Ties

—How to Recognize a Contolling Spirit

—"Embrace Your Race"

Sources cited: https://www.google.com/search?q=define+freedom&ie=utf-8&oe=utf-8
http://webstersdictionary1828.com/Dictionary/freedom
AN INVITATION TO YOU: To follow this blog if you are on Facebook, click here. If you are not on Facebook or if you prefer to subscribe via another venue, you may do so by using any one of the other subscription options listed under the Networked Blog section in the sidebar on my website: www.maryanndiorio.com/blog. Thank you!
____________________________________________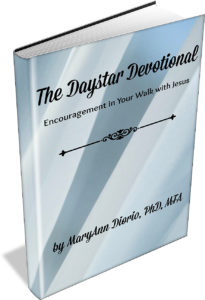 The Daystar Devotional is a compilation of weekly devotionals I wrote for almost six years. At popular reader request, I have compiled these devotionals into a single volume for your convenience. I trust this book will encourage you in your walk with Jesus.
Available on Amazon for only $3.99. To purchase your copy, click here.
____________________________________________
____________________________________________