"Guard your heart above all else, for it determines
the course of your life." ~ Proverbs 4:23
Are you new to this blog? If so, what is the "Matters of the Heart" blog and why will it bless you to read it?
Matters of the Heart is a weekly blog that deals with the deepest issues of the human heart, the issues we all face but sometimes don't want to talk about. The heart is the programming center of our lives. What is programmed into our heart will affect every area of our lives. Learn how to discover what is in your heart and how to program your heart for success.
AN INVITATION TO YOU: To follow this blog via Facebook, click here. If you are not on Facebook or would prefer to subscribe via a different venue, please check the sidebar to the right for subscription options. Thank you!
And now, on to this week's post! 🙂
_______________________________________________________________
Welcome to Week 3 in our discussion on freedom!
Last week we learned that all of us who are born again have been given the keys to the Kingdom of Heaven. We learned that the keys represent authority and power. This week we will explore how to use our keys to enforce God's rule in the earth.
The Kingdom of God has a King. His name is Jesus Christ. As King, Jesus rules over the entire universe and everything in it. Psalm 103: 19 says this: The LORD has established his throne in heaven, and his kingdom rules over all. Moreover, God's Kingdom is eternal, which means it will last forever. Daniel 4: 3 says this: His kingdom is an everlasting kingdom, and his dominion endures from generation to generation.

Many of us live in countries that are ruled by forms of government that do not have a king. Consequently, the concept of "kingdom" may be difficult for us to grasp, especially for those of us who live in a republic or a democracy, where the people have a large say in their governance. Not so in the Kingdom of God.
In the Kingdom of God, Jesus is the King, and those who are part of His Kingdom willingly and gladly obey Him. From this perspective, we see that the Kingdom of God has not only an external aspect (the entire universe), but also an internal one (the hearts of those who are born again). The Kingdom of God reigns in the hearts of those who love and follow Jesus. Jesus told us in John 18: 36 that His Kingdom is not of this world. By this He meant that His Kingdom is a spiritual kingdom that rules in the hearts of those who choose to be its citizens. We saw that one enters the Kingdom of God by being born again–that is, by repenting of one's sins and accepting Christ as one's Savior and Lord.
Because we are citizens of the Kingdom of God, we have been given an assignment to bring others into the Kingdom. Why? Because God loves everyone and does not want a single person to perish. This assignment is called the Great Commission and is described in Mark 16: 15-18: "Go into all the world and preach the gospel to all creation. Whoever believes and is baptized will be saved, but whoever does not believe will be condemned. And these signs will accompany those who believe: In my name they will drive out demons; they will speak in new tongues; they will pick up snakes with their hands; and when they drink deadly poison, it will not hurt them at all; they will place their hands on sick people, and they will get well."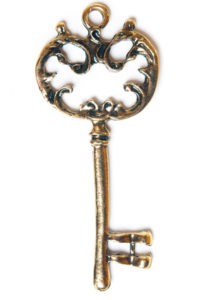 Since this assignment requires supernatural authority and power to over-rule the natural realm, Jesus gave us this supernatural authority and power so we could complete our assignments. This supernatural authority and supernatural power reside in the keys of the Kingdom.
So, how do we use those keys? To use the keys of the Kingdom effectively as born-again Christ-followers, we must first remember the following:
1-We do not fight FOR victory; we fight FROM victory. By His death and resurrection, Jesus earned the victory over Satan once and for all. The Word tells us in Ephesians 2: 6 that we are seated with Christ in heavenly realms and, therefore, share with Him His victory over Satan.
2-Satan is a DEFEATED foe. He has no power over us unless we give him power by believing his lies.
3-The keys of the Kingdom are designed to establish on earth what is ALREADY established in Heaven. This is the meaning of the words in the Lord's Prayer: Thy Kingdom come; Thy will be done on earth, as it is in Heaven. By using the keys of the Kingdom of Heaven, we bring this Kingdom and God's will into the earth.

Once we understand the above truths, we will use the keys of the Kingdom with confidence. How? We will boldly do what Jesus commanded us to do in the Great Commission.
We will preach the Gospel.
We will cast out demons.
We will be baptized in the Holy Spirit and speak in tongues.
We will not be harmed if we are attacked by a snake. (See Acts 28: 3-5 where Paul escaped harm after being bitten by a snake.)
We will not be hurt if we accidentally drink something poisonous.
We will lay hands on the sick, and they will be healed.
As we obey these commands of Christ, we will be enforcing His Kingdom in our sphere of influence; in other words, we will rule with Christ in our domain.
Next week, we will conclude our study on the Keys of the Kingdom by exploring some reasons that we Christ-Followers are not seeing more of Heaven's blessings manifested in our lives but are still experiencing many of Satan's curses, such as sickness, lack, and strife.
Now, it's YOUR turn: Are you using the keys of the Kingdom that Jesus has given you? Are you enforcing the laws of the Kingdom in your assigned domain? If not, what is keeping you from doing so?

TWEETABLE:
 How Free Do You Want to Be? – Week 3 by Dr. MaryAnn Diorio (CLICK TO TWEET)
Please tell your family and friends about this blog series and please pass this post on to them. Thank you!

To help you better understand the power and authority you have as an Ambassador of Christ in the Earth, I wrote YOU WERE MADE FOR GREATNESS!. Get your copy now!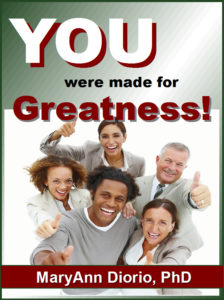 Learn about your power and authority in the Kingdom of God! Discover who you truly are in Jesus Christ!
YOU WERE MADE FOR GREATNESS! by Dr. MaryAnn Diorio
If you missed Part1 and Part 2 of this series, click on the links.
Remember this: You will be as free as you choose to be!
If you found this post helpful, please forward it to a friend. Thank you! Check our archives in the right sidebar for older posts on a variety of topics. You may also search for a particular topic in the search box at the top right. Some of our most popular posts are:
—How to Recognize a Contolling Spirit
AN INVITATION TO YOU: To follow this blog if you are on Facebook, click here. If you are not on Facebook or if you prefer to subscribe via another venue, you may do so by using any one of the other subscription options listed under the Networked Blog section in the sidebar on my website: www.maryanndiorio.com/blog. Thank you!
____________________________________________
____________________________________________