"Guard your heart above all else,
for it determines the course of your life." ~ Proverbs 4: 23
Are you new to this blog? If so, what is the "Matters of the Heart" blog and why will it bless you to read it?
Matters of the Heart is a weekly blog that deals with the deepest issues of the human heart, the issues we all face but sometimes don't want to talk about. The heart is the programming center of our lives. What is programmed into our heart will affect every area of our lives. Learn how to discover what is in your heart and how to program your heart for success.
AN INVITATION TO YOU: To follow this blog via Facebook, click here. If you are not on Facebook or would prefer to subscribe via a different venue, please check the sidebar to the right for subscription options. Thank you!
And now, on to this week's post! 🙂
_______________________________________________________________
Welcome to Week 4, the final week in our discussion on freedom!
During the past three weeks, we have explored the Keys of the Kingdom of God that belong to every born-again follower of Jesus Christ. Today we conclude our study on the Keys of the Kingdom by exploring some reasons that we Christ-Followers are not seeing more of the Kingdom's promises being manifested in our lives. On the contrary, we are still experiencing many of Satan's curses, such as sickness, lack, and strife.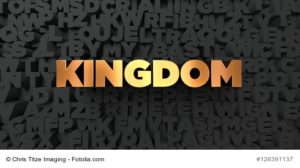 While I certainly don't claim to have all the answers, I have learned a few things about the Kingdom during my 46 years of following the Lord. Here are a few insights about the Kingdom that I would like to share with you:
1–God's Kingdom promises are true, no matter what. Scripture tells us that God is not a man who lies (Numbers 23: 19). He says what He means, and He means what He says. When God makes a promise to us, He cannot and will not renegue on that promise. To do so would violate His nature and His character, and He would then not be God. So, because of God's perfect, flawless character, we can stake our lives on what He says every single time.
One of Satan's chief strategies is to try to get us to doubt what God has said. This was the strategy he used with Eve, and this is the strategy Satan still uses today. Remember that Satan is a liar and the father of lies (John 8: 44).
2) The Keys of the Kingdom always work when we work them. In order for the Keys of the Kingdom to work, they have to be used–and used correctly. The Keys of the Kingdom work by faith. It is faith that pleases God, and it is faith that is required to use the Keys of the Kingdom correctly.
Contrary to popular belief among Christians, God does not respond to our pleading, our whining, or our tears. He responds to our faith–and only to our faith. Faith is the bridge between the Kingdom of God and the Earth. Like a magnet, our faith draws from the Kingdom of God whatever we need to fulfill our destiny here on Earth.
3–Circumstances do not equal doctrine. Far too often in the Church today, I come across believers who base their theology on their circumstances rather than on the Word of God. In other words, if their circumstances do not align with what God has said in His Word, then they question the Word, not themselves.
For example, God says He heals ALL of our diseases (Psalm 103: 3). So, if I pray for healing but it does not come, then I question God. I might even blame Him. Oh, I may not blame Him outrightly, but I say things like, "Healing is not for today," or "God doesn't want to heal everyone," or "God is sovereign and can heal whomever He wants to heal." These excuses–and that is exactly what they are: excuses–sound so good. Yet, they are all lies from the pit of hell. But worse than that, by believing these lies we are calling God a liar. This is blasphemy.
For me to say that healing is not for today is to say that God lied when He said He heals all of our diseases (Psalm 103: 3)
For me to say that God made me sick is to say that God lied when He said, "I am the Lord Who heals you" (Exodus 15: 26).
For me to say that I don't have enough money to pay my bills is to say that God lied when He promised to give me the ability to produce wealth so that He can establish His covenant (Deuteronomy 8: 18).
The truth is this: If I do not receive my healing or my provision–or any other of God's promises–the problem is not with God nor with His Word; the problem is with me. It is my responsibility, therefore, to find out what my problem is. Usually, it is unbelief. Sometimes it is a lack of knowledge (Hosea 6: 2). Always, the problem is on my end.
I know this is a hard pill to swallow, but it is the truth. And only the truth will set us free (John 8: 32).
You see, when God created man and woman, He called them to rule and reign over the earth. The Earth is our domain, and our domain is under our dominion. God made us stewards of the Earth, so the Earth is in our charge (Genesis 1: 28). Through the death and resurrection of Christ, God has given us everything we need to rule and reign in the Earth. In other words, He has given us the Keys to the Kingdom, and it is our job and our responsibility to enforce the laws of the Kingdom of God in the Earth. We do this by using the Keys of the Kingdom in faith. We do this by resisting and thwarting every attempt of Satan to remain an illegal squatter in the domain God has entrusted to our care and management.
By giving us the Keys of the Kingdom, our Lord has provided us with everything we will ever need to live out our destinies here in the earth. So, take the Keys of the Kingdom that Jesus has given you, and use them with all of the authority and power that backs you up as a citizen of the Kingdom of Heaven.
Now, it's YOUR turn: Have you been using your circumstances to determine your theology? If so, are you willing to take God at His Word? Please leave your response in the Comment Box below. Thank you!
TWEETABLE:
 How Free Do You Want to Be? – Week 4 by Dr. MaryAnn Diorio (CLICK TO TWEET)
Please tell your family and friends about this blog series and please pass this post on to them. Thank you!
To help you better understand the power and authority you have as an Ambassador of Christ in the Earth, I wrote YOU WERE MADE FOR GREATNESS!. Get your copy now!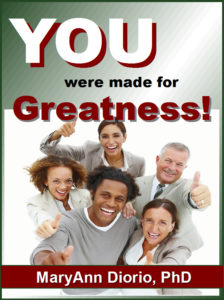 Learn about your power and authority in the Kingdom of God! Discover who you truly are in Jesus Christ!
YOU WERE MADE FOR GREATNESS! by Dr. MaryAnn Diorio
Kindle
If you missed Part 1, Part 2, or Part 3 of this series, click on the respective links.
Remember this: You will be as free as you choose to be!
If you found this post helpful, please forward it to a friend. Thank you! Check our archives in the right sidebar for older posts on a variety of topics. You may also search for a particular topic in the search box at the top right. Some of our most popular posts are:
—How to Recognize a Controlling Spirit
AN INVITATION TO YOU: To follow this blog if you are on Facebook, click here. If you are not on Facebook or if you prefer to subscribe via another venue, you may do so by using any one of the other subscription options listed under the Networked Blog section in the sidebar on my website: www.maryanndiorio.com/blog. Thank you!
____________________________________________
____________________________________________