"Guard your heart above all else,
for it determines the course of your life." ~ Proverbs 4: 23
William James, 19th-century American philosopher and brother of novelist Henry James, said that "the greatest weapon against stress is our ability to choose one thought over another." I would suggest that the greatest weapon against stress is our ability to choose one priority over another.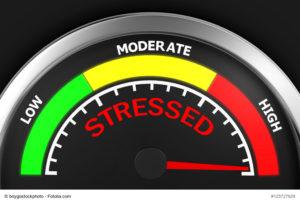 Misplaced Priorities
You see, when we get right down to it, stress is the result of misplaced priorities. Priorities are those things that are most important to us.
When we know what is really important to us, we can build our lives around those priorities. When we know our priorities, it becomes easier to make decisions based on our priorities and not on factors unrelated to our priorities. And when we make decisions based on our priorities, we eliminate stress.

So, the first step to de-stressing is to establish our priorities.
God has given you a purpose in life, and He has also given you enough time to fulfill that purpose. Years ago, I was at a point in my life where I was continually overwhelmed by all I had to do. I was burning the candle at both ends, but still I couldn't seem to finish what I needed to do each day.
I complained to God that I could not possibly get everything done. Expecting a little sympathy, what I got instead was a firm, but loving, reprimand. "MaryAnn," God said, "you always have enough time to do what I have called you to do."
WOW! Talk about a paradigm shift! Those words transformed my life (as God's words have a way of doing :)). I realized that many of the activities in which I was engaged were not part of God's purpose for my life. So, I eliminated the activities and focused on those things that I was called to do. In other words, I focused on my priorities.
Establishing Right Priorities
So, how do we establish right priorities? Here are four surefire keys:
1–PRAY. Ask God to show you why He put you here on this earth. He will.
2–CONSIDER YOUR DESIRES. What do you love to do? What would you do for free if you did not have to earn a living?
3–CONSIDER YOUR TALENTS. What are you good at? What talent of yours elicits positive feedback from others?
4–LEARN TO SAY "NO!" Before making a decision, ask Holy Spirit what He wants you to do in a given situation. Many times, when you are ready to say yes, Holy Spirit will tell you to say no. And vice versa, of course. This is the reason it is so important to get God's mind on our decisions. In my coaching practice, I've discovered that many people are stressed simply because they are afraid to say no.
Life is short. We must not waste it on activities that are not part of our calling. We must be good stewards of the time God has given us to fulfill our purpose. As we steward our time and our talents, we will get out of our stress mess and begin to enjoy the abundant life Jesus died to give us.
NOTE: If you are struggling to get out of your stress mess, I can help you! As a highly experienced Certified Life Coach, I will help you set priorities in line with your God-given purpose. For more information or to set up a phone appointment, please send me an email at drmaryann@maryanndiorio.com. You'll be taking the first step toward getting out of your mess of stress!
Now, it's YOUR turn: What are some steps you've taken to eliminate stress from your life? Please leave your response in the Comment Box below. Thank you!
TWEETABLE: "Are You a Mess of Stress?" by Dr. MaryAnn Diorio (Click to Tweet)

Please tell your family and friends about this blog and please pass this post on to them. Thank you!
_______________________________________________________________
To help you establish right priorities and discover who you really are, I wrote YOU WERE MADE FOR GREATNESS!. Get your copy now!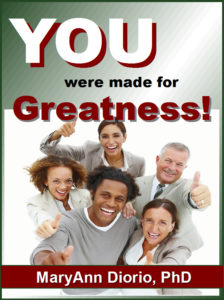 Learn about your power and authority in the Kingdom of God! Discover who you truly are in Jesus Christ!
YOU WERE MADE FOR GREATNESS! by Dr. MaryAnn Diorio
Kindle
If you found this post helpful, please forward it to a friend. Thank you! Check our archives in the right sidebar for older posts on a variety of topics. You may also search for a particular topic in the search box at the top right. Some of our most popular posts are:
—How to Recognize a Controlling Spirit
Are you new to this blog? If so, what is the "Matters of the Heart" blog and why will it bless you to read it?
Matters of the Heart is a weekly blog that deals with the deepest issues of the human heart, the issues we all face but sometimes don't want to talk about. The heart is the programming center of our lives. What is programmed into our heart will affect every area of our lives. Learn how to discover what is in your heart and how to program your heart for success.
AN INVITATION TO YOU: To follow this blog via Facebook, click here. If you are not on Facebook or would prefer to subscribe via a different venue, please check the sidebar to the right for subscription options. Thank you!
____________________________________________
____________________________________________