"Guard your heart above all else,
for it determines the course of your life." ~ Proverbs 4: 23
"It's all your fault!" How often have I heard my grandchildren utter those words to one another! Too many times to count. Yet, while such an accusation may be expected among children, I hear it among too many adults as well.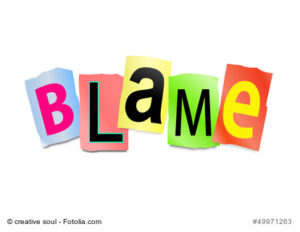 So, what is the Blame Game?

The blame game is the act of refusing to take responsibility for one's own actions and the attempt to place responsibility for one's actions on someone else.
Let's take a look at some players of the blame game. You will hear them say things like this:
"The devil made me do it."
"It's all my mother's fault."
"If only my father had not been an alcoholic, I wouldn't be one either."
"If I had not grown up in a dysfunctional family, my life wouldn't be such a mess."
"If only I didn't like potato chips so much, I wouldn't be overweight."
All of these statements reveal a failure on the part of those who say such things to take responsibility for their lives.
You see, the truth is this: We alone are responsible for our choices and our actions. While we are not responsible for the choices and actions of those who have harmed us in any way, we ARE responsible for how we respond to the choices and actions of those who have harmed us.
Like many of you, I grew up in what would be described as a dysfunctional home. In fact, I think every home is dysfunctional in some way. As I approached my twenties, I stood in front of the mirror one day and said, "Girl, your past can either break you or make you. Which is it going to be?" Right then and there, I decided and declared aloud that my past was going to make me.
From BLAMER to TAMER

Because God has given you a free will, you can move from blaming others for your choices and actions to taming your choices and actions. How? By taking responsibility for your choices and actions. By placing them under your control and, in turn, under the control of the Holy Spirit.
It is not what happens to us that matters.
What matters is how we respond to what happens to us.
And God has given you the power to make that right choice.
So use your power to choose. And use it wisely. Don't let the past dictate your future. Don't blame others for where you are today. Choose to take responsibility for your choices and your actions.
And remember this: It is not what happens to you that matters; what matters is how you respond to what happens to you. In other words, whether you have had an ideal childhood or you have come from the worst home situation possible doesn't matter. What matters is that you have the God-given power to make wise choices to create a fulfilling future. Use that power from now on!
Before you leave, I encourage you to leave a comment in the box below and to listen to my 3-minute podcast, Are You Playing the Blame Game?, from my popular podcast series titled A Moment with MaryAnn:
For more of my podcasts check out the following:
Winning with the Word Podcast Series
Write Your Heart Out! – Podcasts for Writers
NOTE: If you are struggling to take responsibility for your life, I can help you! As a highly experienced Certified Life Coach, I will help you set priorities in line with your God-given purpose. For more information or to set up a phone appointment, please send me an email at drmaryann@maryanndiorio.com. You'll be taking the first step toward getting out of your mess of stress!
Now, it's YOUR turn: What are some steps you've taken to eliminate blame from your life? Please leave your response in the Comment Box below. Thank you!
TWEETABLE: "Are You Playing the Blame Game?" by Dr. MaryAnn Diorio (Click to Tweet)

Please tell your family and friends about this blog and please pass this post on to them. Thank you!
_______________________________________________________________
To help you get free from playing the blame game, I wrote YOU WERE MADE FOR GREATNESS!. This book will reveal to you your true power and authority in Christ, including your power and authority to stop playing the Blame Game. Get your copy now!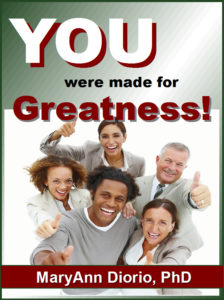 Learn about your power and authority in the Kingdom of God! Discover who you truly are in Jesus Christ!
YOU WERE MADE FOR GREATNESS! by Dr. MaryAnn Diorio
Kindle
If you found this post helpful, please forward it to a friend. Thank you! Check our archives in the right sidebar for older posts on a variety of topics. You may also search for a particular topic in the search box at the top right. Some of our most popular posts are:
—How to Recognize a Controlling Spirit
Are you new to this blog? If so, what is the "Matters of the Heart" blog and why will it bless you to read it?
Matters of the Heart is a weekly blog that deals with the deepest issues of the human heart, the issues we all face but sometimes don't want to talk about. The heart is the programming center of our lives. What is programmed into our heart will affect every area of our lives. Learn how to discover what is in your heart and how to program your heart for success.
AN INVITATION TO YOU: To follow this blog via Facebook, click here. If you are not on Facebook or would prefer to subscribe via a different venue, please check the sidebar to the right for subscription options. Thank you!
____________________________________________
____________________________________________