"Guard your heart above all else,
for it determines the course of your life." ~ Proverbs 4: 23
Change. It happens to all of us. Sometimes it's planned; often, it's not.
Always it must be faced.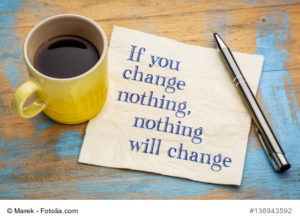 Change can be our enemy or our ally. It all depends on how we handle it. So, what is the best way to handle change? That, too, depends on the situation. One thing to know for sure is that all change requires some element of risk-taking, of moving out of your comfort zone. But the very process of taking risks and moving out of your comfort zone can make you a better person with a lot more to give to those in your circle of influence.
Here are a few tips that have worked for me in handling change:
1-Don't be afraid of change. Look on it as an opportunity for growth–an adventure that will bring you to a higher level of satisfaction with your life.
2-Don't be afraid to take risks. No one ever succeeded in life without taking risks. In fact, I like to think of risk-taking as a synonym for faith. When we take a risk, we are stepping out in faith. Now, the risk must not be a careless risk, like quitting your job without a few months of backup income. The risk must be a calculated risk, meaning you've prayed about taking the risk, you've carefully thought out the pros and cons, and you've discussed those pros and cons with trusted friends and colleagues. Based on your research and their input, and based on what God has been speaking to your heart, you've decided to proceed with taking the risk.
If you change nothing, nothing will change.
3-Don't keep doing the same thing. If what you've been doing hasn't gotten you the results you want, then change what you are doing. As Albert Einstein once purportedly said, "Insanity is doing the same thing over and over again and expecting different results." If you want different results in your life, you will have to change your approach to solving your problems.
There you have it. Three simple, but not easy, steps in making change your ally. Applying these three steps to your life will result in changes that will make your life happier and more fulfilling.
Now, it's YOUR turn: How have you handled change in your life? Please leave your response in the Comment Box below. Thank you!
TWEETABLE: "How to Make Change Your Ally" by Dr. MaryAnn Diorio (Click to Tweet)
Before you leave, I encourage you to listen to my 3-minute podcast, How to Make Change Your Ally, from my popular podcast series titled A Moment with MaryAnn. Simply click on the arrow below.


For more of my podcasts check out the following:
A Moment with MaryAnn – Podcasts on Living the Good Life
Winning with the Word Podcast Series
Write Your Heart Out! – Podcasts for Writers
NOTE: If you are struggling to take responsibility for your life, I can help you! As a highly experienced Certified Life Coach, I will help you set priorities in line with your God-given purpose. For more information or to set up a phone appointment, please send me an email at drmaryann@maryanndiorio.com. You'll be taking a major step toward fulfilling your destiny!
Please tell your family and friends about this blog and please pass this post on to them. Thank you!
_______________________________________________________________
To help you embrace change God's way, I wrote YOU WERE MADE FOR GREATNESS!. This book will reveal to you the power and authority you have to bring about effective change in your life through Jesus Christ. Get your copy now!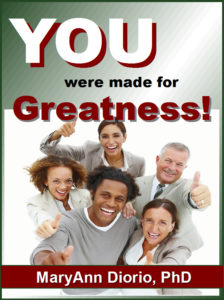 Learn about your power and authority in the Kingdom of God! Discover who you truly are in Jesus Christ!
YOU WERE MADE FOR GREATNESS! by Dr. MaryAnn Diorio
Kindle
If you found this post helpful, please forward it to a friend. Thank you! Check our archives in the right sidebar for older posts on a variety of topics. You may also search for a particular topic in the search box at the top right. Some of our most popular posts are:
—Are You Playing the Blame Game?
Are you new to this blog? If so, what is the "Matters of the Heart" blog and why will it bless you to read it?
Matters of the Heart is a weekly blog that deals with the deepest issues of the human heart, the issues we all face but sometimes don't want to talk about. The heart is the programming center of our lives. What is programmed into our heart will affect every area of our lives. Learn how to discover what is in your heart and how to program your heart for success.
AN INVITATION TO YOU: To follow this blog via Facebook, click here. If you are not on Facebook or would prefer to subscribe via a different venue, please check the sidebar to the right for subscription options. Thank you!
____________________________________________
____________________________________________