"Guard your heart above all else,
for it determines the course of your life." ~ Proverbs 4: 23
While the world goes about its daily routine, a major event is brewing in the spirit realm: The return of Jesus Christ for all those who have been born again. This event that will stun the world is known as the Rapture.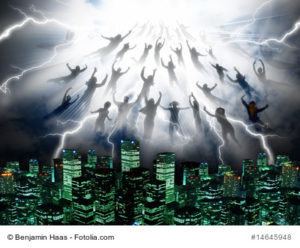 Are you paying attention to the signs of the times? If not, I urge you to wake up, for the time is short!
You may be thinking, I've heard this before. How can I know for sure that this is not just another false alarm? After all, people have been warning for decades that Jesus is coming soon. Aren't you just being an alarmist?
I hear you. But, let me remind you of the following warning signs the Bible gives of Christ's return in the Rapture:
1–The order of business will be life as usual. People are living their lives as usual, most of them clueless as to the real meaning of what is going on in the world. Complacency is the name of the game, as is a refusal to recognize the signs of the times.
Matthew 24: 37-39: "As it was in the days of Noah, so it will be at the coming of the Son of Man. For in the days before the flood, people were eating and drinking, marrying and giving in marriage, up to the day Noah entered the ark; and they knew nothing about what would happen until the flood came and took them all away. That is how it will be at the coming of the Son of Man."

2–There will be worldwide deception as men embrace the lie, resulting in minds that can no longer think straight and abominable acts that not even animals perpetrate. Apostasy is on the rise, with mainline churches' embracing a "feel-good" gospel that is not at all the Gospel of Jesus Christ.

Matthew 24: 4-5: "Watch out that no one deceives you. For many will come in my name, claiming, 'I am the Messiah,' and will deceive many."
Romans 1: 28: "Since they thought it foolish to acknowledge God, he abandoned them to their foolish thinking and let them do things that should never be done."
3–Lawlessness will prevail. Everywhere we turn, we see riots in the streets, whether in our own country or in foreign countries. Rebellion against authority is at an all-time high.

Matthew 24: 12: "And because there will be more and more lawlessness, most people's love will grow cold.

4- Selfishness will abound. Man will become his own god. The self will reign supreme.
2 Timothy 3: 1: "But realize this, that in the last days difficult times will come. For men will be lovers of self, lovers of money, boastful, arrogant, revilers, disobedient to parents, ungrateful, unholy, unloving, irreconcilable, malicious gossips, without self-control, brutal, haters of good, treacherous, reckless, conceited, lovers of pleasure rather than lovers of God, holding to a form of godliness, although they have denied its power;"
"

For the Lord himself will come down from heaven with a commanding shout, with the voice of the archangel, and with the trumpet call of God. First, the Christians who have died will rise from their graves. Then, together with them, we who are still alive and remain on the earth will be caught up in the clouds to meet the Lord in the air. Then we will be with the Lord forever."
– 1 Thessalonians 4: 16-17
Interestingly, when Jesus came to earth the first time, He rebuked the Pharisees and Sadducees for not recognizing the signs of His coming.
Matthew 16: 1-4: "The Pharisees and Sadducees came to Jesus and tested him by asking him to show them a sign from heaven. He replied, 'When evening comes, you say, 'It will be fair weather, for the sky is red,' and in the morning, 'Today it will be stormy, for the sky is red and overcast.' You know how to interpret the appearance of the sky, but you cannot interpret the signs of the times. A wicked and adulterous generation looks for a sign, but none will be given it except the sign of Jonah.' Jesus then left them and went away.'
Why will He not rebuke us as well for not recognizing the signs of His second coming?
I urge you to pay attention to what is happening in the world around us. Most of all, prepare yourself for the return of our Lord. He is at the threshold, ready to appear to those of us who are looking for Him.
Whatever you do, don't be left behind!


Now, it's YOUR turn: Do you recognize the signs of the times? What can you do about that? Please leave your response in the Comment Box below. Thank you!
TWEETABLE: "Are You Watching for the Return of Christ?" by Dr. MaryAnn Diorio (Click to Tweet)

If you found this post helpful, please forward it to a friend. Thank you! Check our archives in the right sidebar for older posts on a variety of topics. You may also search for a particular topic in the search box at the top right. Some of our most popular posts are:
—Victim or Victor: Which One Are You?
—How to Conquer Stinkin' Thinkin'

—Are You Playing the Blame Game?
For additional encouragement, check out my podcasts at the following links:
A Moment with MaryAnn – Podcasts on Living the Good Life
Winning with the Word Podcast Series
Write Your Heart Out! – Podcasts for Writers
NOTE: If you are struggling to know your purpose in life, I can help you! As a highly experienced Certified Life Coach, I will help you set priorities in line with your God-given purpose. For more information or to set up a phone appointment, please send me an email at drmaryann@maryanndiorio.com. You'll be taking a major step toward fulfilling your destiny!
Please tell your family and friends about this blog and please pass this post on to them. Thank you!
_______________________________________________________________
To help you learn about your true identity in Christ, I wrote YOU WERE MADE FOR GREATNESS!. This book will reveal to you the power and authority you have to bring about effective change in your life through Jesus Christ. Get your copy now!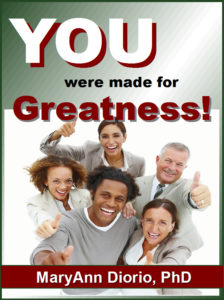 Learn about your power and authority in the Kingdom of God! Discover who you truly are in Jesus Christ!
YOU WERE MADE FOR GREATNESS! by Dr. MaryAnn Diorio
Kindle
Matters of the Heart is a weekly blog that deals with the deepest issues of the human heart, the issues we all face but sometimes don't want to talk about. The heart is the programming center of our lives. What is programmed into our heart will affect every area of our lives. Learn how to discover what is in your heart and how to program your heart for success.
AN INVITATION TO YOU: To follow this blog via Facebook, click here. If you are not on Facebook or would prefer to subscribe via a different venue, please check the sidebar to the right for subscription options. Thank you!
____________________________________________
Join my Team and get a free copy of my ebook on balancing your life.
____________________________________________
________________________________
Copyright 2000-2017 by Dr. MaryAnn Diorio. All Rights Reserved. This article may not be published or printed in any form whatsoever without the written permission of Dr. MaryAnn Diorio. You may contact her at drmaryann@maryanndiorio.com to request permission.
Amazon.com Required Disclosure: MaryAnn Diorio is a participant in the Amazon Services LLC Associates Program, an affiliate advertising program designed to provide a means for sites to earn advertising fees by advertising and linking to Amazon.com.
Disclaimer: This site uses cookies. Your continued use of this site constitutes your consent to our use of cookies.