"Guard your heart above all else,
for it determines the course of your life." ~ Proverbs 4: 23
Last week, America lost a great hero: USAF Colonel Leo Thorsness, prisoner of war at the Hanoi Hilton during the Vietnam War, and recipient of the Congressional Medal of Honor.
Col. Thorsness holds a special place in the hearts of my immediate family members because he was a friend of my husband, Dr. Dominic Diorio. Dom served as a Flight Surgeon in Thailand during the Vietnam War and provided medical care for the pilots who flew combat missions over Vietnam. Col. Thorsness was one of Dom's pilots and became a very special friend of his.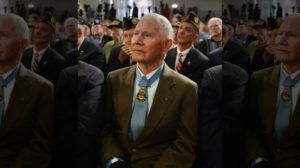 Photo Source: http://www.foxnews.com/opinion/2017/05/11/true-legacy-leo-thorsness-american-hero.html
In an inspiring interview Col. Thorsness gave several years after his release, he spoke of four keys that helped him keep his sanity during those six horrific years he spent as a POW in the Hanoi Hilton. These keys, he believed, would help anyone build a happy and successful life. He referred to these keys as the Four Fs: Faith, Family, Friends, and Fun.
Let's take a brief look at each one:
1-FAITH – Despite being tortured for praying together, Col. Thorsness and his fellow prisoners never stopped expressing their faith in God. In his eye-opening book, Surviving Hell, in which he recounts his experiences as a POW, Col. Thorsness tells of the weekly Sunday services the prisoners would hold in their cell once they were removed from solitary confinement. Taking turns, one of the POWs would begin to recite the Lord's Prayer aloud, only to have a guard enter the cell, forcibly remove the prisoner who was leading the prayer, and take him out to be tortured.The next POW in line would then resume the recitation of the Lord's Prayer where the first prisoner had left off. This second POW was also forcibly removed by a guard and tortured. The process continued until, one by one, the POWs, determined to hold on to their faith, had finished reciting the Lord's Prayer.
No matter what happens, keep strong your faith in God.
2-FAMILY – When family members wrote to the POWs, their letters were returned to the family with the word "Deceased" written on the front. This was a lie whose purpose was to torment the POW's family. God has designed the family to be a support system as we travel through life. Col. Thorsness placed great value on his family. In order to live a happy life, we must do the same.
No matter what happens, value your family.
3-FRIENDS – Scripture tells us that there is a friend who sticks closer than a brother (Proverbs 18: 24). Such was the friendship among the POWs. Their common experiences knit them together in a bond that can never be dissolved. True friends are hard to find. Treasure them, for they are gifts from God.
No matter what happens, be a faithful friend.

4-FUN – Even in the midst of horrible torture, mental distress, and physical pain, the POWs managed to look at the humorous side of life. Humor is a great means of relieving the stress in our lives. Be sure to have fun on a regular basis. Laugh every day. Scripture tells us that "a cheerful heart is good medicine" (Proverbs 17: 22).
No matter what happens, make time for fun.
___________________________________
Read Col. Thorsness' gripping account of his experiences as a POW during the Vietnam War.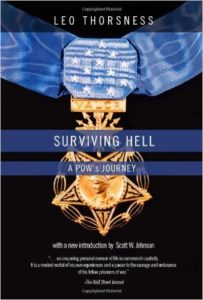 Surviving Hell by Col. Leo Thorsness
On April 19, 1967, Air Force Colonel Leo Thorsness was on a mission over North Vietnam when his wingman was shot down by an enemy MiG, which then lined up for a gunnery pass on the two American pilots who had bailed out. Although his F 105 was not designed for aerial combat, Thorsness engaged the MiG and destroyed it. Spotting four more MiGs, he fought his way through a barrage of North Vietnamese SAMs to engage them too, shooting down one and driving off the others. For this action, Thorsness was awarded the Medal of Honor. But he didn't learn about it until years later—by a "tap code" coming through prison walls—because on April 30, Thorsness was shot down, captured, and transported to the Hanoi Hilton. Surviving Hell recounts a six-year captivity marked by hours of brutal torture and days of agonizing boredom. With a novelist's eye for character and detail, Thorsness describes how he and other American POWs strove to keep their humanity. Thrown into solitary confinement for refusing to bow down to his captors, for instance, he disciplined his mind by memorizing long passages of poetry that other prisoners sent him by tap code. Filled with hope and humor, Surviving Hell is an eloquent story of resistance and survival. No other book about American POWs has described so well the strategies these remarkable men used in their daily effort to maintain their dignity. With resilience and resourcefulness, they waged war by other means in the darkest days of a long captivity.

Now, it's YOUR turn: Are you using the four keys to a happy life? If so, what have been your results? Please leave your response in the Comment Box below. Thank you!
TWEETABLE: "Four Keys to a Happy Life" by Dr. MaryAnn Diorio (CLICK TO TWEET)

If you found this post helpful, please forward it to a friend. Thank you! Check our archives in the right sidebar for older posts on a variety of topics. You may also search for a particular topic in the search box at the top right. Some of our most popular posts are:
—Victim or Victor: Which One Are You?
—How to Conquer Stinkin' Thinkin'

For additional encouragement, check out my podcasts at the following links:
A Moment with MaryAnn – Podcasts on Living the Good Life
Winning with the Word Podcast Series
Write Your Heart Out! – Podcasts for Writers
NOTE: If you are struggling to know your purpose in life, I can help you! As a highly experienced Certified Life Coach, I will help you set priorities in line with your God-given purpose. For more information or to set up a phone appointment, please send me an email at drmaryann@maryanndiorio.com. You will be taking a major step toward fulfilling your destiny!
Please tell your family and friends about this blog and please pass this post on to them. Thank you!
_______________________________________________________________
To help you learn about your true identity in Christ, I wrote YOU WERE MADE FOR GREATNESS!. This book will reveal to you the power and authority you have to bring about effective change in your life through Jesus Christ. Get your copy now!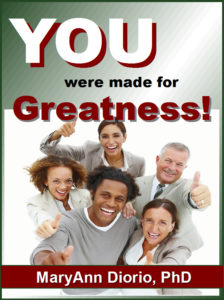 Learn about your power and authority in the Kingdom of God! Discover who you truly are in Jesus Christ!
YOU WERE MADE FOR GREATNESS! by Dr. MaryAnn Diorio
Kindle
Matters of the Heart is a weekly blog that deals with the deepest issues of the human heart, the issues we all face but sometimes don't want to talk about. The heart is the programming center of our lives. What is programmed into our heart will affect every area of our lives. Learn how to discover what is in your heart and how to program your heart for success.
AN INVITATION TO YOU: To follow this blog via Facebook, click here. If you are not on Facebook or would prefer to subscribe via a different venue, please check the sidebar to the right for subscription options. Thank you!
____________________________________________
Join my Team and get a free copy of my ebook on balancing your life.
____________________________________________
________________________________
Copyright 2000-2017 by Dr. MaryAnn Diorio. All Rights Reserved. This article may not be published or printed in any form whatsoever without the written permission of Dr. MaryAnn Diorio. You may contact her at drmaryann@maryanndiorio.com to request permission.
Amazon.com Required Disclosure: MaryAnn Diorio is a participant in the Amazon Services LLC Associates Program, an affiliate advertising program designed to provide a means for sites to earn advertising fees by advertising and linking to Amazon.com.
Disclaimer: This site uses cookies. Your continued use of this site constitutes your consent to our use of cookies.