"Guard your heart above all else,
for it determines the course of your life." ~ Proverbs 4: 23
Memory. We study it. Measure it. Test it. Sharpen it. But do we truly understand the important role memory plays in creating a successful life?
In his two letters to the churches in Asia Minor, the Apostle Peter speaks often about memory. Hear his words from his second letter:
2 Peter 3: 1-2 – "Dear friends, this is now my second letter to you. I have written both of them as reminders to stimulate you to wholesome thinking. I want you to recall the words spoken in the past by the holy prophets and the command given by our Lord and Savior through your apostles."
2 Peter 1: 12-15 – "So I will always remind you of these things, even though you know them and are firmly established in the truth you now have. I think it is right to refresh your memory as long as I live in the tent of this body, because I know that I will soon put it aside, as our Lord Jesus Christ has made clear to me. And I will make every effort to see that after my departure you will always be able to remember these things."
Notice Peter's frequent reference to memory in his use of the words reminders, recall, remind, refresh your memory, remember. Throughout both of his letters, Peter emphasizes the importance of the memory in leading a successful life.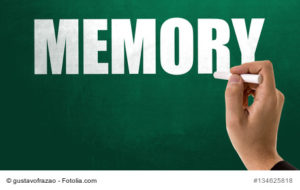 So, why is memory so important to success? Because memory affects the way we think, and the way we think determines our level of success in life. What we remember and keep in mind will be what affects our decisions on a daily basis.
But a good memory alone is not sufficient to lead a successful life. We must remember the right things. What are these right things? They are the commands of Christ as given in His Word. When we obey Christ's commands, we are aligning our thinking with His thinking. And when we align our thinking with God's thinking, we experience true success.
The Apostle Paul wrote this in Romans 12: 2: Don't copy the behavior and customs of this world, but let God transform you into a new person by changing the way you think. Then you will learn to know God's will for you, which is good and pleasing and perfect.
Paul makes clear in this verse that there are two ways of thinking: the world's way and God's way. Paul further makes clear that only God's way of thinking leads to true success.
As you sharpen your memory with the Word of God–memorizing it, meditating on it, applying it–you will increasingly experience the abundant life of success that Jesus died to give you.
Now, it's YOUR turn: What are your thoughts about the effect of memory on success? Please leave your response in the Comment Box below. Thank you!
TWEETABLE: "What Does Memory Have to Do with Success?' by Dr. MaryAnn Diorio (CLICK TO TWEET)

If you found this post helpful, please forward it to a friend. Thank you! Check our archives in the right sidebar for older posts on a variety of topics. You may also search for a particular topic in the search box at the top right. Some of our most popular posts are:
—Victim or Victor: Which One Are You?
—How to Conquer Stinkin' Thinkin'

For additional encouragement, check out my podcasts at the following links:
A Moment with MaryAnn – Podcasts on Living the Good Life
Winning with the Word Podcast Series
Write Your Heart Out! – Podcasts for Writers
NOTE: If you are struggling to know your purpose in life, I can help you! As a highly experienced Certified Life Coach, I will help you set priorities in line with your God-given purpose. For more information or to set up a phone appointment, please send me an email at drmaryann@maryanndiorio.com. You will be taking a major step toward fulfilling your destiny!
Please tell your family and friends about this blog and please pass this post on to them. Thank you!
_______________________________________________________________
To help you learn about your true identity in Christ, I wrote YOU WERE MADE FOR GREATNESS!. This book will reveal to you the power and authority you have to bring about effective change in your life through Jesus Christ. Get your copy now!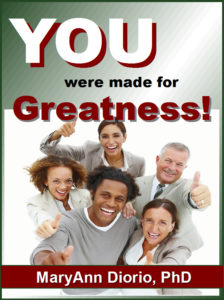 Learn about your power and authority in the Kingdom of God! Discover who you truly are in Jesus Christ!
YOU WERE MADE FOR GREATNESS! by Dr. MaryAnn Diorio
Kindle
Matters of the Heart is a weekly blog that deals with the deepest issues of the human heart, the issues we all face but sometimes don't want to talk about. The heart is the programming center of our lives. What is programmed into our heart will affect every area of our lives. Learn how to discover what is in your heart and how to program your heart for success.
AN INVITATION TO YOU: To follow this blog via Facebook, click here. If you are not on Facebook or would prefer to subscribe via a different venue, please check the sidebar to the right for subscription options. Thank you!
____________________________________________
Join my Team and get a free copy of my ebook on balancing your life.
____________________________________________
________________________________
Copyright 2000-2017 by Dr. MaryAnn Diorio. All Rights Reserved. This article may not be published or printed in any form whatsoever without the written permission of Dr. MaryAnn Diorio. You may contact her at drmaryann@maryanndiorio.com to request permission.
Amazon.com Required Disclosure: MaryAnn Diorio is a participant in the Amazon Services LLC Associates Program, an affiliate advertising program designed to provide a means for sites to earn advertising fees by advertising and linking to Amazon.com.
Disclaimer: This site uses cookies. Your continued use of this site constitutes your consent to our use of cookies.