Guard your heart above all else,
for it determines the course of your life." ~ Proverbs 4: 23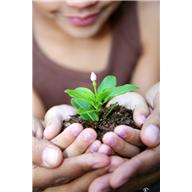 How well I remember my first vegetable garden! Each day I would lovingly water the tender plants and carefully check their growth. I found it exciting to watch them increase in height and fullness every few days and to know they were flourishing.
Planting a garden led me to think about my spiritual growth. Was there a way, I wondered, to measure my progress in an area of life that defied accurate measurement? Although I could not measure my spiritual growth with a ruler, I needed to know if I were moving ahead, or slipping back, in my walk with the Lord.
As I studied God's Word, certain indicators began to emerge that have helped me to determine whether or not I am progressing spiritually. Over the years, these indicators have served as a checklist which, I trust, will also help you to evaluate where you are in your own spiritual development.
1. Do I have an increasing hunger to know God and His Word? When I first became a Christian, I was like a newly wed enraptured and enamored with her husband. Then, over the years, I became comfortable in my relationship with the Lord. Yes, I still loved Him deeply, but I had lost some of the passion.When we find ourselves longing fervently for a closer relationship with God, and we determine to develop that relationship through daily prayer and study of His Word, we know that we are progressing spiritually.
2. Do I have a stronger desire to separate myself from the things of this world? Spiritual growth involves a process of separation. God said, "Wherefore come out from among them, and be ye separate" (II Corinthians 6:17). Although for now we must live in and influence the world, it must have no grip on us. As we grow spiritually, our desire for the things of this world will decrease while our desire for the things of God will increase.
3. Do I have a growing faith? The Word of God tells us that "the just shall live by faith" (Romans 1:17). When we find it increasingly easier to stand on God's Word, especially in difficult circumstances, we are growing spiritually. The Bible becomes our final authority, and we can trust God to work in our lives. Whereas we once focused on the problem, we now focus on the solution found in the Word.
4. Do I find it easier to forgive? Jesus said, "Forgive, and ye shall be forgiven" (Luke 6:37). We know that we are growing spiritually when it becomes easier to forgive. This includes forgiving not only those who have offended us, but forgiving ourselves as well.
I remember an occasion when I asked the Lord to reveal to me if there were anyone in my life whom I had not forgiven. Feeling certain that I had forgiven everyone, I was startled when a young woman came to mind. She had wronged me many years earlier, but I had never even thought of forgiving her. Although I had completely forgotten the incident, I immediately repented of my unforgiveness and asked God to bless her.
5. Do I have a growing love for other people? When we notice an increase in our love for other people, we know we are growing spiritually. Increased love manifests itself in actions. Are we more patient? Do we readily respond with kindness instead of anger? Do we criticize less? How can we say we love God if we don't love our fellow man (I John 4:20)?
6. Do I have a heightened desire for the spiritual welfare of others? We are growing spiritually when our heart's cry is to lead others to Christ and to the fullness of the abundant life, no matter what the cost.
Jesus said, "Go ye therefore, and teach all nations, baptizing them in the name of the Father, and of the Son, and of the Holy Ghost: teaching them to observe all things whatsoever I have commanded you" (Matthew 28:19-20). We are increasing in spiritual maturity when we are ready to follow the Lord's leading for each person we meet, knowing that at times we plant, at times we water, and at times we reap. Ridicule and persecution cause us to rejoice because we are sharing in Christ's suffering.
7. Do I have a greater awareness of sin? We are growing spiritually when we are more sensitive to sin in our lives. What we may have considered harmless a few years or even a few months ago now pricks our conscience. Moreover, we find ourselves grieving deeply at the seriousness of sin's offense against our Lord.
When I committed my life to Christ, certain activities that had seemed neutral to me suddenly took on a different perspective. As I grew spiritually, I became aware of subtle ways I sinned without even realizing I was sinning.
8. Do I have a greater willingness to obey God in all things? We are growing spiritually when obedience to God becomes a joy instead of a duty. As Jesus said, "Blessed are those who hear the word of God and keep it!" (Luke 11: 27-28). When our response to God's call becomes "Not my will, but thine, be done" (Luke 22:42), we know we are making spiritual progress.
Spiritual growth takes time. Just as we would not expect a child to grow up mentally and physically overnight, we should not expect to grow up spiritually overnight. Sometimes our progress may be slow. At other times, it may even seem as though we are regressing. Often it is only with the vantage point of several years that we can look back and realize how much we have actually grown.
Like physical and emotional growth, spiritual growth is sometimes painful. But let's be encouraged! The Holy Spirit, our instructor, is guiding us and leading us into all truth. We can rejoice, therefore, in the knowledge that each moment, day by day, we are becoming more conformed to the image of Christ.
Now, it's YOUR turn: How do you measure your spiritual growth?

TWEETABLE: "Eight Signs of Spiritual Growth" by Dr. MaryAnn Diorio (CLICK TO TWEET)
If you found this post helpful, please forward it to a friend. Thank you! Check our archives in the right sidebar for older posts on a variety of topics. You may also search for a particular topic in the search box at the top right. Some of our most popular posts
—How to Recognize a Controlling Spirit

—Sex and Soul Ties
—Are You Playing the Blame Game?
For additional encouragement, check out my podcasts at the following links:
A Moment with MaryAnn – Podcasts on Living the Good Life
Winning with the Word Podcast Series
Write Your Heart Out! – Podcasts for Writers
NOTE: If you are struggling to know your purpose in life, I can help you! As a highly experienced Certified Life Coach, I will help you set priorities in line with your God-given purpose. For more information or to set up a phone appointment, please send me an email at drmaryann@maryanndiorio.com. You'll be taking a major step toward fulfilling your destiny!
Please tell your family and friends about this blog and please pass this post on to them. Thank you!
______________________________________________________________
Matters of the Heart is a weekly blog that deals with the deepest issues of the human heart, the issues we all face but sometimes don't want to talk about. The heart is the programming center of our lives. What is programmed into our heart will affect every area of our lives. Learn how to discover what is in your heart and how to program your heart for success.
AN INVITATION TO YOU: To follow this blog via Facebook, click here. If you are not on Facebook or would prefer to subscribe via a different venue, please check the sidebar to the right for subscription options. Thank you!