Guard your heart above all else,
for it determines the course of your life." ~ Proverbs 4: 23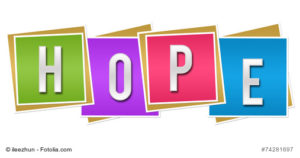 Last week, we looked at some things in our lives that steal our hope. Today, let's consider some reasons why we as Christians not only can be hopeful as we face the future, but joyful as well.
Reason #1: God has everything under control. He is the Lord and there is none else (Isaiah 45:18 KJV). As the Creator of the universe and everything in it, God knows the beginning and the end. Nothing can happen to us without His permission. No matter what life may bring, we can rest secure in the knowledge that God knows our needs and that He will meet them.
Reason #2: God is faithful. He does exactly what He says He will do: "For I am the Lord: I will speak, and the word that I shall speak shall come to pass" (Ezekiel 12:25 KJV). When God promises that the word He speaks shall come to pass, He means it. It doesn't matter what the situation looks like.
When my younger daughter was an infant, she was diagnosed with an incurable illness. Upon hearing the doctor's report, my husband and I were assailed by fear. But we chose to resist the spiritual attack by focusing on God's Word that said our daughter was healed by the stripes of Jesus (I Peter 2:24 KJV).
For several weeks, we clung to that verse with every fiber of our being because our daughter's very life depended on it. Then one day, her symptoms completely disappeared, much to the amazement of her doctors. Today she is a healthy young woman wholeheartedly serving Jesus Christ.
Reason #3: God is love. Everything He does is motivated by love. As our Father, He is intimately involved in the lives of His children. He Himself says that He has numbered the very hairs of our heads (Matthew 10:30 KJV). Because God is love, we can trust that He will take care of us.
Reason #4: God is the God of hope. There can be no hope without God, for all hope is rooted in Him. By its very nature, hope looks to the future. As Christians, our hope is in Jesus Christ and in His promise of eternal life.
When my elder daughter was in college, she purchased a Christian lapel button that read "Just visiting." That's the attitude we should take about our stay on this earth. This is not our final destination. We know that a far better life awaits us beyond this one. When we focus on that future life, we can keep the problems of this earthly life in proper perspective, confident in the knowledge that "all things work together for good to them that love God" (Romans 8:28 KJV).
Hope is the anchor of the soul (Hebrews 6:19 KJV). Without it, we cannot fight the good fight of faith. In order to remain confident as we face the future, we must hold on to the hope that is set before us, namely Jesus Christ and the salvation He has provided. The battle has already been won! Therefore, we can rejoice as we face the future, knowing that for the children of God, the best is yet to be!
Now, it's YOUR turn: What do you do to hold on to hope in the midst of the storm?
TWEETABLE: "Holding On to Hope-Part Two" by Dr. MaryAnn Diorio (CLICK TO TWEET)
If you found this post helpful, please forward it to a friend. Thank you! Check our archives in the right sidebar for older posts on a variety of topics. You may also search for a particular topic in the search box at the top right. Some of our most popular posts
—Eight Signs of Spiritual Growth

—Sex and Soul Ties
—How to Recognize a Controlling Spirit
For additional encouragement, check out my podcasts at the following links:
A Moment with MaryAnn – Podcasts on Living the Good Life
Winning with the Word Podcast Series
Write Your Heart Out! – Podcasts for Writers
NOTE: If you are struggling to know your purpose in life, I can help you! As a highly experienced Certified Life Coach, I will help you set priorities in line with your God-given purpose. For more information or to set up a phone appointment, please send me an email at drmaryann@maryanndiorio.com. You'll be taking a major step toward fulfilling your destiny!
Please tell your family and friends about this blog and please pass this post on to them. Thank you!
______________________________________________________________
Copyright 2001-2017 by Dr. Mary Ann Diorio. All Rights Reserved.
Matters of the Heart is a weekly blog that deals with the deepest issues of the human heart, the issues we all face but sometimes don't want to talk about. The heart is the programming center of our lives. What is programmed into our heart will affect every area of our lives. Learn how to discover what is in your heart and how to program your heart for success.
AN INVITATION TO YOU: To follow this blog via Facebook, click here. If you are not on Facebook or would prefer to subscribe via a different venue, please check the sidebar to the right for subscription options. Thank you!