Guard your heart above all else,
for it determines the course of your life." ~ Proverbs 4: 23
Years ago, I was on a cruise ship that encountered a major storm in the North Atlantic. Huge waves rocked the ship and rose nearly to the top deck, leaving us passengers wondering if we would make it safely back to shore.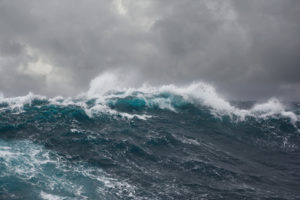 Perhaps never in my life up to that point had I felt so helpless. The ship's crew kept reassuring us that the captain had everything under control, but from the looks of things, I wondered.
Well, by God's grace, we did make it safely back to shore, but not without my learning a very valuable lesson.
As my life went on, I, like you, encountered other kinds of storms that threatened both to shake my equilibrium and to make me feel helpless–storms like broken relationships, financial problems, illness. But during each of those storms, I remembered another storm that took place while Jesus was on earth.
He and His disciples were in a boat making their way across the Sea of Galilee. Tired from ministering to the crowds, Jesus had fallen asleep.
Suddenly, a great storm arose that threatened to sink the boat. In a panic, the disciples awakened Jesus, crying out, "Master! Master! We're going to drown!" (Luke 8:24). At the sound of their cry, Jesus got up, rebuked the storm, and it stopped. At His command, the raging wind ceased, and the churning sea grew calm.
Take heart! Jesus Christ is in the midst of your storm!
Then Jesus turned to His disciples and asked, "Where is your faith?" The disciples were filled with amazement and said, "Who is this man whom even the winds and the waves obey?"
Today, over 2000 years later, Jesus is still calming storms. Not only natural storms like the one I experienced while sailing the Atlantic Ocean, but emotional storms, relationship storms, financial storms, health storms, and spiritual storms. There is no storm too great or too severe for Jesus to calm. There is no storm violent enough to resist His power. At His command, every storm must cease.
What storm are you facing today? Is it the storm of divorce, bankruptcy, a wayward child? Is it the storm of illness, drug addiction, alcoholism? Is it the storm of depression, worry, or fear? Whatever it is, don't panic. Jesus is in the midst of your storm!
Just as He was in that boat with the disciples during the storm they faced, so is He with you in the storm you are facing. Just as He saved them from disaster, so will He save you. All you have to do is cry out to Him. When you do, He will hear your cry and deliver you from the storm.
Like the disciples, you will watch in amazement as Jesus brings His peace into the midst of your personal storm. Like the disciples, you will marvel and rejoice at His power and might and, especially, at His great love for you.
If you're facing a storm today, cry out to Jesus. Expect Him to hear you and to calm your storm. Then write to me and tell me of the wondrous thing He has done for you. ##
Now, it's YOUR turn: How do you handle the storms in your life? Please comment in the box below.
TWEETABLE: "Finding Peace in the Midst of the Storm" by Dr. MaryAnn Diorio

RESOURCES TO HELP YOU FIND PEACE IN THE MIDST OF THE STORM:
Please check out two books I've written that will help you to find peace in the midst of the storm"
The Daystar Devotional by MaryAnn Diorio, PhD, MFA
Are you looking for daily encouragement in your walk with Christ? The Daystar Devotional will provide just what you're looking for. Daily readings will give you fresh insight into Scripture verses that will inspire you, encourage you, and strengthen you as you face the challenges of life. A powerful tool for growing in your relationship with Christ.

Available in both print and e-book formats.
CLICK HERE to purchase your copy now.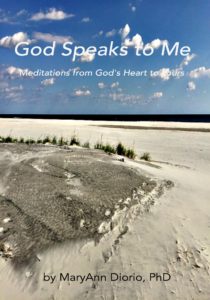 God Speaks to Me by MaryAnn Diorio, PhD, MFA
Available in both print and e-book formats.
CLICK HERE to purchase your copy now

If you found this post helpful, please forward it to a friend. Thank you! Check our archives in the right sidebar for older posts on a variety of topics. You may also search for a particular topic in the search box at the top right. Some of our most popular posts
—Eight Signs of Spiritual Growth
—Sex and Soul Ties
—How to Recognize a Controlling Spirit
For additional encouragement, check out my podcasts at the following links:
A Moment with MaryAnn – Podcasts on Living the Good Life
Winning with the Word Podcast Series
Write Your Heart Out! – Podcasts for Writers
NOTE: If you are struggling to know your purpose in life, I can help you! As a highly experienced Certified Life Coach, I will help you set priorities in line with your God-given purpose. For more information or to set up a phone appointment, please send me an email at drmaryann@maryanndiorio.com. You'll be taking a major step toward fulfilling your destiny!
Please tell your family and friends about this blog and please pass this post on to them. Thank you!
______________________________________________________________
Copyright 2001-2017 by Dr. Mary Ann Diorio. All Rights Reserved.
Matters of the Heart is a weekly blog that deals with the deepest issues of the human heart, the issues we all face but sometimes don't want to talk about. The heart is the programming center of our lives. What is programmed into our heart will affect every area of our lives. Learn how to discover what is in your heart and how to program your heart for success.
AN INVITATION TO YOU: To follow this blog via Facebook, click here. If you are not on Facebook or would prefer to subscribe via a different venue, please check the sidebar to the right for subscription options. Thank you!