Guard your heart above all else,
for it determines the course of your life." ~ Proverbs 4: 23
_________________________________________________
AN INVITATION TO YOU: To follow this blog via Facebook, click here. If you are not on
Facebook or would prefer to subscribe via a different venue, please check the sidebar
to the right for subscription options. Thank you!
__________________________________________________

Do you hate confrontation? Are you one of those people who gets uptight when there is the slightest indication of anger, upset, or instability in the status quo?

If so, you are not alone!
But while you may not be alone, you may be in trouble!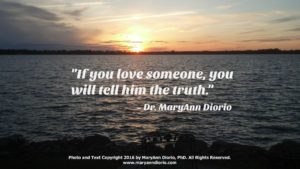 Why? Because confrontation is essential to growth. Without it, we will remain imprisoned in unhealthful relationship patterns. We will not experience the abundant life Jesus died to give us. In fact, we will not fulfill our God-given destiny.
Consider the caterpillar. Without confrontation–i.e., confronting the cocoon–the caterpillar would never turn into a butterfly.
Consider also the chick in the egg. Without confrontation–i.e., pushing against the eggshell to escape its confines–the chick would never emerge to live out its destiny as a chicken.
And consider the human being. Without confrontation–i.e., pushing through the obstacles that hinder healthful relationships and God's plan for our lives–we would never grow into the truthful and loving people God created us to be.
No, it's not confrontation that is the problem. It is the manner in which we handle confrontation.
"It's not confrontation that is the problem. It's the manner
in which we handle confrontation." ~ Dr. MaryAnn Diorio
Most people are afraid of confrontation because they have seen it mishandled. Many have been deeply hurt by confrontation, whether emotionally, physically, or both. Perhaps, like me, you are one of them.
For example, shouting, throwing things, or inflicting physical or emotional pain is not the proper way to handle confrontation. This kind of behavior is what has given confrontation its bad name.
But, on the other side of the coin, the failure to confront–especially on the part of a leader–has resulted in the destruction of families, organizations, and churches. When a leader fails to confront sin, he is tacitly allowing it to continue. There is no middle ground.
Also, when a leader fails to confront sin, he is giving in to the fear of man. Whenever we fear man more than we fear God, we are in big trouble!
So, what is the proper way to handle confrontation?
First, let's consider what confrontation really is. Confrontation is "speaking the truth in love." This concept comes directly from the Bible. Let's take a look at Ephesians 4: 15: "Instead, we will speak the truth in love, growing in every way more and more like Christ . . . ."
What do you notice about this verse? Let's dissect it together:
1–We are instructed to speak the truth.
2–We are instructed to speak the truth in love; i.e., with a desire to help the person we are confronting.
3–When we speak the truth in love, we will grow more and more like Christ.
Speaking the truth in love–aka "confrontation"– causes growth, both in the speaker and in the listener.
When David sinned with Bathsheba, he brought much suffering and harm to his family. God commissioned the prophet Nathan to confront David about his sin. Nathan obeyed the Lord, resulting in David's repentance.
Do you think Nathan felt like confronting King David? I doubt it. Nor do we always feel like confronting sin in the lives of those we love or those whom God has placed under our authority. But confront we must if we truly love them.
Truth without love will result in alienation. Love without truth will result in damnation. This is what is happening in many of our churches today. Pastors are preaching a love message without combining it with a truth message. When only one half of the equation is applied, the math won't work. We will get a wrong answer every time.
And so it is with confrontation. We must confront, but we must always confront in both love and truth.
By the same token, the person who is being confronted must receive the message with a teachable spirit, which is a spirit imbued with humility. As king, David could have angrily dismissed Nathan and his message. Instead, David humbled himself before God and before Nathan and received Nathan's correction from the Lord. As a result, David repented and, in so doing, did not forfeit his salvation.
Confrontation has eternal consequences. If we allow sin to continue, it will grow. When we confront, we are showing that person great love and concern for his eternal destiny. If we truly love someone, how, then, can we not confront him?
Now, it's YOUR turn: Do you have trouble confronting sin in the lives of those in your circle of influence? After reading this blog post, do you now see confrontation in a different light? Please leave your valuable comments in the fields below. Thanks!
TWEETABLE: "Are You Afraid of Confrontation?" by Dr. MaryAnn Diorio (CLICK TO TWEET)
Listen to the MP3 version of this blog post.
STAY IN THE LOOP:
______________________________________________________
Copyright 2017 by MaryAnn Diorio, PhD, MFA. All Rights Reserved.

Sources cited:
"The Danger of Compromise" by Greg Laurie

Please check out three books I've written that will help you to stay close to Jesus:
The Daystar Devotional by MaryAnn Diorio, PhD, MFA
Are you looking for daily encouragement in your walk with Christ? The Daystar Devotional will provide just what you're looking for. Daily readings will give you fresh insight into Scripture verses that will inspire you, encourage you, and strengthen you as you face the challenges of life. A powerful tool for growing in your relationship with Christ.

Available in both print and e-book formats.
CLICK HERE to purchase your copy now.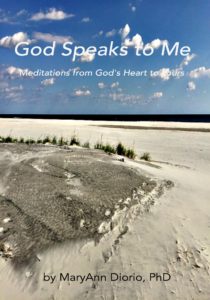 God Speaks to Me by MaryAnn Diorio, PhD, MFA
Do you ever wonder if God speaks to you? Well, He does. In this inspiring
book, Dr. MaryAnn Diorio records her two-way conversations with God. You will be blessed as you hear God's voice speaking directly to you as well.Available in both print and e-book formats.

CLICK HERE to purchase your copy now.
You Were Made for Greatness! by MaryAnn Diorio, PhD
A dynamic book that will help you overcome negative feelings about yourself and put you on the road to success in every area of your life. Using sound Biblical principles, nationally known author, life coach, and businesswoman, Dr. MaryAnn Diorio, deals with such life-changing topics as overcoming worry and fear, taking charge of your life, learning to accept yourself, and finding your purpose in life. YOU WERE MADE FOR GREATNESS! Offers practical advice which, if applied, guarantees success and will help you become all that God created you to be.
Available in e-book format.

CLICK HERE to purchase your copy now.
If you found this post helpful, please forward it to a friend or relative. Thank you!
Please check our archives in the right sidebar for older posts on a variety of topics. You may also search for a particular topic in the search box at the top right.
Some of our most popular posts:
—How to Recognize a Controlling Spirit
–Why Rage Is Raging in Our Land
For additional encouragement, check out my podcasts at the following links:
A Moment with MaryAnn – Podcasts on Living the Good Life
Winning with the Word Podcast Series
Write Your Heart Out! – Podcasts for Writers
NOTE: If you are struggling to know your purpose in life, I can help you! As a highly experienced Certified Life Coach, I will help you set priorities in line with your God-given purpose. For more information or to set up a phone appointment, please send me an email at drmaryann@maryanndiorio.com. You'll be taking a major step toward fulfilling your destiny!
Please tell your family and friends about this blog and please pass this post on to them. Thank you!
______________________________________________________________
Copyright 2001-2017 by Dr. Mary Ann Diorio. All Rights Reserved.
Matters of the Heart is a weekly blog that deals with the deepest issues of the human heart, the issues we all face but sometimes don't want to talk about. The heart is the programming center of our lives. What is programmed into our heart will affect every area of our lives. Learn how to discover what is in your heart and how to program your heart for success.
AN INVITATION TO YOU: To follow this blog via Facebook, click here. If you are not on Facebook or would prefer to subscribe via a different venue, please check the sidebar to the right for subscription options. Thank you!