Guard your heart above all else,
for it determines the course of your life." ~ Proverbs 4: 23
_________________________________________________
AN INVITATION TO YOU: To follow this blog via Facebook, click here. If you are not on
Facebook or would prefer to subscribe via a different venue, please check the sidebar
to the right for subscription options. Thank you!
__________________________________________________

"I'm sorry, Mommy!" Little Jake had been caught red-handed taking cookies from the cookie jar after his mother had told him not to.
Mommy looked him in the eye. "Jake, are you sorry because you hurt Jesus by disobeying me, or are you sorry because you got caught?"
Not one to lie, Jake responded, "I'm sorry because I got caught."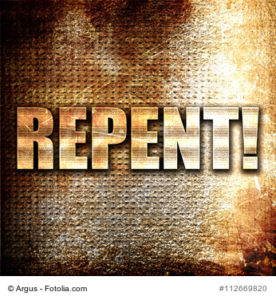 What about us? When we sin, are we sorry because we have hurt the heart of God, or are we sorry because our sin got us into some kind of trouble? In other words, do we repent out of fear of the personal consequences of our sin, or do we repent out of love for our Heavenly Father Whom we have hurt by our sin?
There is only one kind of sorrow that pleases God, and that is the sorrow that stems from love for Him, not from fear of personal consequences. David the Psalmist understood this when he penned these words in Psalm 51: 17: " . . . a broken and contrite heart You, God, will not despise."
Is our heart broken and contrite because of our sin? Or are we merely crying crocodile tears because we are suffering the negative consequences of our sin?
Human sorrow leads only to more sinning. Godly sorry comes from a broken heart that is aware it has hurt the heart of the Father. Only Godly sorrow is transformational because it stems from love for the Father and not from fear for ourselves. Only Godly sorrow is true repentance.
If you do not have Godly sorrow for your sin, do what I did. I asked God to show me what my sin looks like to Him and how it makes Him feel. When He showed me, I was appalled and understood what He meant when He said in Isaiah 64: 6 that "all our righteous acts are like filthy rags."
When we move from fear-based sorrow to love-based sorrow, we will understand what the Apostle Paul meant when he wrote that "we are no longer slaves to sin" (Romans 6: 6). Instead, we will have become slaves to our Lord and Lover Whose precious heart we would never want to break.
Now it's YOUR turn! How would you describe Godly sorrow? Describe a time when you experienced human sorrow or Godly sorrow. Please comment in the box below. Thanks!
TWEETABLE: "Is It Repentance or Fear of Getting Caught?" by Dr. MaryAnn Diorio (CLICK TO TWEET)
STAY IN THE LOOP:

Please check out my heart-mending novel, THE MADONNA OF PISANO, for an example of true, Godly repentance.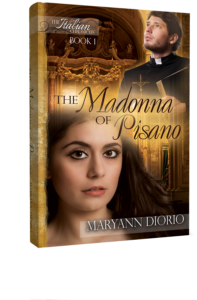 THE MADONNA OF PISANO
Book 1 in The Italian Chronicles Trilogy
"A young woman, a priest, and a secret that keeps them bitterly bound to each other…."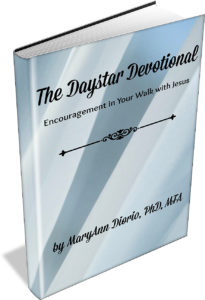 The Daystar Devotional by MaryAnn Diorio, PhD, MFA
Are you looking for daily encouragement in your walk with Christ? The Daystar Devotional will provide just what you're looking for. Daily readings will give you fresh insight into Scripture verses that will inspire you, encourage you, and strengthen you as you face the challenges of life. A powerful tool for growing in your relationship with Christ.

Available in both print and e-book formats.
CLICK HERE to purchase your copy now.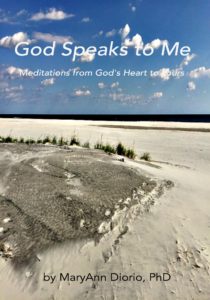 God Speaks to Me by MaryAnn Diorio, PhD, MFA
Do you ever wonder if God speaks to you? Well, He does. In this inspiring
book, Dr. MaryAnn Diorio records her two-way conversations with God. You will be blessed as you hear God's voice speaking directly to you as well.Available in both print and e-book formats.

CLICK HERE to purchase your copy now.
You Were Made for Greatness! by MaryAnn Diorio, PhD
A dynamic book that will help you overcome negative feelings about yourself and put you on the road to success in every area of your life. Using sound Biblical principles, nationally known author, life coach, and businesswoman, Dr. MaryAnn Diorio, deals with such life-changing topics as overcoming worry and fear, taking charge of your life, learning to accept yourself, and finding your purpose in life. YOU WERE MADE FOR GREATNESS! Offers practical advice which, if applied, guarantees success and will help you become all that God created you to be.
Available in e-book format.

CLICK HERE to purchase your copy now.
If you found this post helpful, please forward it to a friend or relative. Thank you!
Please check our archives in the right sidebar for older posts on a variety of topics. You may also search for a particular topic in the search box at the top right.
Some of our most popular posts:
—Horoscopes? Ouija Boards? Séances? Are They Really Harmless?

—Are You Afraid of Confrontation?
—How to Recognize a Controlling Spirit
For additional encouragement, check out my podcasts at the following links:
A Moment with MaryAnn – Podcasts on Living the Good Life
Winning with the Word Podcast Series
Write Your Heart Out! – Podcasts for Writers
NOTE: If you are struggling to know your purpose in life, I can help you! As a highly experienced Certified Life Coach, I will help you set priorities in line with your God-given purpose. For more information or to set up a phone appointment, please send me an email at drmaryann@maryanndiorio.com. You'll be taking a major step toward fulfilling your destiny!
Please tell your family and friends about this blog and please pass this post on to them. Thank you!
______________________________________________________________
Copyright 2001-2017 by Dr. Mary Ann Diorio. All Rights Reserved.
Matters of the Heart is a weekly blog that deals with the deepest issues of the human heart, the issues we all face but sometimes don't want to talk about. The heart is the programming center of our lives. What is programmed into our heart will affect every area of our lives. Learn how to discover what is in your heart and how to program your heart for success.
AN INVITATION TO YOU: To follow this blog via Facebook, click here. If you are not on Facebook or would prefer to subscribe via a different venue, please check the sidebar to the right for subscription options. Thank you!
______________________________________________________
Copyright 2017 by MaryAnn Diorio, PhD, MFA. All Rights Reserved.