Guard your heart above all else,
for it determines the course of your life." ~ Proverbs 4: 23
_________________________________________________
AN INVITATION TO YOU: To follow this blog via Facebook, click here. If you are not on
Facebook or would prefer to subscribe via a different venue, please check the sidebar
to the right for subscription options. Thank you!
__________________________________________________
Have you been feeling weary lately? Overwhelmed? Wishing you could get off the treadmill of life?
Well, you can!
All it takes is a decision. But not the decision you may think.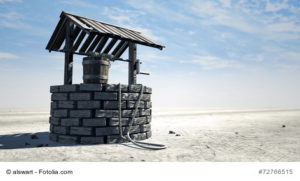 For instance, you don't necessarily have to quit your job or stop going to school. You don't necessarily have to give up volunteering at your favorite charity or playing on your favorite sports team. In fact, you don't necessarily have to stop any activity you are currently engaged in.
But, you may have to learn to turn inward to Jesus in you to fill up your well.
I lead a busy life. I spend several hours a day writing books and marketing them. I write two weekly blogs, and I prepare for and teach a weekly Bible study. I also tutor a student in French. In addition, I spend several hours a week enjoying my children and grandchildren. Like you, I am tempted to feel overwhelmed. But I've discovered a secret that keeps me going all day long.
My secret is my Inner Well.
I like to call it my Oasis–the place deep inside me where I continually commune with Jesus. The place deep inside me where I go whenever I need to be refreshed or whenever I simply want to hear my Lord's sweet voice.
And I go there several times a day.
When I am the busiest on the outside, you will find me at my Inner Well. When life's pressures bombard me, you will find me at my Inner Well.
When I am spending time with my family, you will find me at my Inner Well.
You see, I spend a lot of time at my Inner Well. He is the Life-Giving Water from which I continually drink. My own little well can't hold much water. And the little water that it does hold gets used up fast. So, I need to go back to my Inner Well continually.
Interestingly, Jesus spoke to the Samaritan woman at a well. He knew that her inner well was dry because she was looking in the wrong place to fill it. She was looking to the world–to relationships with men–to obtain what only Jesus could give her.
We do the same thing whenever we look to something other than God to meet our needs. To fill our well. That "something" may be drugs, alcohol, nicotine, sex, food, work, sports, social media, hobbies, our spouse, our children—the list could go on and on.
But when we look in the wrong places to fill our well, our well will eventually run dry. Why? Because earthly water is not enough to satisfy the soul's thirst. The soul requires heavenly water to quench its thirst.
What about you? Has your well run dry? Perhaps you're drinking from the wrong well.
There is only one Well that will satisfy your soul. That Well is Jesus Christ. Do you know Him? If not, I urge you to meet Him today. I'll introduce you to Him. He already knows you. Just click here to start drinking from the only Well that will end your soul thirst forever.
Now, it's your turn! What do you do when your well runs dry? Please share your insights in the box below. Thanks!
TWEETABLE: "When Your Well Runs Dry" by Dr. MaryAnn Diorio (CLICK TO TWEET)
If you found this post helpful, please forward it to a friend or relative. Thank you!
_____________________________________________________________________
The Italian Chronicles Trilogy is now available in its entirety and makes a great Christmas gift!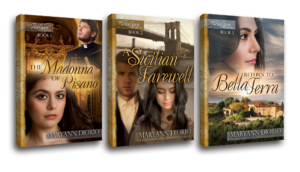 Book 1: The Madonna of Pisano Book 2: A Sicilian Farewell Book 3: Return to Bella Terra
_____________________________________________________________________
Please check our archives in the right sidebar for older posts on a variety of topics. You may also search for a particular topic in the search box at the top right.
Some of our most popular posts:
—Horoscopes? Ouija Boards? Séances? Are They Really Harmless?

—Are You Afraid of Confrontation?
—How to Recognize a Controlling Spirit

For additional encouragement, check out my podcasts at the following links:
A Moment with MaryAnn – Podcasts on Living the Good Life
Winning with the Word Podcast Series
Write Your Heart Out! – Podcasts for Writers

Please tell your family and friends about this blog and please pass this post on to them. Thank you!
______________________________________________________________
Copyright 2000-2017 by Dr. MaryAnn Diorio. All Rights Reserved. This article may not be published or printed in any form whatsoever without the written permission of Dr. MaryAnn Diorio. You may contact her at drmaryann@maryanndiorio.com to request permission.
Amazon.com Required Disclosure: MaryAnn Diorio is a participant in the Amazon Services LLC Associates Program, an affiliate advertising program designed to provide a means for sites to earn advertising fees by advertising and linking to Amazon.com.
Matters of the Heart is a weekly blog that deals with the deepest issues of the human heart, the issues we all face but sometimes don't want to talk about. The heart is the programming center of our lives. What is programmed into our heart will affect every area of our lives. Learn how to discover what is in your heart and how to program your heart for success.
AN INVITATION TO YOU: To follow this blog via Facebook, click here. If you are not on Facebook or would prefer to subscribe via a different venue, please check the sidebar to the right for subscription options. Thank you!