"Guard your heart above all else, for it determines
the course of your life." ~ Proverbs 4:23
"Matters of the Heart" is a weekly blog that deals with the deepest issues of the human heart, the issues we all face but sometimes don't want to talk about. The heart is the programming center of our lives. What is programmed into our heart will affect every area of our lives. Learn how to examine your heart and how to program your heart for success.
AN INVITATION TO YOU: To follow this blog via Facebook, click here. If you are not on Facebook or would prefer to subscribe via a different venue, please check the sidebar to the right for subscription options. Thank you!
____________________________________________________
If you haven't figured it out yet, we are in the end times. How do I know? I know because what the Bible tells us will happen in the last days is now happening. And it is happening all at the same time in a process called Convergence. Convergence means everything happening at once and with increasingly greater frequency and intensity.
Recently, I watched an outstanding online presentation by Jan Markell of Olive Tree Ministries, a ministry dedicated to understanding the End Times. She gave the presentation at Calvary Chapel Church in Kaneohe, Hawaii. I have posted the link to her message at the end of this blog post and encourage you to watch it.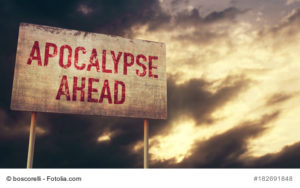 In her presentation, Ms. Markell listed 15 signs that prove we are in the last days. All of these signs are prophesied in the Bible and point to the soon return of Jesus Christ for His Church in the earth-shattering event called the Rapture. I would like to share those 15 signs here, giving Ms. Markell credit for originally listing them. My own comments follow each sign.
SIGN #1: The Catch-Phrase "Peace and Security." Pay attention to how often you hear or read the words peace and security or peace and safety in the news. Scripture says this in 1 Thessalonians 5: 3: "While they are saying, 'Peace and safety!' then destruction will come upon them suddenly like labor pains upon a woman with child, and they will not escape." The pronouns "they" and "them" in this verse refer to those who are not born again, those who have rejected Jesus Christ as their Savior and Lord. These are the people on whom destruction will fall suddenly at the time of the Rapture. This destruction refers to the seven-year Tribulation Period during which the Anti-Christ, the most horrific dictator ever to come to power in world history –indeed, the personification of Satan himself–will rule and reign,
SIGN #2: Business As Usual. Luke 17: 28-30 says this: "And the world will be as it was in the days of Lot. People went about their daily business—eating and drinking, buying and selling, farming and building— until the morning Lot left Sodom. Then fire and burning sulfur rained down from heaven and destroyed them all. Yes, it will be 'business as usual' right up to the day when the Son of Man is revealed." This Scripture passage makes clear that life will be going on as usual when Jesus returns for His Church. People will be going about their daily business, earning degrees, getting married, having children, building homes, working their jobs, investing in their financial future, etc. There is also the implication in this verse that the economy will be booming just before the Rapture (Verse 28: "buying and selling").
SIGN #3: Mockers and Scoffers. Have you noticed that when there is any mention of the Rapture, most people mock and scoff at the mention? As the Apostle Peter prophesied would happen in the last days (2 Peter 3: 3), people are saying, "What happened to the promise that Jesus is coming again? From before the times of our ancestors, everything has remained the same since the world was first created." Scorn is being hurled against those of us who proclaim that Jesus is coming back soon.

SIGN #4: Increase in Lawlessness. It goes without saying that our world has gotten out of hand. Rebellion runs rampant. Violence is increasing. Rudeness is everywhere. Respect for the rule of law has been seriously challenged, even by those who are in positions of authority. Interestingly, the Bible tells us that rebellion is as the sin of witchcraft (1 Samuel 15: 23). Where there is rebellion, there is usually witchcraft. And there is certainly much witchcraft in our land.
The Bible says this about lawlessness in the end days: "For the secret power of lawlessness is already at work; but the one who now holds it back will continue to do so till he is taken out of the way." After the Rapture of the Church, which is holding back the full unleashing of the spirit of lawlessness, this evil spirit will completely break loose to the point of anarchy, preparing the way for the rise of the AntiChrist.
SIGN #5: Strong Delusion. Do you wonder, like me, what has happened to logical thinking? As a culture, we have lost our ability to think straight. Common sense is no longer common, and, worse yet, delusional thinking has replaced rational thinking. We live in a world where evil is called good, where lies are called truth, and where insanity is called sanity.
Why this widespread delusion? The Bible gives us the reason in 2 Thessalonians 2: 10-12: "… because they did not receive the love of the truth, that they might be saved. And for this reason God will send them strong delusion, that they should believe the lie, that they all may be condemned who did not believe the truth but had pleasure in unrighteousness." Those who reject the truth of the Gospel condemn themselves to a depraved mind, a mind characterized by delusional thinking. A mind that cannot think straight. Worst of all, they condemn themselves to an eternity without God.
Next week, Lord willing, I will discuss five more critical signs of the end times. You don't want to miss them!
Meanwhile, I encourage you to visit Jan Markell's website at http://www.olivetreeviews.org for more details on the above information. I also encourage you to watch the message below that she presented to the congregation of Calvary Chapel, Kaneohe, Hawaii. Credit is given to Ms. Markell for the 15 signs discussed in this blog post.

Now, it's YOUR turn: Are you ready for the Lord's return? If not, please click here. If you are ready for the Lord's return, please warn others that they need to get ready and tell them how.
Please leave a comment in the box below.
TWEETABLE: "15 SIGNS THAT WE ARE IN THE END TIMES-PART 1" by Dr. MaryAnn Diorio (CLICK TO TWEET).

NEW YOU-TUBE SERIES: Check out my new You-Tube series, YOU WERE MADE FOR GREATNESS!, based on my popular book by the same title.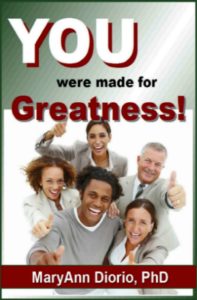 God designed you for greatness in Him. Discover the authority and power you have as a Christ-Follower! Get your copy of YOU WERE MADE FOR GREATNESS!
____________________________________________
____________________________________________
____________________________________________________________________
The Italian Chronicles Trilogy is now available in its entirety. Will Maria Landro Tonetta allow God to turn the horrific sorrows of her life into great joy? Read this page-turning series to find out! Makes a great gift for any occasion!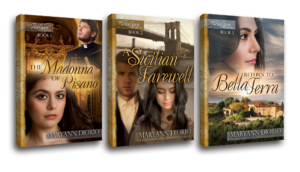 Please check our archives in the right sidebar for older posts on a variety of topics. You may also search for a particular topic in the search box at the top right.
Matters of the Heart is a weekly blog that deals with the deepest issues of the human heart, the issues we all face but sometimes don't want to talk about. The heart is the programming center of our lives. What is programmed into our heart will affect every area of our lives. Learn how to discover what is in your heart and how to program your heart for success.
AN INVITATION TO YOU: To follow this blog via Facebook, click here. If you are not on Facebook or if you prefer to subscribe via another venue, you may do so by using any one of the other subscription options listed under the Networked Blog section in the sidebar on my website: www.maryanndiorio.com/blog. Thank you!
___________________________________________
Copyright 2018 by Dr. MaryAnn Diorio. All Rights Reserved. This article may not be published or printed in any form whatsoever without the written permission of Dr. MaryAnn Diorio. You may contact her at drmaryann@maryanndiorio.com to request permission.
Amazon.com Required Disclosure: MaryAnn Diorio is a participant in the Amazon Services LLC Associates Program, an affiliate advertising program designed to provide a means for sites to earn advertising fees by advertising and linking to Amazon.com.
Disclaimer: This site uses cookies. Your continued use of this site constitutes your consent to our use of cookies.