"Guard your heart above all else, for it determines
the course of your life." ~ Proverbs 4:23
"Matters of the Heart" is a weekly blog that deals with the deepest issues of the human heart, the issues we all face but sometimes don't want to talk about. The heart is the programming center of our lives. What is programmed into our heart will affect every area of our lives. Learn how to examine your heart and how to program your heart for success.
AN INVITATION TO YOU: To follow this blog via Facebook, click here. If you are not on Facebook or would prefer to subscribe via a different venue, please check the sidebar to the right for subscription options. Thank you!
____________________________________________________
A young Christian friend of mine in her early twenties confided to me her great concern about the future.
"As a Christian, I know I shouldn't be anxious," she said, "and I feel so guilty that I am. But with all the horrible things going on in the world, I wonder if I'll get to live a normal life. Will there even be a world by the time I'm ready to be married?"
My friend is not alone in her concern. Across our nation and throughout the world, people of all ages, including Christians, are doubtful and uncertain about the future. Perhaps you yourself are one of them.
If so, you too may be feeling guilty about your lack of confidence in the future. You know that Christ commands you not to worry about tomorrow, but you have difficulty obeying that command. What can you do?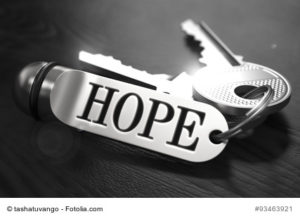 Before we consider why we as Christians can face the future with confidence, let's look at some factors that may be playing a major role in robbing us of this very hope.
Factor #1: WORLD EVENTS. Wherever we turn, the media bombards us with reports of disaster, destruction, and death. Wars and rumors of wars so overwhelm us that we find ourselves growing increasingly fearful and cynical about what lies ahead. In an age of sophisticated communication systems, we see close up the sin and suffering of an entire world. Such instant and constant bad news, magnified to global proportions, only fuels our sense of uneasiness and dread.
Despair, not hope, dominates the news. When the media, instead of God's Word, becomes our primary source of mental and spiritual food, we build our lives on a foundation of fear.
Factor #2: PERSONAL PROBLEMS. Not only do world events trouble us, but personal trials also sap our hope. After nearly 25 years of climbing the corporate ladder of success, Jerry, a family friend, lost his job. At age 50, with two children in college, Jerry discovered that his ladder was leaning against the wrong wall. Shattered and defeated, he struggled with bouts of severe depression. After renewing his hope in Christ, however, Jerry found another job.
Perhaps you too, like Jerry, have lost your job or are facing financial challenges. Maybe health problems or poor family relationships are eroding your confidence. Whatever the case, personal problems can definitely rob you of hope for a better future.
Factor #3: YOUR THOUGHT LIFE. We become what we think about. What we think about is the direct result of what we put into our minds. If we consume a steady mental diet of worry over our personal problems, it's no wonder that we lose confidence in the future. The Bible tells us that as a man thinks in his heart, so is he (Proverbs 23:7 KJV).
If you continually sow thoughts of hopelessness into your heart, you will reap a crop of despair. If, on the other hand, you sow thoughts of hope, you will eventually reap a harvest of hope. What kind of thoughts are you sowing?
Factor #4: LOSS OF FOCUS ON JESUS CHRIST. Fear and anxiety about the future result when we take our eyes off Jesus, the One Who holds the future. Consider the Apostle Peter. When he stepped out of the boat onto the water, his eyes were focused on Jesus. The instant Peter took his eyes off Jesus and put them on his surroundings, he became filled with fear and began to sink.
This is exactly what we do when we focus on what's happening around us rather than on the Word of God. When we allow our attitude about the future to be controlled by our circumstances instead of God's Word, we exalt our circumstances above God. Putting circumstances above God is nothing short of idolatry.
Idolatry is placing greater trust in something other than God, whether that "something" be money, self, or world events. To be anxious about the future is to place more trust in the negative situations around us than in God's promise to take care of us. Are you placing more trust in the world's word or in God's Word?
Factor #5: LACK OF SPIRITUAL DISCIPLINE. Unless we feed continually on the Scriptures, we cannot develop a strong sense of confidence in the future. The Bible states, "Thou wilt keep him in perfect peace, whose mind is stayed on thee" (Isaiah 26:3 KJV). When our minds are anchored in God, we will experience peace in the midst of every storm, knowing that God's plans for us are "for good and not for evil, to give [us] a future and a hope" (Jeremiah 29:11 TLB).
Factor #6: YOUR COMFORT ZONE. Strange as it may seem, many of us Christians actually want to hold on to our fear about the future. Like a security blanket, it has become so much a part of our daily lives that we think we can't function without it. After all, how can we call ourselves responsible if we don't worry about the future? There is a big difference between worrying about the future and being responsible in preparing for it. To worry about the future is to focus on our own strength as we face the future. To be responsible in preparing for the future is to rely on God's strength.
A classic example of this dichotomy is the biblical account of the two sisters, Mary and Martha (Luke 10: 38-42 KJV). Martha was the worrier, the burden-bearer, the one who put the cares of this world above the care of her soul. Jesus said of her that she was "troubled about many things" (Luke 10:41 KJV).
Mary, on the other hand, had different priorities. She realized that the most important thing she could do was to sit at the feet of Jesus and listen to Him. Mary knew that if she filled her heart with God's Word, she could make it through anything. Unlike Martha who relied on her own strength to face the challenges of life, Mary depended on God's strength. Jesus said of Mary that she "hath chosen that good part, which shall not be taken away from her" (Luke 10:42 KJV).
Now that we've looked at some hope-stealers, let's consider some reasons why we as Christians can be not only confident as we face the future, but joyful as well.
God has everything under control. He is the Lord and there is none else (Isaiah 45:18 KJV). As the Creator of the universe and everything in it, God knows the beginning and the end. Nothing can happen to us without His permission. No matter what life may bring, we can rest secure in the knowledge that God knows our needs and that He will meet them.
God is faithful. He does exactly what He says He will do: "For I am the Lord: I will speak, and the word that I shall speak shall come to pass" (Ezekiel 12:25 KJV). When God promises that the word He speaks shall come to pass, He means it. It doesn't matter what the situation looks like.
When my younger daughter was an infant, she was diagnosed with an incurable illness. Upon hearing the doctor's report, my husband and I were assailed by fear. But we chose to resist the attack by focusing on God's Word that said our daughter was healed by the stripes of Jesus (I Peter 2:24 KJV).
For several months, we clung to that verse with every fiber of our being because our daughter's very life depended on it. Eventually, her symptoms completely disappeared, much to the amazement of her doctors. Today she is a healthy 35-year-old young woman wholeheartedly serving Jesus Christ.
God is love. Everything He does is motivated by love. As our Father, He is intimately involved in the lives of His children. He Himself says that He has numbered the very hairs of our heads (Matthew 10:30 KJV). Because God is love, we can trust that He will take care of us.
God is the God of hope. There can be no hope without God, for all hope is rooted in Him. By its very nature, hope looks to the future. As Christians, our hope is in Jesus Christ and in His promise of eternal life.
When my elder daughter was in college, she purchased a Christian lapel button that read "Just visiting." That's the attitude we should take about our stay on this earth. This is not our final destination. We know that a far better life awaits us beyond this one. When we focus on that future life, we can keep the problems of this earthly life in proper perspective, confident in the knowledge that "all things work together for good to them that love God" (Romans 8:28 KJV).
Hope is the anchor of the soul (Hebrews 6:19 KJV). Without it, we cannot fight the good fight of faith. In order to remain confident as we face the future, we must hold on to the hope that is set before us, namely Jesus Christ and the salvation He has provided. The battle has already been won. Therefore, we can rejoice as we face the future, knowing that for the children of God, the best is yet to be!
Now, it's YOUR turn: Have you been finding it difficult to hold on to hope? If so, what are you doing about the challenges? Please leave your valued comment in the box below.
TWEETABLE: "Holding On to Hope" by Dr. MaryAnn Diorio (CLICK TO TWEET).
To be sure you don't miss any of my future blog posts, you may wish to subscribe at http://www.networkedblogs.com/blog/maryanndiorioblog or through the feed of your choice.
NEW YOU-TUBE SERIES: Check out my new You-Tube series, YOU WERE MADE FOR GREATNESS!, based on my popular book by the same title.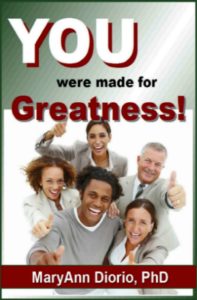 God designed you for greatness in Him. Discover the authority and power you have as a Christ-Follower! Get your copy of YOU WERE MADE FOR GREATNESS!
____________________________________________________________________
The Italian Chronicles Trilogy is now available in its entirety. Will Maria Landro Tonetta allow God to turn the horrific sorrows of her life into great joy? Read this page-turning series to find out! Makes a great gift for any occasion!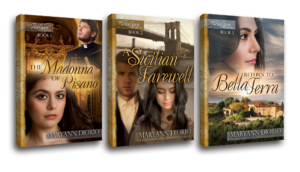 Book 1: The Madonna of Pisano Book 2: A Sicilian Farewell Book 3: Return to Bella Terra
_____________________________________________________________________
If you found this post helpful, please forward it to a friend. Thank you! You may also be interested in reading the following popular posts:
"15 Signs That We Are in the End Times-Part 1"
"15 Signs That We Are in the End Times-Part 2"
#15 Signs That We Are in the End Times-Part
Please check our archives in the right sidebar for older posts on a variety of topics. You may also search for a particular topic in the search box at the top right.
Matters of the Heart is a weekly blog that deals with the deepest issues of the human heart, the issues we all face but sometimes don't want to talk about. The heart is the programming center of our lives. What is programmed into our heart will affect every area of our lives. Learn how to discover what is in your heart and how to program your heart for success.
AN INVITATION TO YOU: To follow this blog via Facebook, click here. If you are not on Facebook or if you prefer to subscribe via another venue, you may do so by using any one of the other subscription options listed under the Networked Blog section in the sidebar on my website: www.maryanndiorio.com/blog. Thank you!
___________________________________________
Copyright 2018 by Dr. MaryAnn Diorio. All Rights Reserved. This article may not be published or printed in any form whatsoever without the written permission of Dr. MaryAnn Diorio. You may contact her at drmaryann@maryanndiorio.com to request permission.
Amazon.com Required Disclosure: MaryAnn Diorio is a participant in the Amazon Services LLC Associates Program, an affiliate advertising program designed to provide a means for sites to earn advertising fees by advertising and linking to Amazon.com.
Disclaimer: This site uses cookies. Your continued use of this site constitutes your consent to our use of cookies.
____________________________________________
____________________________________________