"Guard your heart above all else, for it determines
the course of your life." ~ Proverbs 4:23
____________________________________________________
NOTE TO MY READERS: This will be my last blog post for the time being. I am seeking God as to what direction to take in the future and will notify you if I resume writing this blog. Thank you for your prayers.
____________________________________________________
In Matthew 24: 13, Jesus said this: "…the one who endures to the end will be saved." What did Jesus mean by these words? How should we apply them to our lives today?
The word "endure" comes from the Latin word "indurare" which means "to harden." What Jesus was saying here is that the one who hardens himself against difficulties and stands firm in the midst of them, that one will be saved.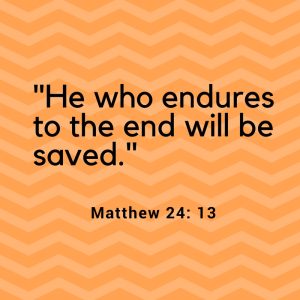 This verse is part of what is called Christ's Olivet Discourse, the famous sermon He gave on the Mount of Olives in which He explained to His disciples details about the end times. Jesus was warning that persecution would arise and many so-called professing Christians would turn away from the faith, thereby revealing the true condition of their hearts.

So, what does it mean to endure to the end? Here are some considerations:

1–To endure to the end means to stand firmly for the Bible in the face of false teaching. Apostasy is alive and well in our country and throughout the world. Many denominations that were once bulwarks of Christianity have now turned traitor to the Bible and its inerrancy and have subscribed to false doctrines straight from the pit of hell.
2–To endure to the end means to stand firmly for Christ in the face of a brazenly sinful society. What was once considered shameful is now brazenly practiced openly as our world falls ever more deeply into depravity. He who endures to the end will remain pure in a culture that reeks with sin.
3–To endure to the end means to stand firmly for Christ in the face of ridicule, hatred, and persecution. Day by day, we are witnessing increasing opposition to Christianity and Christians. Whether it be in our governmental system, our educational system, or our societal system, Christians are being marginalized at an alarming rate. Many have been persecuted to the point of death.
In these last days, Satan is pulling out all the stops in his vicious attempt to get Christ-Followers to give up and quit. DON'T DO IT! Be strong in the Lord and in the power of His might.
Let me encourage you with these words from Galatians 5: 1: "Stand firm therefore, and do not submit again to a yoke of slavery." How do we stand firm? Ephesians 6: 10 tells us how: "Be strong in the Lord and in his mighty power."
It is only by the Lord's power that we will be able to endure to the end. Remain in Him. This is His promise to us in 1 Corinthians 1; 8: "He will also keep you firm to the end, so that you will be blameless on the day of our Lord Jesus Christ."
Maranatha! Come, Lord Jesus! Come soon!
Now, it's YOUR turn: What struggles are you facing in your journey to endure to the end? Please leave your valued comments in the box below.
TWEETABLE: "Enduring to the End" by Dr. MaryAnn Diorio (CLICK TO TWEET).
NEW YOU-TUBE SERIES: Check out my new You-Tube series, YOU WERE MADE FOR GREATNESS!, based on my popular book by the same title.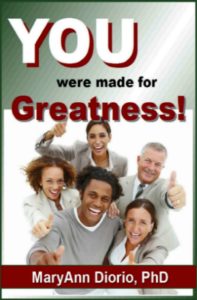 God designed you for greatness in Him. Discover the authority and power you have as a Christ-Follower! Get your copy of YOU WERE MADE FOR GREATNESS!
____________________________________________________________________
The Italian Chronicles Trilogy is now available in its entirety. Will Maria Landro Tonetta allow God to turn the horrific sorrows of her life into great joy? Read this page-turning series to find out! Makes a great gift for any occasion!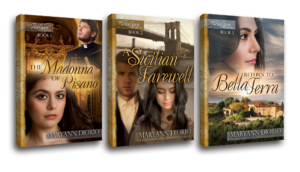 "How to Recognize a Controlling Spirit"
Please check our archives in the right sidebar for older posts on a variety of topics. You may also search for a particular topic in the search box at the top right.
For additional encouragement, check out my podcasts at the following links:
___________________________________________
Copyright 2018 by Dr. MaryAnn Diorio. All Rights Reserved. This article may not be published or printed in any form whatsoever without the written permission of Dr. MaryAnn Diorio. You may contact her at drmaryann@maryanndiorio.com to request permission.
Amazon.com Required Disclosure: MaryAnn Diorio is a participant in the Amazon Services LLC Associates Program, an affiliate advertising program designed to provide a means for sites to earn advertising fees by advertising and linking to Amazon.com.
Disclaimer: This site uses cookies. Your continued use of this site constitutes your consent to our use of cookies.