"Guard your heart above all else, for it determines
the course of your life." ~ Proverbs 4:23
"Matters of the Heart" is a weekly blog that deals with the deepest issues of the human heart, the issues we all face but sometimes don't want to talk about. The heart is the programming center of our lives. What is programmed into our heart will affect every area of our lives. Learn how to examine your heart and how to program your heart for success.
AN INVITATION TO YOU: To follow this blog, click here.
____________________________________________________
Shame is to the heart as chains are to the body.
Shame keeps us bound. It keeps us a prisoner of the lies that caused our shame.
Most, if not all, of us have experienced shame in one way or another.
I come from a very poor family of eight children. Were it not for the generosity of the nuns at the Catholic school I attended, we would have often gone to bed hungry. Yet, as I carried home on the schoolbus the large shopping bag filled with the nuns' pungent egg salad sandwiches left over from their lunch, I felt shame. Shame because the other kids on the bus not only knew what I was carrying, but also why. Shame because I believed the lie that poor people were inferior.

What is shame and where does it come from?
Shame is the lie that says you're not good enough. While guilt says I MADE a mistake, shame says I AM a mistake.
Shame comes from negative words spoken to us as a children—words that wounded our hearts.
"You'll never amount to anything."
"You're so clumsy!"
"You're stupid."
"You're fat."
"You're poor."
"No one will ever love you."
"I wish I never had you!"
"You were an accident."
"You're ugly."
'You're (

fill in the blank)."
Shame comes from experiences that caused us to believe we fell short of the expected mark.
Shame comes straight from the pit of hell.
Has your life been filled with shame? If so, read these words the Lord wrote just for you: "Instead of your shame you will receive a double portion, and instead of disgrace you will rejoice in your inheritance" (Isaiah 61: 7).
My Prayer for You Today: "May God break the chains of shame off your life. May He take the shame of your life and turn it into the strength of your life."
Now, it's YOUR turn: How have you dealt with shame in your life? Please leave your valued comment in the box below.
TWEETABLE: "THE LYING VOICE OF SHAME" by Dr. MaryAnn Diorio (CLICK TO TWEET).
To be sure you don't miss any of my future blog posts, you may wish to subscribe to Matters of the Heart. CLICK HERE.
____________________________________________
____________________________________________
RESOURCES TO HELP YOU OVERCOME SHAME:
NEW YOU-TUBE SERIES: Check out my new You-Tube series, YOU WERE MADE FOR GREATNESS!, based on my popular book by the same title.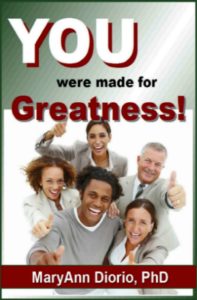 God designed you for greatness in Him. Discover the authority and power you have as a Christ-Follower! Get your copy of YOU WERE MADE FOR GREATNESS!
____________________________________________________________________
READ HOW ONE YOUNG WOMAN OVERCAME HORRIFIC SHAME:
The Italian Chronicles Trilogy is now available in its entirety. Will Maria Landro Tonetta allow God to turn the horrific shame of her life into great joy? Read this page-turning series to find out! Makes a great gift for any occasion!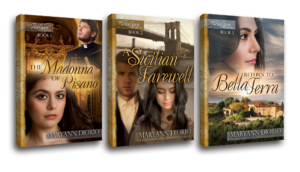 For additional encouragement, check out my podcasts at the following links:
___________________________________________
Copyright 2018 by Dr. MaryAnn Diorio. All Rights Reserved. This article may not be published or printed in any form whatsoever without the written permission of Dr. MaryAnn Diorio. You may contact her at info@maryanndiorio.com to request permission.
Amazon.com Required Disclosure: MaryAnn Diorio is a participant in the Amazon Services LLC Associates Program, an affiliate advertising program designed to provide a means for sites to earn advertising fees by advertising and linking to Amazon.com.
Disclaimer: This site uses cookies. Your continued use of this site constitutes your consent to our use of cookies.